Forget Humanoid Receptionists, Henn Na Hotel Has A Dinosaur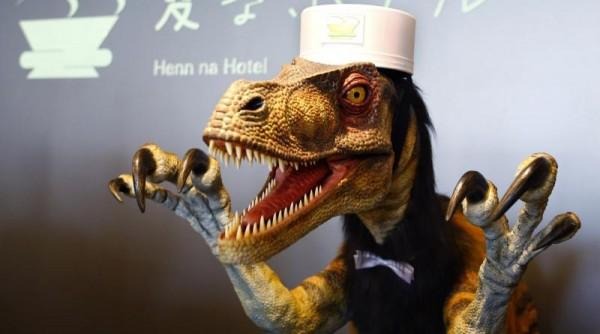 If it weren't bad enough that robots might be taking over our jobs and our lives, some might even take the form of robot dinosaurs. Perhaps playing to the recent Jurassic World film, the Henn na Hotel in Japan, which opens Friday, a robot dinosaur, not in the playground or garden, but behind the receptionist's desk. Yes, this dinosaur is the receptionist, or at least one of two robot concierges at the hi-tech hotel. But don't be worried about being lost in dinosaur speak. Strangely enough, this is the one that speaks English.
Early this year, the Henn na Hotel came under the spotlight because of its heavy emphasis on robotics. In particular, it would be the first to employ purely robotic staff for welcoming guests and taking care of accommodations. Initially, it was expected that female robot receptionists would be placed at the front desk. After all, gynoids are quite the thing in Japan. But for one reason or another, a robotic dinosaur was added to the employee list. While a gynoid still sits or stands to address Japanese customers, the dinosaur will be greeting English-speaking ones.
They aren't the only robots in the building, though they are definitely the more pleasing ones. Well, depending on how you perceive dinosaurs or eerie human-looking robots. Another robot, this one an arm similar to those used in manufacturing, takes care of picking up guests valuables and storing them behind lockers. Aside from robots, the hotel also has other fancy technological features, like using facial recognition instead of room keys. The security system records the guest's face during check in and uses that for accessing doors.
Hideo Sawada, who runs the hotel, is adamant that this is all serious business, despite the fact that the hotel is part of an amusement park. The goal is to not just promote the use of robotics but also to achieve operational efficiency. And part of the efficiency is in cutting down the price, thanks to having less human workers to pay. Charges at the Henn na Hotel start at 9,000 yen or roughly $80, substantially lower than nicer options.
That said, there are still duties that robots can't perform. Guests still have input their information manually when checking in. Security is still handled by humans. And robots still can't make beds, though a block-shaped robot can deliver food and beverage.
SOURCE: New York Post