Ford's latest eBike is foldable, warns riders of potholes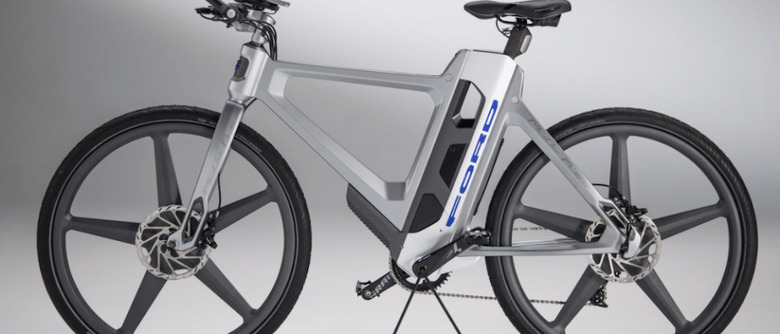 Here is a Ford ride of a different breed. Along with the announcement of its new Peer-2-Peer ride sharing program, the car company has debuted the third in its line of smartbike concepts, dubbed the MoDe:Flex. The electric-assisted bicycle features a battery and motor, and also comes with a mobile app that is designed to help riders plan their commutes by breaking it down into sections for car and bike. Much like its predecessors, the MoDe:Me and MoDe:Pro bikes, the Flex can be folded up to fit inside a car for easier transportation.
The Flex will easily separate into two equal halves, allowing it to be stored in a car's trunk. However, where the new bike differs from Ford's previous efforts is that its better designed for riding enthusiasts. It's full-sized like a traditional bicycle, but doesn't go as far as becoming a performance road bike.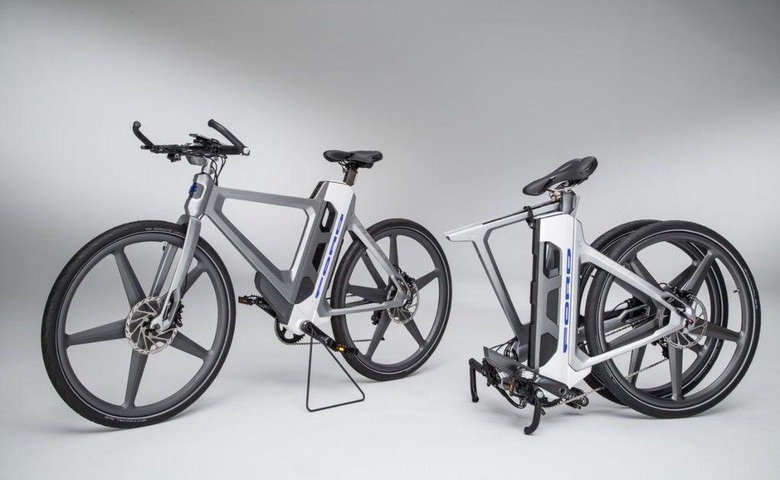 The Mode:Link smartphone app pairs with the bike, letting users plan their trip with parking information (for the car), traffic and road conditions, and weather updates. The bike's battery and motor are meant to help riders with steep hills, and the app also features a "no sweat" mode that will determine the least amount of effort needed to pedal in order to reach the destination without too much physical exertion.
Ford hasn't released the specs for things like the motor, battery, or its top pedal-aided speed. They do say the app comes with an Apple Watch extension, and the bike features vibrating handlebars. Together, somehow, these will warn riders of hazards like upcoming potholes or overtaking cars. Unfortunately there's no explanation for how this works, whether it's scanning the road or based on existing road data.
As of now, the bike and app remain prototypes from Ford's Research and Innovation Center in Palo Alto, so there's no word on when this might become available to consumers, or at what price.
SOURCE Ford