Ford Transit EV will bring an all-electric van to US and Canada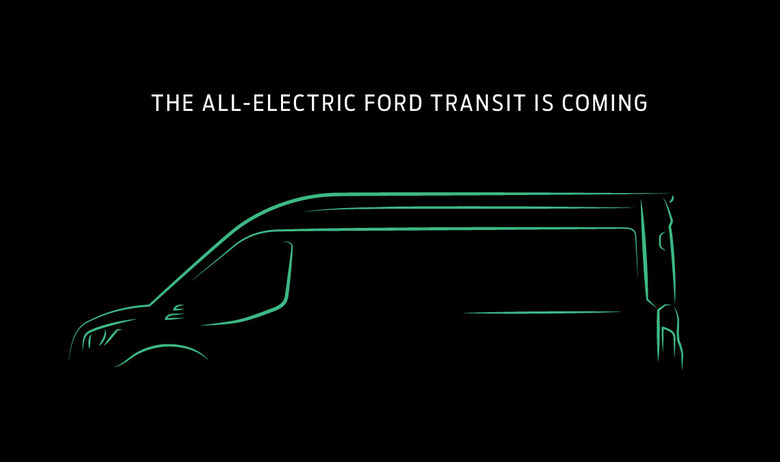 Ford is working on an all-electric Transit cargo van for the US and Canada, aiming to release the plug-in load hauler in the 2022 model year. The new Ford Transit EV will be offered in a variety of different styles, rather than a one-fits-all model, including three different body lengths.
There'll be a cargo van version, a cutaway, a chassis cab, and three different roof heights, Ford suggests. That should help the electric Transit be more than a one-off novelty in the overall line-up.
It'll also mark a big step forward for connectivity, Ford promises. The all-electric Transit will use Ford Telematics and an embedded FordPass Connect 4G LTE modem. That will support in-vehicle hotspot use for up to 10 WiFi devices, but also allow for more precise fleet management. With the right software, companies will be able to track the van via GPS, add geofencing rules, and remotely monitor vehicle diagnostics.
The latter is likely to be a big selling point for the EV. Ford is already making its electric pitch to fleet operators, promising less scheduled maintenance than they'd expect from a comparative internal-combustion van, along with lower operating costs.
"Electric vehicle fleets may benefit from federal, state and local electric vehicle tax incentives, access to high-occupancy vehicle lanes and free parking," the automaker points out. "Electric vehicles can operate where vans with internal combustion engines cannot, including indoors, in environments with limited ventilation, and at night in areas with restrictive noise ordinances."
Pre-collision assist with automatic emergency braking and pedestrian detection will be standard, along with forward collision warning, post-collision braking, and a lane-keeping system. Auto high-beam headlamps will also be included as standard, though Ford may also offer other options for active driver safety.
This isn't, it's worth noting, a wholesale switch to electric. Ford is expected to continue offering internal combustion versions of the Transit van in the 2022 model year too, and there'll clearly be situations where an EV simply isn't practical. Ford isn't talking about range or recharging systems at this stage, but even with a DC fast charger, refueling a gas Transit is likely to be quicker. That counts the all-electric Transit out for longer journeys where time is of the essence.
However, as Ford points out, an electric van with silent drive has plenty of advantages over its gas counterparts too. Dense urban areas are gradually getting less accommodating to gas and diesel engines in vehicles; if Ford can get into the electric van space earlier than rivals, it could snag lucrative orders for last-mile deliveries and more.
Ford says it expects electric vehicles to grow to 8-percent of the van industry in 2025 in the US, and of course it's not alone in seeing potential there. Amazon, for example, has inked a deal with Rivian – in which Ford is also an investor – for 100,000 custom electric delivery vans. We'll find out more about the electric Transit closer to the vehicle's reveal, which is likely to be in 2021.