Ford SYNC 4 first look: Mustang Mach-E high-tech dashboard revealed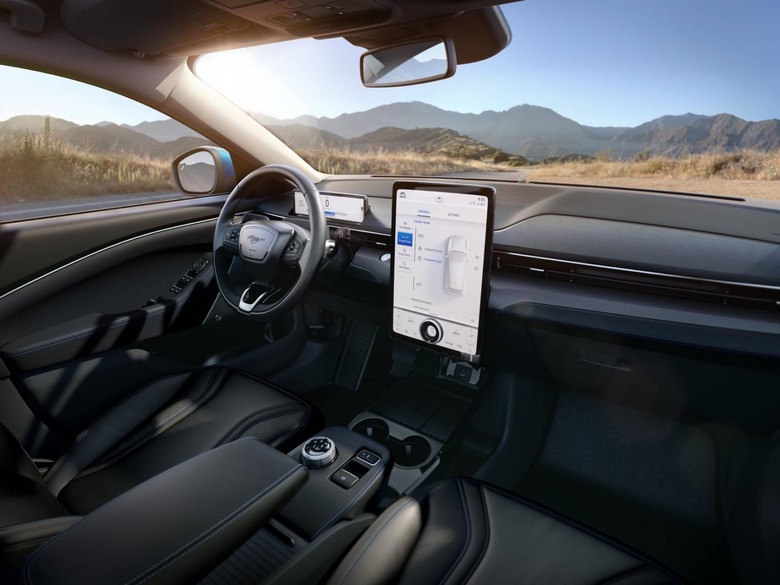 Ford's crisp, clean cabin for the 2021 Mustang Mach-E means there's no missing SYNC 4, the new infotainment system making its production car debut on the automakers EV. Announced last month, SYNC 4 borrows gestures and controls familiar from smartphones, but also sees Ford recognize that drivers invariably want to use their favorite apps on their phones, not have versions of them on the dashboard.
So, SYNC 4 isn't trying to book your movie tickets, restaurant reservations, and manage your calendar: that's left to your phone. However it does offer features that, even if your first instinct would be to use Android Auto or Apple CarPlay, may encourage you to spend some time tapping through its interface too.
The Mustang Mach-E turns SYNC 4 up to max
Ford has already said that SYNC 4 is designed for screens as small as 8-inches, but the Mustang Mach-E doesn't mess around with anything so piddly. Instead, there's a full 15.5-inch portrait aspect touchscreen in its center console, the biggest size that SYNC 4 supports. It's no ordinary display, either, with a physical volume dial puncturing it at the bottom.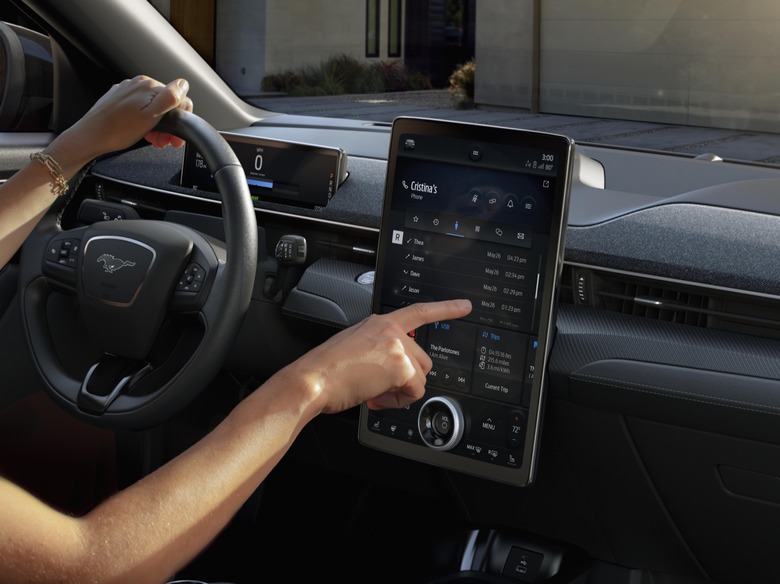 It's paired with a second, smaller display. Ford says that drivers it surveyed said they still wanted metrics like speed and range in their line of sight, not just on a central screen – yes, Tesla Model 3, they're talking about you – and so the Mustang Mach-E gets a 10.2-inch digital cluster as well. That supports several different skins, depending on the current drive mode, but always shows things like speed, battery percentage, and range remaining. There's typically some sort of graphical representation of how aggressively or economically you're driving, too.
Ford has been thoughtful when it comes to connectivity. There's a bay in the center console, underneath the touchscreen, with a wireless charger for your smartphone. Wireless Apple CarPlay and Android Auto are included as standard, too. Ford also adds USB ports – both Type A and Type C – figuring that the front passenger will not only want to charge their phone but fiddle with it at the same time.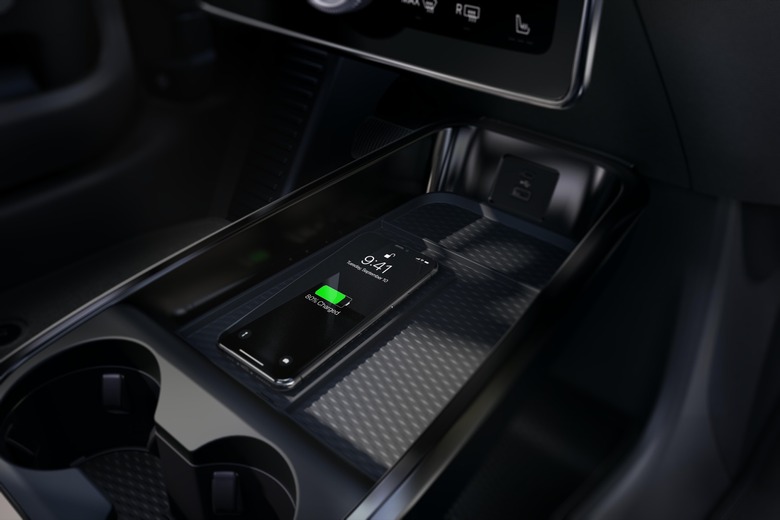 All Mustang Mach-E cars will get embedded 4G LTE connectivity. That'll allow for things like online point-of-interest search, as well as WiFi hotspot. Ford says it hasn't decided what those LTE features might cost yet, but the likelihood is that they'll all come enabled when the EV is first purchased, and then eventually some will remain free of charge while others – like shared hotspot data – will incur a subscription fee.
SYNC 4's Adaptive Dash Cards do away with navigation buttons
SYNC 4 doesn't have a home button and it doesn't have a back button. If you need them, Ford argues, your interface is too convoluted. Instead, the portrait-aspect touchscreen is split up into sections.
A persistent HVAC section runs along the bottom, allowing you to control temperature and heated seat/steering wheel settings. You can swipe up and down on the temperature gauges, or just tap where you want to set them to. At the top of the screen there's a car button which opens a menu for the driver assistance features and general car settings.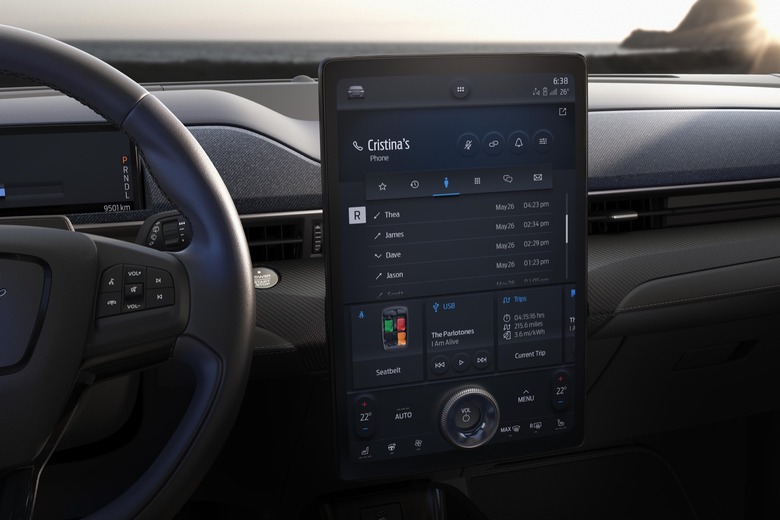 Alongside it, there's a button for the app launcher. That will have both Ford and third-party apps and services in there; exactly what the Mustang Mach-E will offer remains to be seen, but Ford's demos showed apps like PlugShare.
The rest of the space is taken up by cards for navigation, multimedia, and vehicle status. You can have one of those cards expand to occupy the whole of the remaining space, or collapse down to fit a gallery of secondary cards underneath. For example, you might have navigation at the top with a large map, with music controls in a smaller card underneath. Or, you could flip that around and have Apple CarPlay expanded, while a smaller card shows the upcoming navigation instruction underneath it.
Over-the-Air updates could save a trip to the dealer
To give Ford its due, SYNC has been unexpectedly well catered for with updates over its lifespan. The original SYNC, first installed in cars back in 2007, supported software upgrades, through to the last generation SYNC 3. With this newest version, though, they're getting even easier.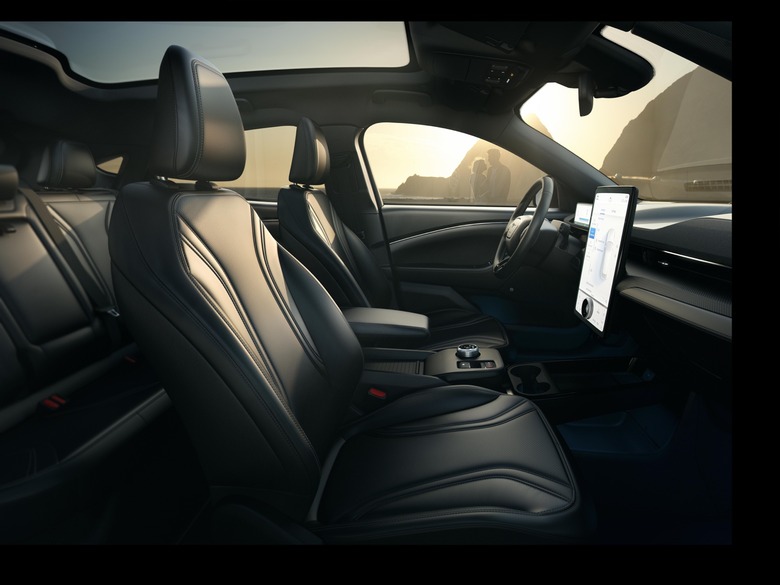 No more USB sticks with new software saved to them; no more dealership trips. Instead, SYNC 4 will use its LTE connection (or, optionally, WiFi) to download updates over-the-air (OTA). That'll happen in the background, and only when the new package is ready to actually be installed will it interrupt the current version. Ford is expecting most to be loaded overnight, and take at most two minutes to complete.
The exact timescale for new features hasn't been decided yet, but Ford says it expects the first updates to be pushed out OTA around six months after cars arrive. Not all changes will be visible, mind.
SYNC 4 has special features for electric vehicles
It's fair to say that EVs have some fairly specific requirements when it comes to digital features, not least the ability to factor charging into everyday use. SYNC 4 will integrate with the FordPass Charging Network, effectively an umbrella covering multiple different public charging services – including DC fast charging from Electrify America – and allowing drivers to access and pay for them with a single account.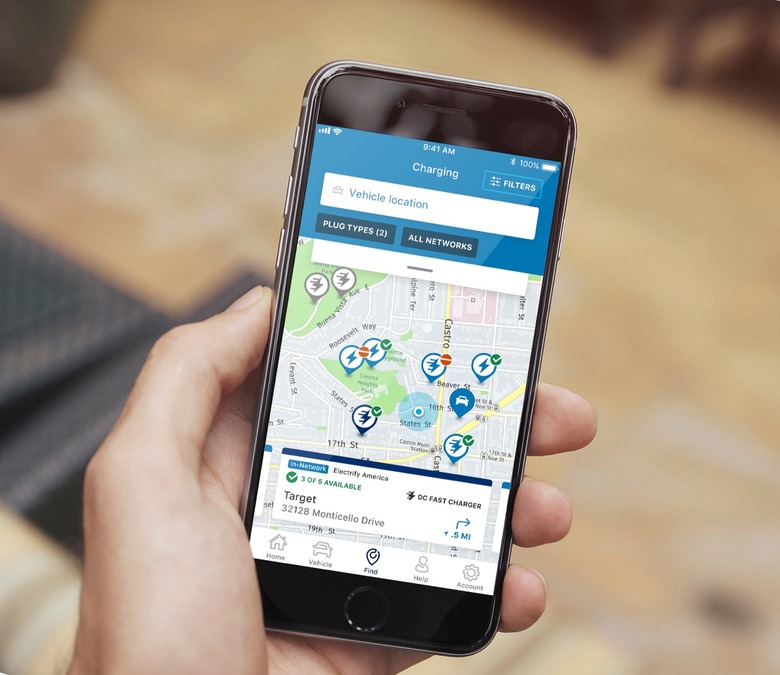 In-station chargers will be able to show current use and other live metrics through the Mustang Mach-E's touchscreen. As you set a destination into the navigation, meanwhile, a route will automatically be programmed that takes into account any necessary stops at chargers for a top-up. SYNC 4 will calculate how long each needs to be, based on the rate of charging that station supports.
Some stations will allow drivers to initiate charging through the touchscreen. Others go one step further, with Plug & Charge. That authenticates simply by plugging the charging cable in. Ford's database does include stations that are out-of-network too, and it'll also have details on what facilities may be around stations so you can occupy yourself while you wait.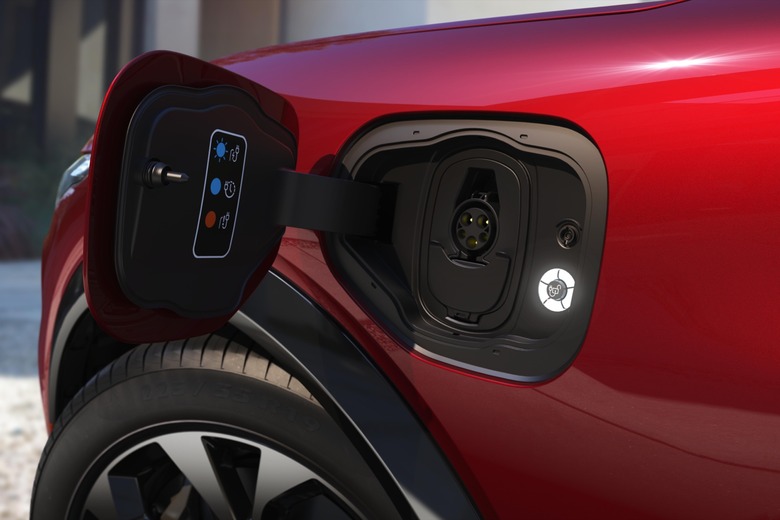 Setting all that up doesn't have to wait until you're behind the wheel, either. Ford's mobile app for iOS and Android will not only support monitoring the Mustang Mach-E's charging status, locking and unlocking the EV, and other remote control features, but route planning too. Your chosen journey will automatically be synchronized with the car.
SYNC 4 still has room for improvement
There's no denying that SYNC 4 is a considerable improvement on SYNC 3, which was certainly showing its age at this point. The Mustang Mach-E's sizable touchscreen is high-resolution and responsive, and while not everyone will like the graphical style, its layout is a lot easier to navigate now.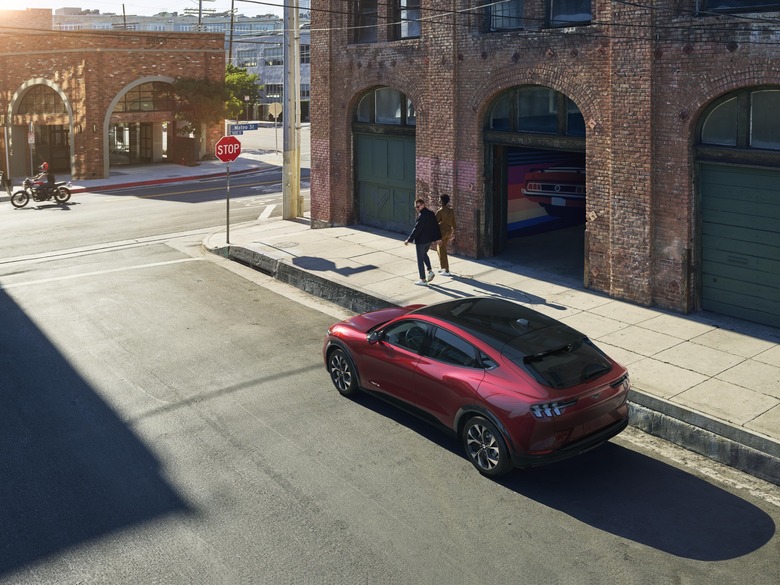 That's not to say there aren't grumbles. Ford's route planning for EVs is good, but it only takes into account public charger availability when you're first mapping out your trip. If you want to make sure the station you're headed towards hasn't already been snagged by another EV, it's down to you to ask SYNC 4 to pull it up on-screen so that you can see whether its chargers are in use.
Ford's team say that's something they're considering, though there's no timescale for when it might be added. The good news is that SYNC 4's OTA support means that, should they decide to add real-time charger use monitoring, it could seamlessly be pushed out to EVs down the line.