Ford self-driving car parks and swerves around pedestrians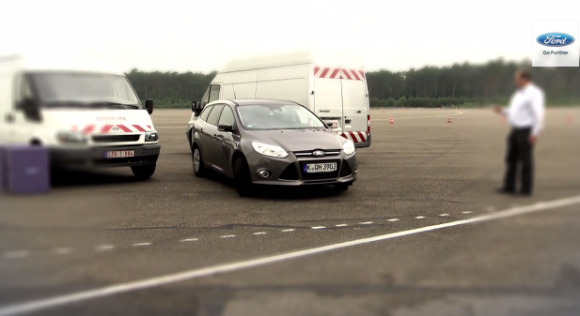 Ford has shown off a self-driving car of its own, though the automatically parking prototype – which can also avoid running down pedestrians – isn't expected to arrive on US roads any time soon. The new "obstacle avoidance" systems build on Ford's existing parking assist, but where that commercial system demands drivers be both behind the wheel and responsible for braking, the new Fully Assisted Parking Aid can be operated even when the driver is outside of their car.
That opens the door to a car that could be parked as easily as it's unlocked or remotely-started, with a click of a keyfob.
Ford's system isn't the first self-driving technology developed by a car company, but it is one of the more comprehensive. Using a battery of ultrasonic sensors spread around the exterior of the car – in this case a modified Ford Focus – the AI can identify suitable parallel, perpendicular, or diagonal spots, even when it's in motion at up to 18mph.
That, Ford says, means that the car can spot parking gaps while the driver is cruising the neighborhood, figuring out on its own whether they're suitably sized.
Pressing and holding the Fully Assisted Parking Aid button on the dashboard – or from the remote, outside of the car – while the Focus is in neutral triggers the auto-parking. The car is capable of moving forward and backward of its own accord, as well as steering. Letting go of the button stops the process instantly, for safety reasons.
The ultrasonics are also used for Ford's new Obstacle Avoidance System, coupled up to a trio of radar arrays and a camera which can monitor for cars, pedestrians or other hazards in the road ahead. Should the car spot an issue – with a range of around 650 feet, Ford claims – it can automatically steer around it or, if necessary, brake to a halt.
Unfortunately, Ford has no current plans to bring the autonomous technologies to market, though we'd be surprised if it stays that way. Volvo, for instance, already has a cyclist avoidance system which automatically identifies hazards and brakes, and the Swedish company has a self-parking car system of its own, too. Meanwhile, luxury marques like Mercedes-Benz are exploring the potential of such systems as well, with a prototype S-Class navigating across Germany recently.