Ford just bought its autonomous car plans a huge advantage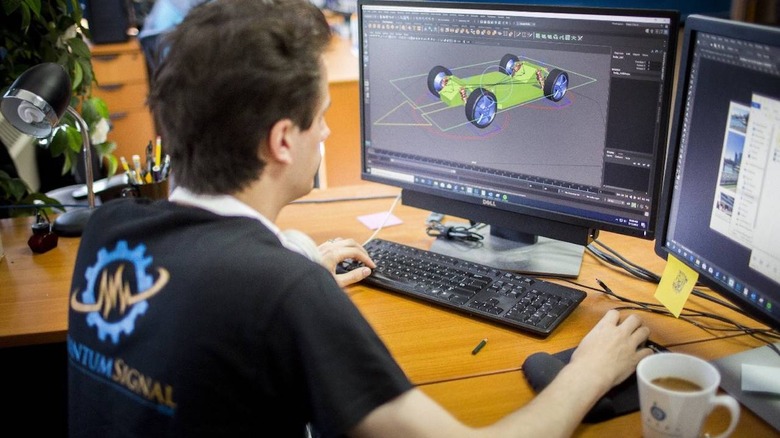 Ford is about to give its autonomous vehicles a whole new playground to test their driverless tech in, as it snaps up a simulation specialist already building virtual worlds for futuristic vehicles. The American automaker has acquired Quantum Signal, a Michigan firm which develops testing, algorithm, and military remote control software for autonomous platforms.
Quantum Signal probably isn't well known, even among those well versed in the autonomous industry. However the acquisition – for terms not yet disclosed – is potentially much more significant than, say, a new prototype vehicle from Ford.
That's because of ANVEL, a modeling and simulation environment built by Quantum Signal. With it, the company can built out virtual worlds for prototype vehicle software to be tested in, all in real-time. It's already being used by military robotics programs to validate unmanned remote and autonomous systems.
"With the company's expertise," Randy Visintainer, Chief Technical Officer at Ford Autonomous Vehicles, said today, "we can develop even more comprehensive simulation environments at Ford in which we can test our vehicles and our business model in order to achieve further performance improvements."
The advantages to simulation when it comes to training up artificial intelligences capable of coexisting with human drivers are several. For a start, it can be far more time-efficient than real-world trials. With a virtual roadway set up in the model, along with challenging features – whether they be conflicting signage, unpredictable pedestrians, or other vehicles – the AI needs to better deal with, multiple versions of the car's software can be tested out.
It's something autonomous vehicle developers have been using extensively, in parallel with physical tests. Alphabet-owned Waymo, for example, confirmed earlier this month that while its vehicles had driven more than 10 million real-world miles since the self-driving car project began, they'd done more than 10 billion miles in simulations. Because the learnings from the latter can be instantly shared with every other connected autonomous vehicle, it's a hugely potent way to more rapidly iterate on how well those cars handle the road.
That's not the only benefit Quantum Signal presents for Ford. The company also develops autonomous guidance algorithms, for example, currently predominantly for military applications but which the automaker says could be repurposed for its own purposes. That includes integrating sensors on such vehicles into perception systems.
One example could be platooning. That's where autonomous vehicles follow each other in short succession, building up a "road train" that can have fuel efficiency and cost benefits. Again, Quantum Signal's work there – including ways in which a platoon of vehicles could automatically recover from the lead vehicle being incapacitated – has focused on military applications, but self-driving haulage is one of the areas where many experts expect autonomous driving to first break into the mainstream.
Ford refers to its ambitions for autonomy as "Transportation as a Service" (TaaS) platform: effectively a combination of human-operated, remotely-operated, and self-driving options that run the gamut on consumer and commercial applications. Its plans there got a significant bump earlier this month, when it was announced that Volkswagen would invest in Ford's Argo AI autonomous division.