Ford GT Carbon Series ditches 40 pounds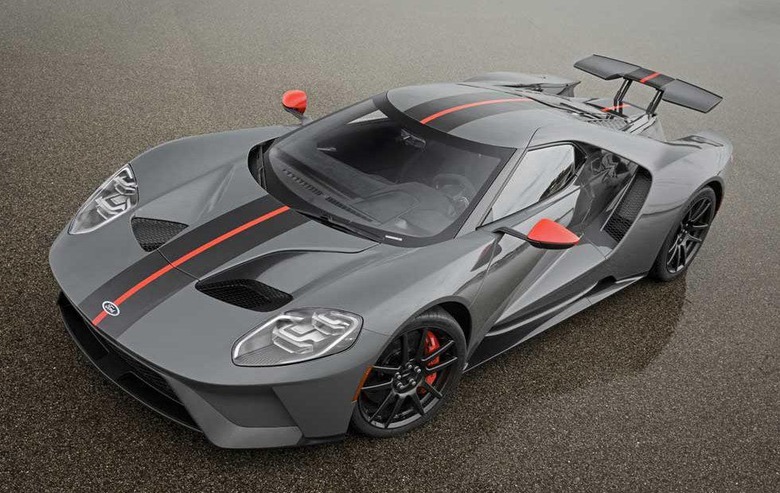 Ford announced not long ago that it was extending Ford GT production to 1,350 units and opening the order banks for the last time on November 8. At SEMA 2018 Ford has unveiled the new Ford GT Carbon Series and the automaker notes that it will be able to build one of special rides per week. The big feature of the Carbon Series, as its name suggests, is that the car offers more exposed carbon fiber.
Ford says the Ford GT Carbon Series is 40 pounds lighter than other models in the line and ditches that weight with the help of carbon fiber wheels, titanium exhaust, titanium lug nuts, and a polycarbonate rear hatch with more venting. Carbon Series cars do get an air conditioner, a radio, and Sync 3. Buyers don't get cupholders or the driver side seat storage bin.
Ford sets this car apart from the others by using more visible carbon fiber than any previous model along with unique optional accent colors. The outside of the car has a pair of exposed carbon fiber stripes with matching A-pillars, lower body panels, and gloss carbon fiber wheels. Inside the car are matte carbon fiber sills, air register pods, and center console.
The four accent colors include silver, orange, blue, and red with those colors on mirror caps, center stripes, and calipers. Carbon Series cars get a unique seat pattern with silver stitching used on the steering wheel as well.
Ford says that approved customer applicants can order the Ford GT Carbon Series now with only one able to be built each week. This car is available for those who land an application approval starting on November 8.
SOURCE: Ford