This week the folks at Ford have revealed a brand new Fusion Hybrid research vehicle, complete with intention on bringing the next generation of driver-assist technologies to the public. This vehicle wont be sold to the public, of course, instead acting as a test platform for Blind Spot Information System, lane-departure warning, active park assist, collision warning with brake support, and adaptive cruise control technologies. This release is an announcement that signs way for the future, with the year 2014 acting as the biggest release year ever for Ford.
Speaking at a press conference this week, Joe Hinrichs, Executive Vice President and President of The Americas, Ford Motor Company, spoke up on how the year 2014 would be massive. The largest year in Ford's history, in fact. Hinrichs made clear: "2014 will be the biggest year ever in our 111 year history for new product launches."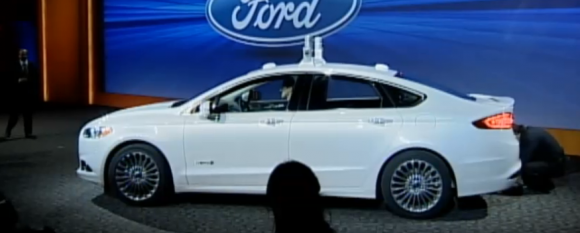 Raj Nair, Group Vice President, Global Product Development for Ford spoke up as well, unveiling the Ford Fusion Hybrid research vehicle in a drive-on-stage debut. This vehicle was developed by Ford in collaboration with the University of Michigan and State Farm. With these groups, Ford intends on testing and making real the future of autonomous functionality in automobiles.
This release is also part of the future of Ford's Blueprint for Mobility, a system in which Ford looks to a future when automobiles have a dangerous potential for clogging up the streets and nature, aiming to stop problems before they become too severe.
"Products such as Ford Fusion Hybrid give us a head start in the development of automated features. Our Blueprint for Mobility aligns the desired outcomes of our work in automated functionality with the democratization of driver-assist technology found on today's lineup of Ford products." – Paul Mascarenas, chief technical officer and vice president, Ford research and innovation
Ford plans on working with the Ford Fusion Hybrid research vehicle with State Farm and the University of Michigan with this vehicle through the immediate future. Stay tuned to see what they're up to!