Ford F-150 and Explorer recall: Almost 350k at rollaway risk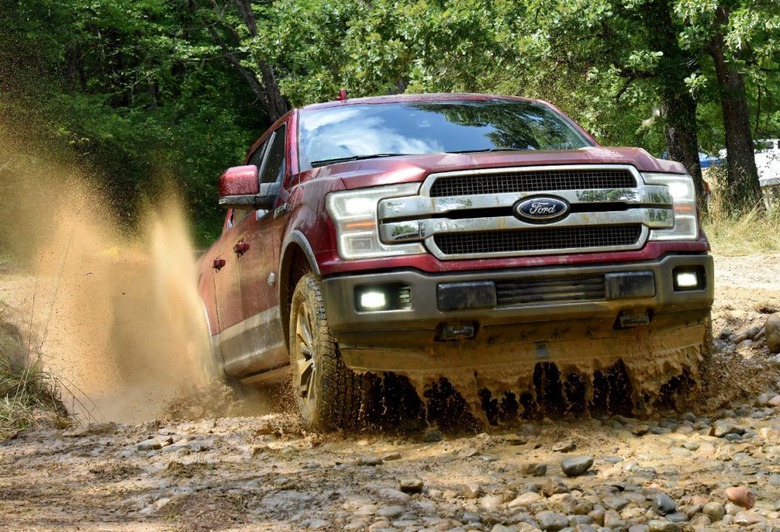 Ford has recalled nearly 350,000 of its most popular vehicles, after discovering a fault that could see the pickups and SUVs roll away – even if they've been put in park. The transmission problem affects Ford's F-150 truck and the Expedition SUV, two of its strongest sellers, with the recalls affecting not only the US but Canada and Mexico.
Two different gearboxes are causing Ford its headaches. On the one hand, there's the 10-speed automatic transmission; on the other, there's a 6-speed automatic version. Both have been used on hundreds of thousands of model year 2018 trucks and SUVs.
According to Ford, the problem is one which only becomes apparent over time. "On some of the affected vehicles, a clip that locks the gear shift cable to the transmission may not be fully seated," the automaker explains. "Over time, a partially seated clip or a clip that becomes dislodged may allow the transmission to be in a gear state different from the gear shift position selected by the driver."
That might not sound like much, but it could make for a big problem in a parking lot or garage. The driver of the vehicle could put the shifter into park and remove their key, and yet the transmission could actually still be in another gear or neutral. There'd be no warning message on the instrument panel, and no chime when they exited the truck.
"If the parking brake is not applied," Ford points out, "this could result in unintended vehicle movement, increasing the risk of injury or crash." So far, the company has only been made aware of one reported accident and injury related to the issue. Nonetheless, it's issuing a widespread recall across a number of models:
2018 Ford F-150 vehicles built at Dearborn Assembly Plant, Jan. 5, 2017 to Feb. 16, 2018

2018 Ford F-150 vehicles built at Kansas City Assembly Plant, Jan. 25, 2017 to Feb. 16, 2018

2018 Ford Expedition vehicles built at Kentucky Truck Plant, April 3, 2017 to Jan. 30, 2018

2018 Ford F-650 and F-750 vehicles built at Ohio Assembly Plant, April 25, 2017 to March 9, 2018
In total, Ford estimates, approximately 347,425 of the vehicles in question are in North America. 292,909 are in the US, while 51,742 are in Canada. 2,774 are in Mexico.
Those with an affected vehicle will have it inspected by a Ford dealer, which will verify that the shift cable locking clip in question was correctly installed. If not, it'll be adjusted and fixed at no charge.
Ford's stock price was down roughly 1-percent today, to $11.24 at time of publication. The automaker announced last month that it was diverting a large chunk of its development budget away from sedans and to stronger selling "utility" vehicles, like SUVs and trucks. To offset concerns about economy and emissions from that news, Ford also said that it would make "a companion hybrid" for every new utility it released.