Ford C-Max Hybrid gets an official EPA rating of 47 mpg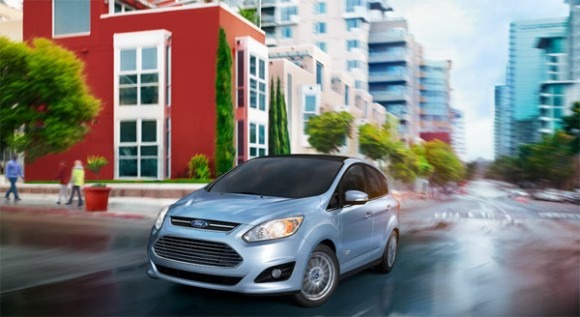 Ford has been talking up its C-Max Hybrid for a while now. The C-Max Hybrid has received its official EPA fuel economy rating and beats the Toyota Prius V by seven mpg according to Ford. The EPA granted the C-Max Hybrid EPA certified efficiency ratings of 47 mpg city, 47 mpg highway, and 47 mpg combined. That is rather impressive fuel efficiency.
Ford says that while traditional hybrid vehicles get most of their fuel-efficiency benefits traveling within the city, multiple innovations used inside the C-Max Hybrid allow the vehicle to get the same 47 mpg fuel efficiency rating on the Highway. One of the innovations that helps deliver the 47 mpg rating on the highway is a top speed of up to 62 mph while in EV mode.
Ford also counts its patented SmartGauge with EcoGuide as another reason why fuel efficiency of the vehicle is so good. This particular gauge has a graphic that is easy for drivers to understand. It has growing green leaves in the gauge cluster as a reward for economical driving. The car also features a special ECO Cruise mode that optimizes the powertrain for economical highway travel.
The C-Max offers impressive fuel economy and is also expected to be the cheapest hybrid utility vehicle on the market with a base price of $25,995 including destination and delivery charges. That puts the Ford hybrid vehicle at a price of $1300 lower than the Toyota Prius V. The Ford C-Max uses a traditional gasoline engine paired with a lithium-ion battery pack. The car also features regenerative braking and is able to capture 95% of the braking energy that would've been lost to help keep the battery pack charged.