Ford now taking orders on C-Max Hybrid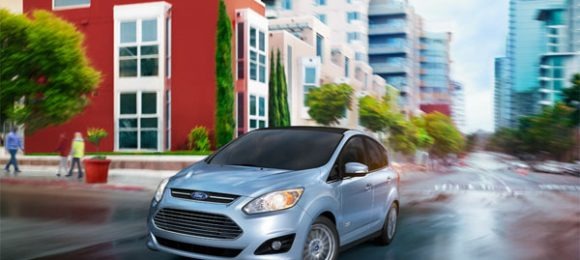 Ford has now announced that it is taking orders for the C-Max Hybrid utility vehicle. The C-Max Hybrid is the most affordable and fuel-efficient hybrid utility vehicle in America according to Ford with a base price that's about $500 lower than that of the Toyota Prius V. Ford's C-Max has some interesting features such as a hands-free lift gate.
If you walk up to the car with your hands full, all have to do if the key is in your pocket is gently kick under the rear bumper, and the lift gate will open automatically. That will make it easier to load the vehicle when your hands are full. The base price of the vehicle is $25,995, and it will be available this fall. The vehicle uses a new two-liter Atkinson-cycle four-cylinder engine.
The engine is coupled with a lithium-ion battery pack that gets recharged when the gasoline engine is in operation. The car also uses regenerative braking system that is able to capture 95% of the brake energy it would've been lost otherwise. Ford also packs the vehicle with technology, including the MyFord Touch system as well as the next-generation SmartGuage with EcoGuide.