Ford boosting 2013 hybrid economy with patch after EPA suspicions

Ford will patch its 2013 hybrids with a software fix to address fuel economy, addressing EPA concerns late last year that cars like the Fusion and C-Max weren't seeing anything like their quoted mileage ratings when in the real world. The EPA opted to investigate the two cars in December 2012, after third-party testing indicated they were missing the suggested 47 mpg rating by as much as 10 mpg. The fixes are "calibration updates" the car company says, and will be offered to drivers of three of the company's 2013 hybrids.
The EPA's suspicion was that Ford had designed its engine mapping and other systems specifically to suit the agency's testing practices, rather than what might necessarily be the best settings for real-world use. That given, when owners took the wheel, they discovered the hybrids were not as frugal as they had been led to believe by the advertising.
Ford's new software addresses several areas. The cars will now be able to drive in fully-electric mode at up to 85mph, rather than it being limited to 62mph as it is today, as well as making use of the electric-only system more rapidly by shortening the engine warm-up time by as much as half.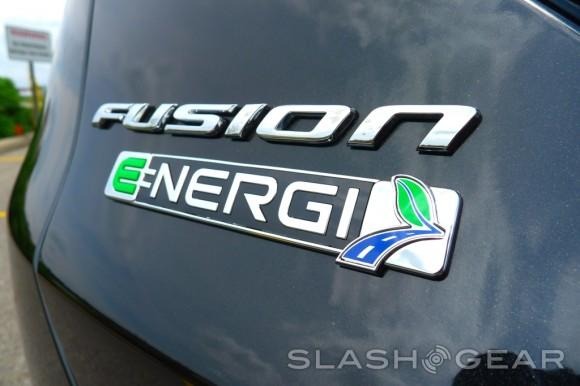 Meanwhile, the Active Grille Shutters will become more intelligent, cutting drag during cold weather, during use of the air conditioner, and when engine coolant temperature is higher. The air-con system will also be optimized to reduce use of the compressor, plus how much energy it uses when conditions are cold. Even the engine's electric fan speed will be cut as coolant temperature drops.
"Customers should see the most improvement at highway speeds, during air conditioner use and operation in colder climates" Raj Nair, group vice president of Global Product Development at Ford, said of the changes.
Ford has been attempting several different ways to address economy and encourage drivers to use their cars in more efficient ways. The Ford Fusion Energi, for instance, has a "gamification" system which challenges owners to beat a numerical high-score by optimizing their driving style.
Ford efficiency "gamification" demo:
Ford will be contacting owners of the 2013 Ford C-MAX Hybrid, 2013 Ford Fusion Hybrid, and 2013 Lincoln MKZ Hybrid to alert them to the update, installation of which will be optional.