Floating Record vertical turntable project funded in 3 hours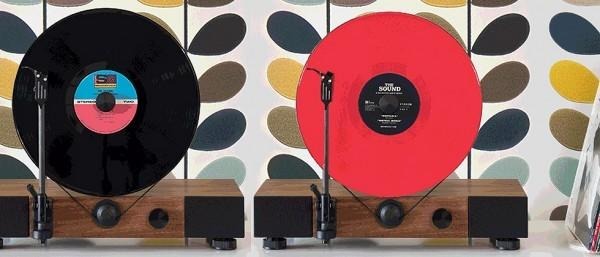 The Floating Record vertical turntable launches to a surprisingly enthusiastic crowd-funding audience. With a $50k funding goal in place at its morning launch, this project reached a cool $85k by the time the afternoon rolled around. Instead of another digitally-enthusiastic piece of "high-res audio" nonsense, this piece of equipment works with audiophile-grade materials for vinyl records. And it plays these records on their side – because any person willing to take the time to pull a record out of its sleeve to play music can also appreciate the awesomeness of seeing said record play on its side.
Time to bust out your Jack White albums, ladies and gentlemen. This vinyl record player works with built-in full-range stereo speakers AND has the ability to send signal out to the speakers you've got in the corners of your room with RCA line-out. This piece of artwork delivers what they call a "visually and mechanically sound way to experience vinyl music."
It's pretty, too.
Below you'll see this piece of equipment playing vinyl like a pro. Because it is a pro.
Up front in the record player's arm you'll have an Audio-Technica AT95E 1/2-inch Standard Mount Cartridge with elliptical diamond stylus. There's a simple clamp that holds whatever record you're playing down to the table – which is vertical.
The vertical table – the platter, that is to say – is made with polished acrylic, while the arm holding it up is polished acrylic plinth.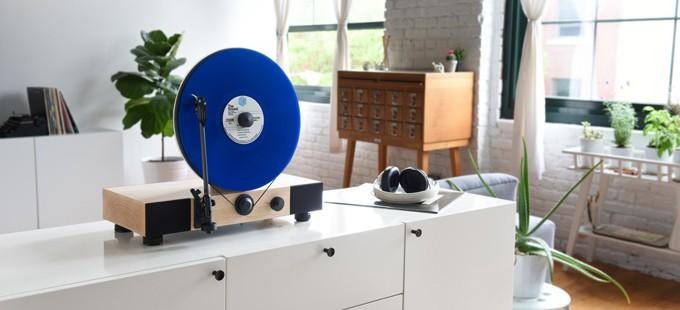 The base is made of either maple or walnut, while the belt drive system – inside and out – works with records at both 33 1/3 and 45RPM. To the right of the drive system is a simple volume knob, and to the left and right of everything are two 2-inch full-range stereo speakers.
Around the back you'll see a control panel with a simple on-off switch as well as RCA and 1/8-inch audio outputs. To the right is a switch for switching between onboard and line-out speakers.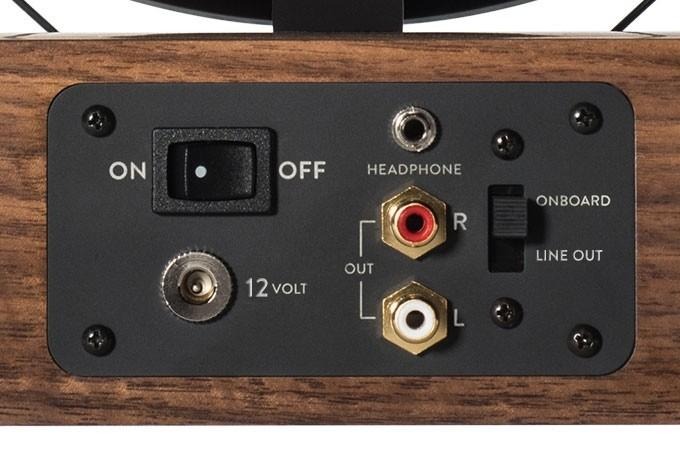 Switching between speeds requires only that you move the drive system's silicon belt from the inner grove to the outer groove.
Unlike your mama's record player, this piece of equipment's belt isn't made of material that'll eventually break and turn to tar. This is the future.
• Walnut or Maple Wood Base
• Fully-adjustable Carbon-Fiber Tone-Arm w/ dynamically set tracking force
• AT95E Audio-Technica Dual Magnet Cartridge with Elliptical Diamond Stylus
• 2" Neodymium Full-Range Stereo Speakers
• Built in phono stage with RIAA equalization curve
• Onboard 2x15W Stereo Audio Amplifier, Tripath TA2024 Class-D / Class-T architecture
• Manual Belt-Drive System (33 1/3 or 45 RPM)
• DC Stepper motor with super high precision motor control circuit
• Low resonance, high mass, acrylic Plinth and Platter
• RCA Line Out
• Headphone Jack
• Universal AC to DC power supply compatible with US standard 60 Hz, 110/120 VAC or European standard 50 Hz, 220/240 VAC (Snap-in power plugs are included for operation in countries around the world)
• 17" Wide x 10" Deep x 16" Tall
• 13 lbs.
• Vibration Damping Feet
Made of high-quality parts selected by a crew of creators aiming to make a top-notch experience, this record player appears to be a rather radical preposition here in 2015.
As with all Kickstarter projects, we wont know the full extent of the truth until we see it up close and personal. And hear it, of course.
Early-bird funders of this project can attain the record player for $325 – after a bit, the project bumps the price to $350. We'll see how much this machine is once it hits the market thereafter.