FLIR C2 and ONE thermal camera for iPhone and Android hands-on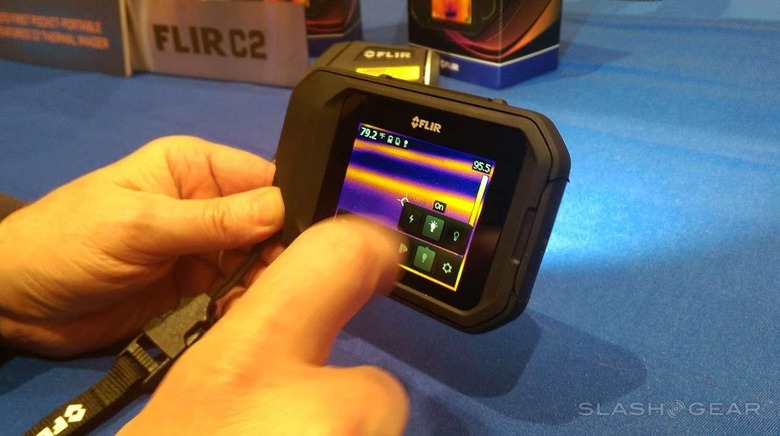 Two devices are coming from the team at FLIR Systems that will allow thermal imaging to be put into the hands of consumers this year. That means seeing the heat around you – like a Predator – through your smartphone. One device is a camera attachment for your smart device – iOS or Android – the other is a self-contained thermal imaging device – its own camera. This second device goes by the name "FLIR C2", a Thermal Camera that's small enough to fit in your pocket – like a smartphone but made for thermal imaging alone.
FLIR C2
This device is extremely light and works with a body that's not going to break if you drop it from a few feet above the ground. There's a loop at the corner to attach a carrier for your wrist, and the backside features a massive lens and LED light. The front features a touchscreen – this is an all-touch sort of situation.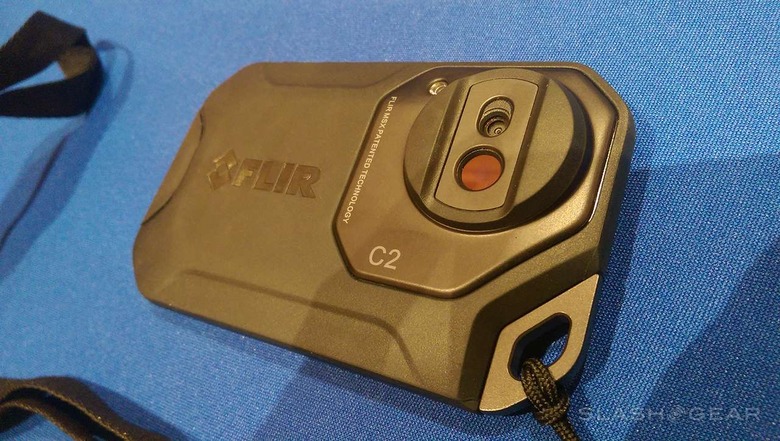 You're working here with MSX, or Multi-Spectral Dynamic Imaging. This is a mix between your heat vision sensor view and your standard camera view, making it much easier to "see what you're looking at", so to speak.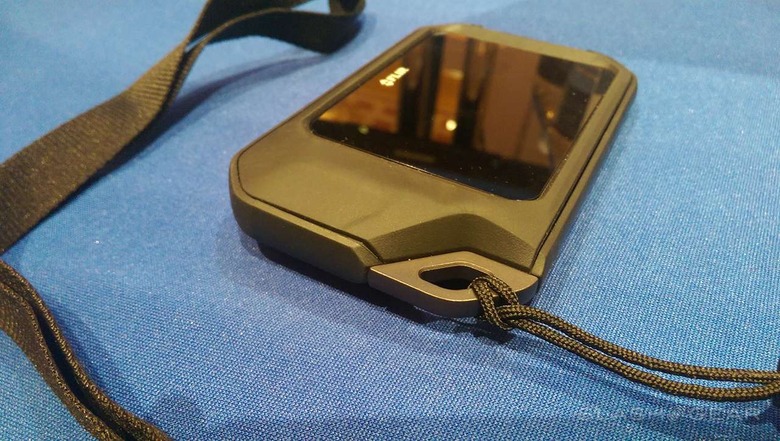 Without MSX, you're just looking at the heat. If you want to find a heat spot in a very specific spot, being able to see an overlay of a more standard visible spectrum (visible to humans, that is), allows you to pinpoint what you're looking at much easier.
Above you'll see a demonstration of this technology from April of 2012 – way back when FLIR introduced MSX for the first time.
Above you'll see FLIR's feature demo of the FLIR C2 in action – there they include several use-case scenarios as well.
The final video here has a FLIR representative showing us how the MSX technology works on the C2 live, and in person.
FLIR ONE 2015
We had the opportunity to test the FLIR ONE on an iPhone 6. This device connects through your smartphone's Lighting jack or micro-USB jack and acts on its own, using its own hardware and your smartphone's software for its own app interface. You'll be able to download the app for free and it'll work for your iOS or Android device right out of the box.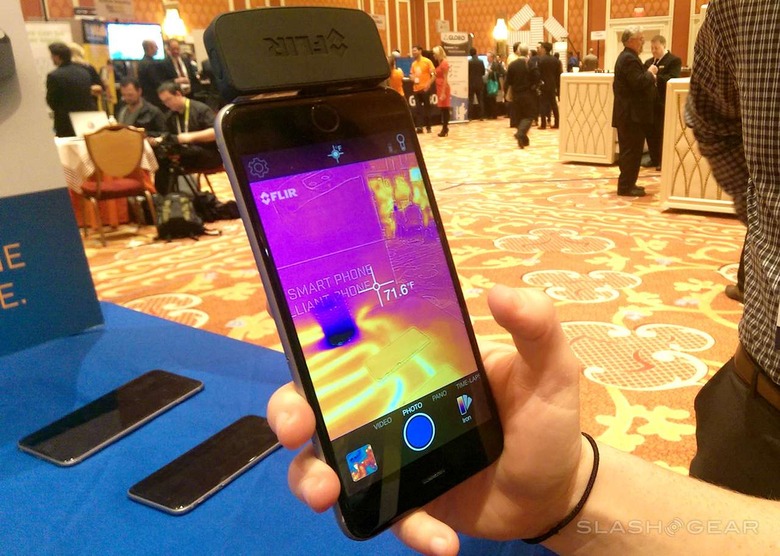 This means you're not connecting with Bluetooth or any other wireless technology – there's no software pairing – there's just a hardware connection – nothing difficult to mess with.
This is the second generation of the FLIR ONE device. The latest generation – the one you're seeing here – will be available for Android and iOS mid-year 2015.
Pricing for the first FLIR ONE device – out already for the iPhone 5/5s is $249.99 (on holiday sale) – normal pricing is $349.99 – and we're expecting the next model to cost the same or less. The FLIR C2 is also set to be released inside the year 2015 – final details have not yet been shared.