Flash-memory Zune details emerge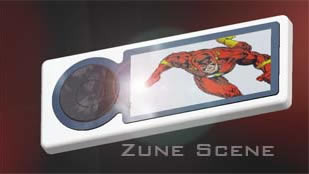 The general theme for reviews of the Zune is that it's worthy but dull, and in a marketplace where Apple is your primary competitor that really isn't good enough.  Microsoft, it's rumoured, are about to make their second foray into the crowded PMP market, with a flash memory-based Zune to compete, obviously, with the iPod Nano.
Said to come in 4GB and 8GB variants, the as-yet-nameless device has been codenamed Draco within Microsoft.  Zune Scene, who claim to have received the information from an insider, are maintaining that the mini player will have both WiFi and video playback from its older sibling, measure around 3 x 1.25 x 0.25-inches and be available in time for the 2007 holiday.
I still believe that if Microsoft loosened up their grip on the WiFi functionality it could really make the Zune a contender.  Sadly the recording industry seems to have an even tighter stranglehold.
"Draco" to store 4GB or 8GB of flash memory [Zune Scene]