New Fitbit Charge 2 and Flex 2 pack auto-tracking, move nudges, more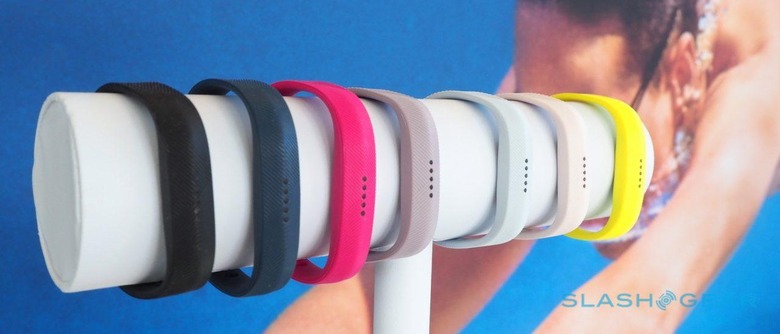 Fitbit has updates its two most popular fitness wearables, with the Charge 2 and Flex 2 adding features like auto-recognition of different exercise types, guided breathing, and Apple Watch style reminders to get up and move. Meanwhile, there's a new app with Fitbit Adventures pitting your exercise regime against a trek through Yosemite, while designer collaborations aim to make the health gadgets as close to high-couture as possible.
Charge 2 takes last year's Charge HR and makes four key changes. For a start, the new model has a 4x larger display, and it now supports interchangeable bands: Fitbit figures that, if you can have your pick of straps and even change during the day, you'll wear the fitness tracker more. There are now seven built-in clock faces ranging from analog through to digital, with different degrees of health info shown on them.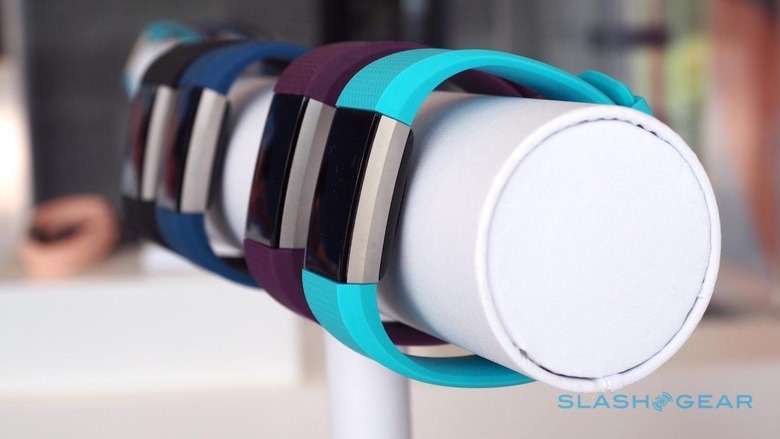 More fundamental than the aesthetic change is the new personalized exercise modes. Whereas the Charge HR had a generic mode, the Charge 2 can be switched between different types of sport – running, weights, treadmill, elliptical, and more – each with a different set of real-time feedback data shown while you're working out.
A new interval workout mode guides wearers through interval training, buzzing as they should switch between high-intensity exercise and periods of rest. Those out running or cycling, meanwhile, can connect the Charge 2 to their phone's GPS and get a summary map, pacing, and distance results afterwards.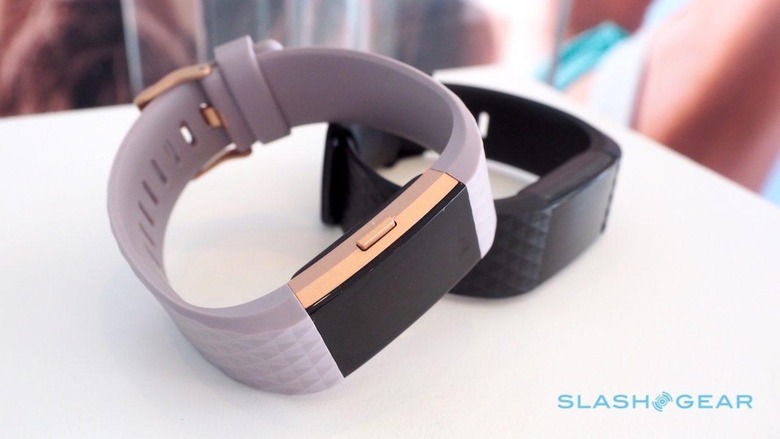 Importantly, Charge 2 promises to be cleverer than its predecessor. Although you can manually switch into an exercise mode, there's also auto-recognition – the band can spot when you're sleeping, too – while the all-day pulse rate tracking aims to help wearers stay in the right "cardio zone" to maximize the results of whatever they're doing.
Since that can be something tricky to understand for many getting started with a new fitness regime, the companion Fitbit app has been redesigned too. There's now a Cardio Fitness Level score, essentially an answer to the question not only of "how fit am I?" but "how do I compare to other people like me?"
So, the app will rate you out of 100, but also tell you how you compare to other people of the same age and gender. Fitbit estimates VO2 max from age, gender, weight, heart rate, and exercise data to figure out its score; it's more accurate, the company says, the more you work out. As that happens, the app will also make personal trainer style suggestions to tweak your routine, like suggesting when an extra session might be most beneficial, or giving weight advice.
On the flip side, Charge 2 also introduces guided breathing sessions. Again, that calls upon the heart rate sensor, which measures beat-to-beat variability in real-time and then creates a personalized session either two or five minutes in length that – with pulsing concentric circles on the wearable's display – guides you through lowering your breathing rate.
Fitbit says the research suggests improving breathing performance for slower, deeper breaths can help with cardiovascular health, lower blood pressure, and cut anxiety. Stand or sit still too long, meanwhile, and the Charge 2 will nudge you to get up and walk 250 steps.
As with Charge HR, Charge 2 supports caller ID from the Bluetooth connected phone, but Fitbit has added text message and calendar alert support too. Battery life remains at five days.
At launch, there'll be classic bands as well as various "luxe" leather versions in indigo, brown, and blush pink. Two special editions – one with a lavender band with rose gold body, and the other with a black band and gunmetal body – will follow on afterwards.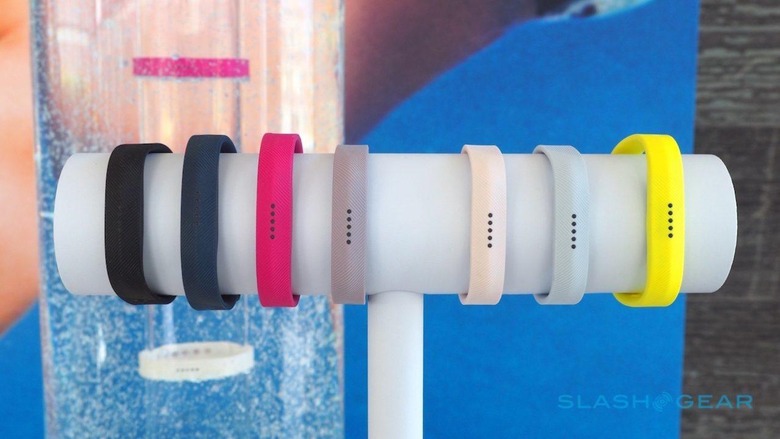 Flex 2, meanwhile, revamps 2013's original Flex, preserving the simplicity but throwing in some of the features from its more complex Charge 2 sibling. As before, it's a tiny nugget of tracking electronics that fits into a wristband, but now both tracker and band are 30-percent slimmer.
Indeed, the whole tracker itself has been redesigned, and there's an extra, color LED atop the row of white progress lights. It's used to prompt movement reminders, as well as give call and text notifications from the Bluetooth connected phone.
Like the Charge 2 it automatically recognizes periods of exercise, but it's also Fitbit's first swim-proof tracker, able to spot if you're in the pool and track laps, pace, distance, and calories burned.
At launch, there'll be a "classic collection" with seven colors – yellow, grey, magenta, black, pink, navy, and lavender – along with a Luxe Series, which encloses the tracker in a metal bangle or necklace. Down the line there'll be a range of designer enclosures, bracelets, and straps from Public School, Simply Vera by Vera Wang, and Tory Burch.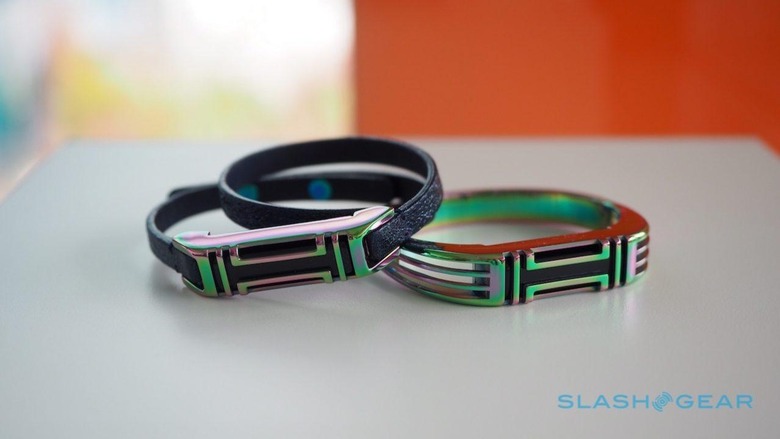 Although the new hardware is Fitbit's big news today, there's also movement in the app. You can now connect multiple devices to the same account – handy if, say, you want to wear a Flex 2 while you're at the gym but a Blaze smartwatch the rest of the time – and new software for Blaze expands smart notifications to any app you select, adds movement reminders, and new clock faces.
A variety of new designs and accessories for Blaze are also being added, including leather and nylon bands, and even a 22 ct good plated range as Fitbit tries to position its wearables as "high-end jewelry".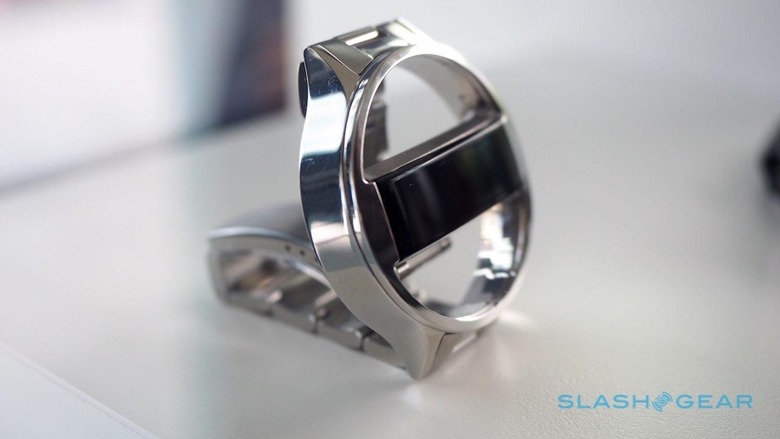 There'll also be improvements to Fitbit Challenges in the app. While there have been social challenges before now, not everybody opts into them; those who prefer not to are missing out, Fitbit says, since on average those in a group challenge do 30-percent more steps.
So, the new Fitbit Adventures are effectively individual challenges. Fitbit measured out the steps involved in three Yosemite trails, and as you exercise you see how far you're progressing through them. There's photography of various landmarks – you can move the phone around to view them – and, periodically, "hidden treasures" like quizzes, mini-challenges, and information about the area.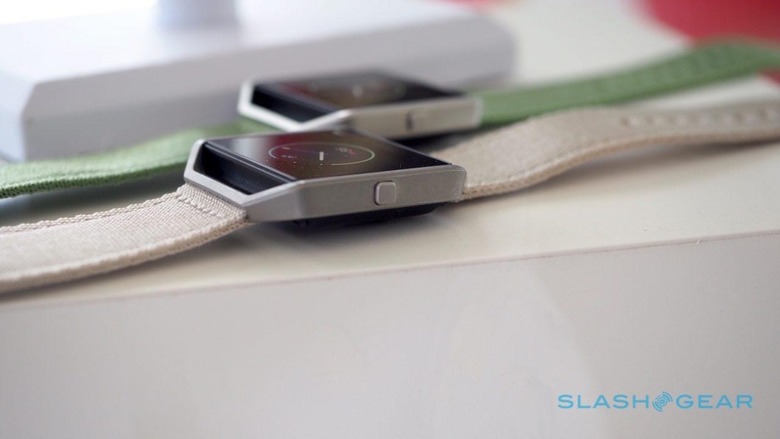 Come mid-September, Fitbit will be sponsoring the New York Road Runners Association's marathon in NYC, and app users all over will be able to virtually compete too through a custom in-app experience.
The new Fitbit Charge 2 goes on sale in mid-September, and is up for pre-order in black, blue, plum, or teal from today, at $149.95. Extra regular bands will be $29.95 apiece, while leather bands will be $69.95; the special edition versions will be $179.95.
As for Flex 2, that's also up for pre-order now, priced at $99.95, but will ship this October. Extra regular bands will be $14.95 each, or a three-pack for $29.95, while the metal bangle will be $99.95 for gold or rose gold, or $89.95 for stainless steel. The pendant necklace will be $99.95 for gold or $79.95 for stainless steel.
The new Fitbit Adventures are available today for iOS, Android, and Windows users.