Fiskars Rock Paper Trimmer: Bizarre Paper-Slicing Speaker Dock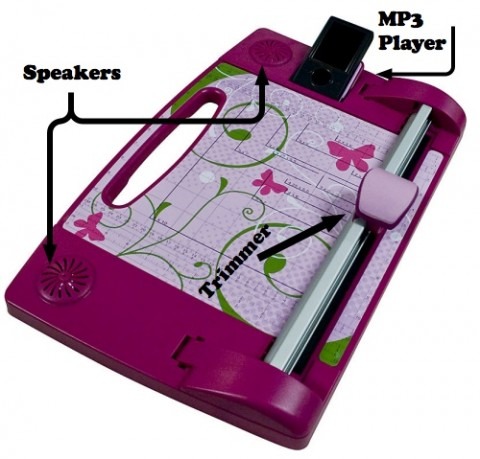 We may receive a commission on purchases made from links.
We've all been there, tirelessly slicing through sheet after sheet of paper and nothing but the hum of the blade and our own thoughts to entertain us.  Happily there's salvation at hand – and at a bargain price, too – in the shape of the Fiskars Rock Paper Trimmer: a rotary trimmer with built-in speakers and a cradle for your MP3 player.
Sound quality is unlikely to be the most impressive, as the speakers are passive and powered directly from your PMP.  Still, if you've always wanted to slice to music, but don't want to wear headphones in case the cord gets trapped under the blade, this could be the bizarre crossover device for you.
List, the Rock Paper Trimmer should set you back $99.99 – which I'm sure you'll agree is a bargain – though it's available for $59.99 through Amazon.  Make a trip to your local Joann store, however, and you might be lucky enough to pick one up for just $25 in their clearance section, leaving plenty of money to buy some lovely embossed découpage paper.
[via Gear Diary]