First weekend Pre sales estimated at up to 60k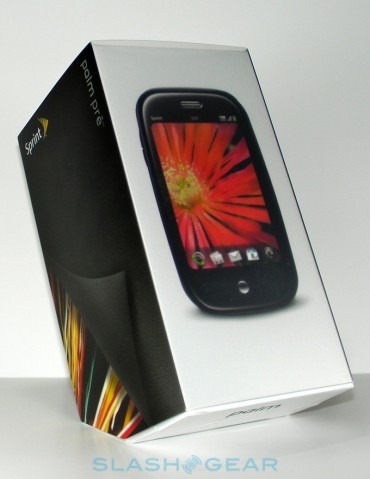 Over 50,000 people may have taken home a box just like this at some time over the weekend, according to J.P. Morgan analyst Paul Cooster.  While Palm and Sprint are yet to comment regarding first-weekend Pre sales, analysts have tentatively pegged the figures as ranging from 35,000 to 60,000, with shortages of the smartphone having a significant impact on numbers.
"We conclude that the launch of the Palm Pre has probably been successful. Sales in the first two days probably exceed 50,000, which aligns with our expectations, but sales are very probably short of the 146,000 reported for the first generation Apple iPhone, owing to capacity constraints in manufacturing (or imposed by PALM's balance sheet). We believe the 'soft launch' is probably proceeding to plan. To be reassured, we need to see Sprint channel inventory replenished this week." Paul Cooster, analyst, J.P. Morgan
Unsurprisingly, the unofficial figures are being compared to Apple's statistics for the iPhone and iPhone 3G, the first of which sold 146,000 and the latter 1m when they each launched respectively.  Palm are yet to confirm what limited availability of the Pre, but investors have responded with a weakening of the company's share price; it's down roughly 10-percent.
Surprisingly, however, the most significant shortage this weekend turned out to be of the Touchstone inductive charger.  That device – which Palm had previously suggested that every Pre owner would probably want to pick up – ended up in shorter supply than the smartphone itself.
Strong sales or not, sales of the Pre next weekend will depend in no small part on what Apple announces over the next few hours.  With less than two hours to go – at time of writing – until the WWDC 2009 keynote begins, join us at http://live.slashgear.com/ to see whether a third-generation iPhone could knock the wind out of the Pre altogether.
[via My Pre]