First-wave LEGO The Force Awakens line revealed for Force Friday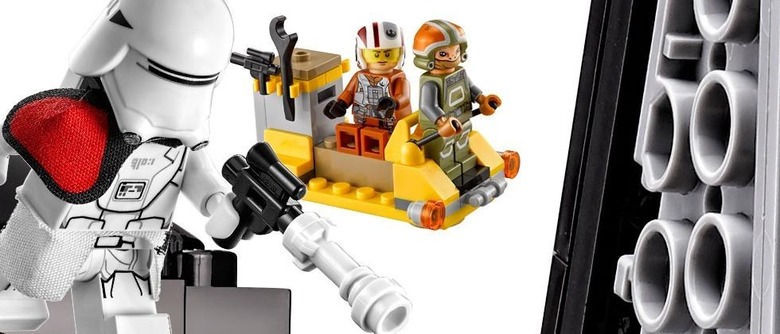 Today we're getting our first full look at the Star Wars The Force Awakens lineup for LEGO systems this late summer. This is just the beginning – certainly not the end of the totally massive number of Star Wars LEGO sets that'll be continuing to be released throughout the rest of the year. We're beginning with just the bits you've likely seen in the teaser trailers – plus one more tiny transport you've probably never seen before.
In the collection you'll see here, you'll find Rey's Speeder, a First Order Snowspeeder, a First Order Special Forces TIE fighter, Poe's X-Wing Fighter, a First Order Transporter, Kylo Ren's Command Shuttle, and the new version of the Millennium Falcon. These sets are likely in store near you right this minute, but before you dash out the door, have a peek here up close and personal with each of the sets – far closer than you'll be comfortable with.
Rey's Speeder has 193 pieces with two minifigs: Rey and Unkar's Thug. This is the most accessible set in the whole lot at $19.99 USD.
The First Order Snowspeeder has three minifigures – one officer and two Snowtroopers. The snow speeder will cost you $39.99 USD.
The First Order Special Forces TIE Fighter has 517 pieces and four minifigures, including a First Order Officer, First Order Crew, and two TIE Fighter Pilots. This TIE will cost $69.99 USD.
Poe's X-Wing Fighter includes our best buddy BB-8, Poe Dameron himself, one Resistance X-Wing Pilot, and a Resistance Ground Crew member. This set has 717 pieces. Poe's X-Wing will cost you $79.99 USD.
The First Order Transporter comes with a whole smattering of minigigufres, including two First Order Stormtroopers, two First Order Flametroopers, the shiniest of all warriors Captain Phasma, and two Resistance Soldiers, one male and one female. This set will cost $89.99 USD.
Kylo Ren's Command Shuttle is the second most massive set in the collection at 1005 pieces with a First Order Officer, General Hux, Kylo Ren, a First Order Stormtrooper Officer, and two First Order crew members. This set will run $119.99 USD.
The largest set is the Millennium Falcon – this is the NEW Millennium falcon with new bits and pieces everywhere, with a whole new build. This set comes with Han Solo (the only "old" Han figure you'll be able to buy from any toy set released thus far), Chewbacca, Finn, Rey, and BB-8, as well as a Kanjiklub Gang Member and Tasu Leech. This set will cost you $149.99 USD.
These sets will be released to the LEGO store online immediately, and will also be appearing at your local Target and Wal-mart stores. Stay tuned to our Star Wars tag portal for more Force Friday action!