First North American McLaren Senna is clad in epic green carbon fiber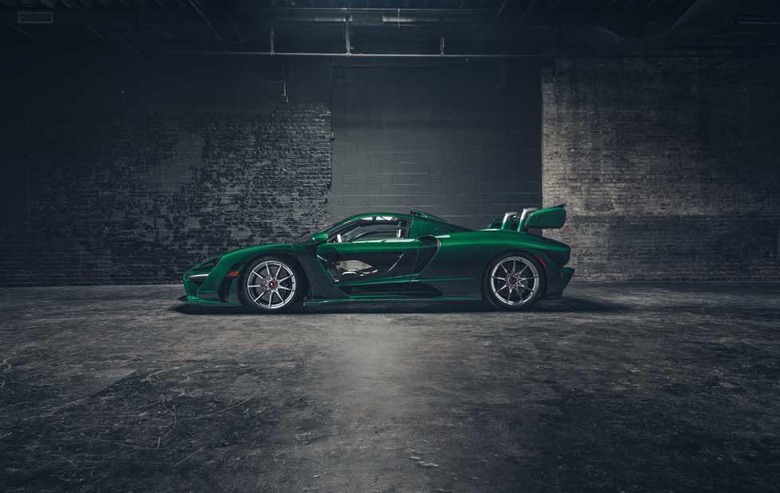 The McLaren Senna is a horribly beautiful car. It's dead sexy from some angles and hideous from others. No matter what you think of the looks, the performance the car delivers is insane. McLaren is talking up the very first of the Senna cars that will be delivered in the US. A buyer in NYC ordered the car and it is very special.
This Senna was ordered via McLaren Special Operations and has bespoke styling. Specifically, its done up in what McLaren calls Full Visual Carbon Fiber Body and it is tinted emerald green. The interior is decked out with the same color carbon fiber and white leather.
The specific green hue is called Fux green and if you are wondering the guy who purchased the car is called Michael Fux. McLaren says that the full body set takes almost 1,000 hours to produce. The wheels have blue and red center lock nuts and ball polished wheels.
The white leather inside is on the seats, door uppers, and steering wheel and has green contrast stitching on seats and wheel. The headliner is in carbon black Alcantara. Other than the fancy exterior, the Senna has the same specs as the other 499 cars being made.
That means 789bhp and 590 lb-ft of torque. The wild area gives the car up to 1,763 lbs. of downforce. The car weighs 2,641 pounds. Fux also owns a bespoke 720S, 12C in McLaren orange, and a 12C Spider in bespoke purple. The Senna will be on display at The Quail, A Motorsports Gathering on August 24.
SOURCE: McLaren