McLaren Senna detailed as British supercar taunts physics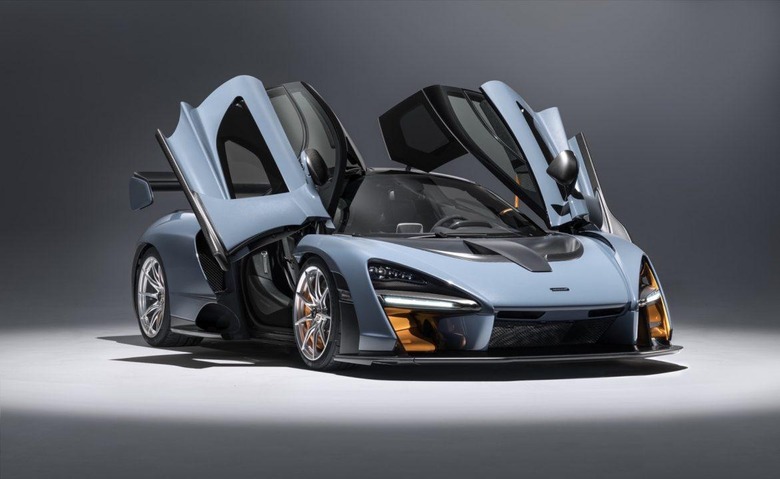 The McLaren Senna may not be making its official debut until the Geneva Motor Show, but the British automaker can't help whetting our supercar appetites with some new details and photos. Named after iconic racing driver Ayrton Senna – who won the Formula 1 World Championship three times in McLaren cars – the hand-assembled road-legal racer is all about superlatives.
The 4.0-liter twin-turbocharged V8 may not be as large as what you'll find in some rival supercars, but with 789 horsepower and 590 lb-ft of torque it's certainly no slowpoke. Indeed, it's McLaren's most powerful internal combustion engine in a road car ever. Only the hybrid McLaren P1, with its fairly insane 903 HP and 723 lb-ft of torque, bests it.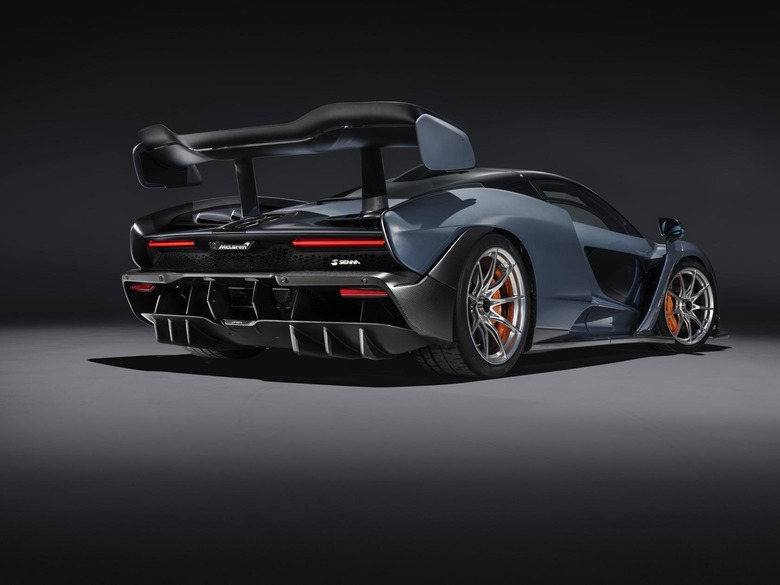 Peak torque comes between 5,500 and 6,700 rpm, though you get 516 lb-ft at 3,000 rpm. Peak horsepower arrives at 7,250 rpm. McLaren's dual-clutch, seamless-shift seven speed transmission pushes power to the rear wheels.
It makes the McLaren Senna good for a top speed of 211 mph. 0-62 mph comes in just 2.8 seconds; 0-124 mph is a mere 6.8 seconds. The standing quarter-mile is done in 9.9 seconds.
However, the British automaker is arguably more excited about when things get twisty. The distinctive – and divisive – bodywork is all about downforce, with a vast rear wing and active aero front and rear. Altogether, they add up to 800 kg (1,764 pounds) of downforce at 155 mph, gluing the 2,641 pound car to the asphalt.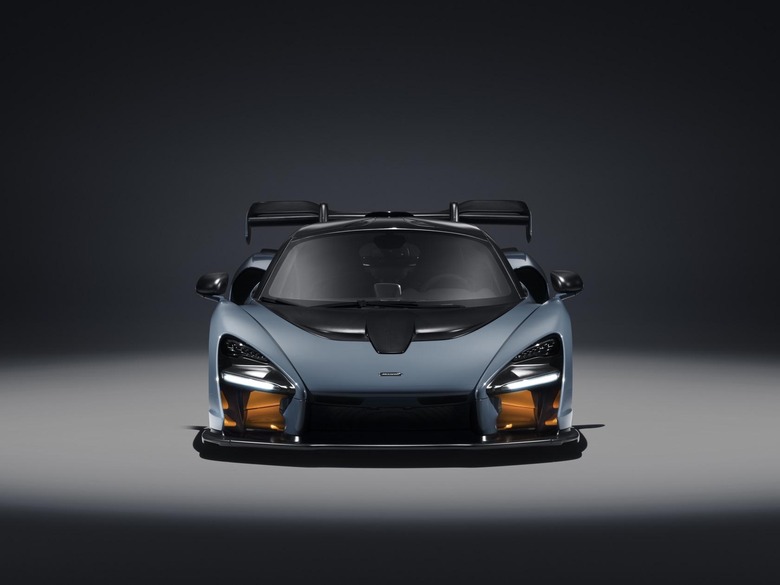 It does mean that organic shapes have been dropped by the roadside, in favor of a far more aggressive, angular car. Studded with functional air intakes and vents, it begins with a front splitter, active aero blades, secondary fixed aero blades, and slot-gaps at the front of the car. The rear gets protruding "gurney flaps" and an array of stepped louvres, which funnel air from the rear deck and down the sides of the body. Slash-cut exhausts help avoid disturbance of airflow around the wing and rear diffuser.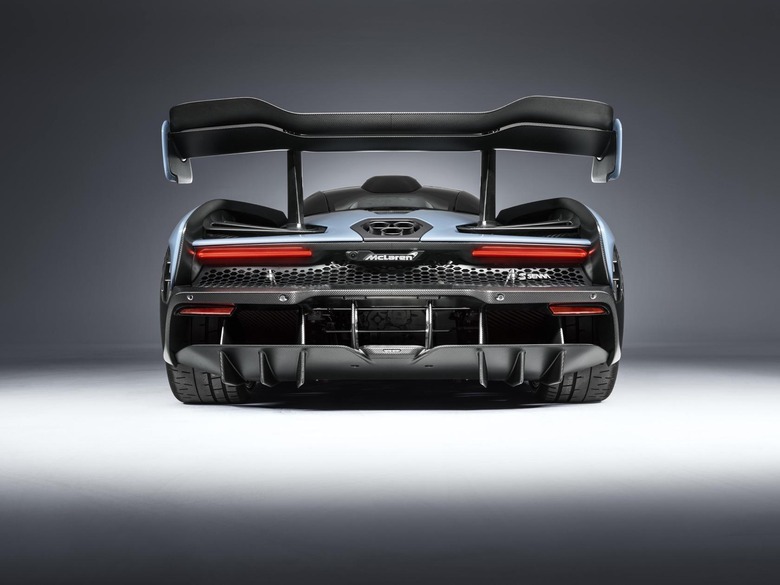 That wing, incidentally, is a hydraulically-operated, double-element carbon fiber slab, which is constantly being adjusted. It tips the scales at under 11 pounds, but according to McLaren can support more than 100 times its own weight in downforce. More carbon fiber is used in the rear double diffuser, a single piece of the lightweight material that starts under the rear axle.
Inside, carbon fiber and Alcantara are the order of the day. McLaren's Monocage III are left in exposed carbon fiber, and the dihedral door gas struts are left visible – and can be color-matched to the brake calipers and front active aero blades – to save weight. Glazed lower door sections are optional, for easier placement on the perfect line on the track.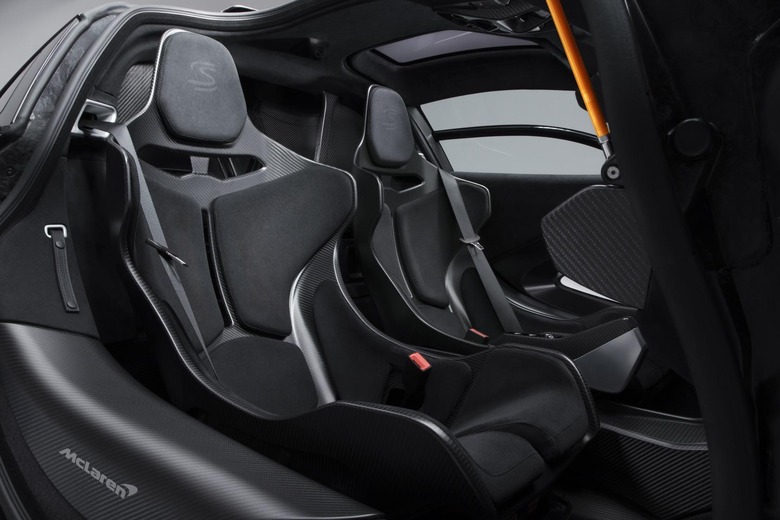 Unlike some racers, which have a fixed seat and moving pedals, the Senna sticks to the more usual approach of moving the seat and fixing the pedals. The Drive/Neutral/Reverse gearshift control is attached to the seat, so as to be close at hand, while secondary controls like the door releases and window switches are shifted to an overhead pod. Bucking the trend for supercars, the steering wheel is devoice of extra buttons and switches: you just get the choice of Alcantara or leather trim, and satin-finish carbon fiber extended gear shift paddles.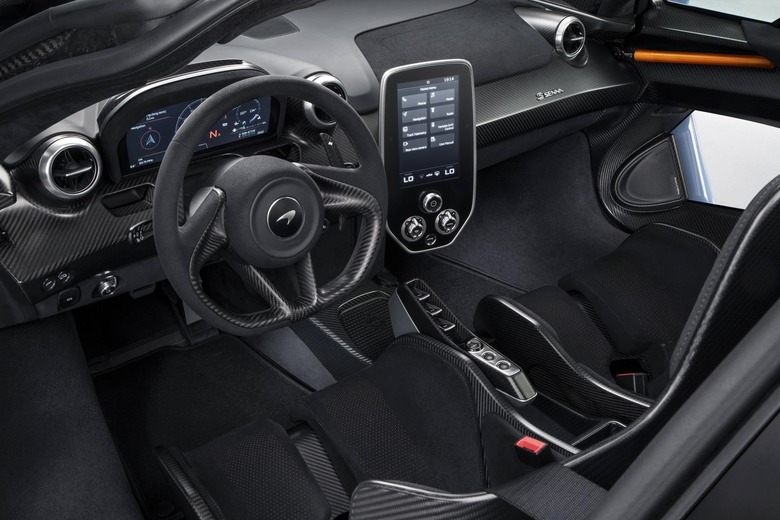 A McLaren Folding Driver Display, as in the 720S, gives either a full read on the car's stats, or a pared-back version with just speed, engine speed, and current gear. In the center console, a floating 8-inch infotainment screen controls navigation, media, and other settings. Since the whole idea of the Senna is a racing car you can drive just as readily on public roads, there are parking sensors, a rear-view camera, and a Bowers & Wilkins lightweight audio system with seven speakers, specially designed for the car.
However you might just want to listen to the car instead. In areas where regulations allow it, McLaren strips out the twin-valves in the exhaust system and uses a twin-exit exhaust instead, saving weight and dropping the muffler silencer box and the third exhaust exit. "The sound from the exhaust is loud and sharp, singing like a motorcycle race engine in its ferocity and quite different to other McLarens," the company claims. Indeed, the volume of the system climbs 10 dB for every 2,000 rpm higher you hit.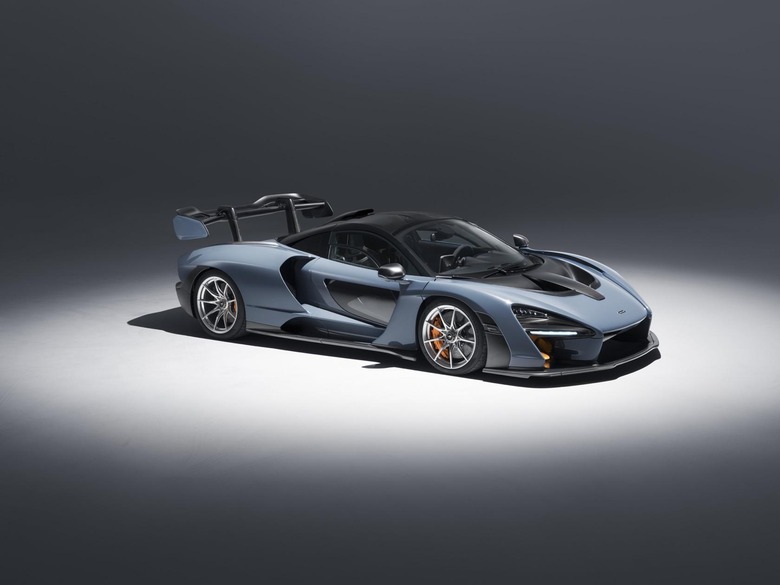 Under the angular skin there's a new, track-focused suspension system dubbed RaceActive Chassis Control II (RCC II). Double wishbones front and rear get adaptive dampers that are interconnected hydraulically: the Senna can, in real-time, shift damping forces front to rear and left to right, according to the data from the road. In Race mode, the suspension is significantly stiffer, with a lower ride height and lower center of gravity.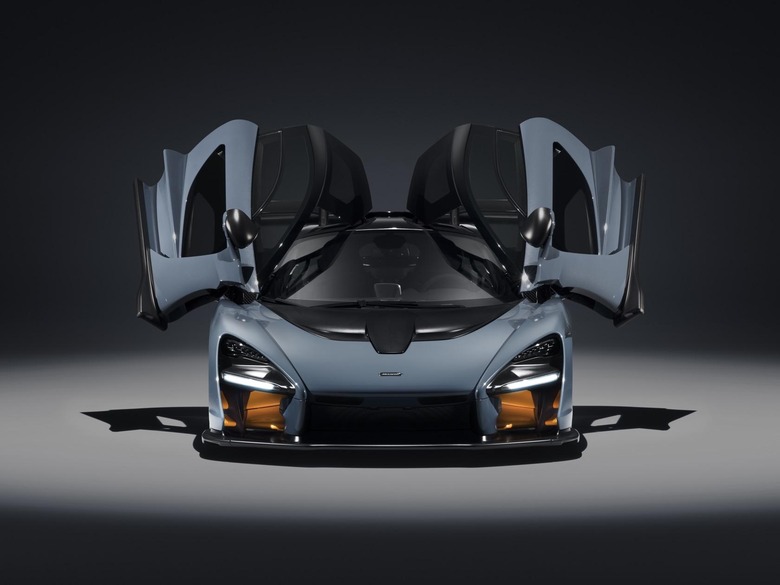 Bespoke Pirelli P ZERO Trofeo R tyres – 245/35 ZR19 at the front and 315/30 ZR20 at the rear – are tailored to track use but road-legal too. They have asymmetrical tread patterns, for better lateral grip. They're paired with CCM-R carbon ceramic brake discs that each take McLaren seven months to create, thanks to advanced features like integrated cooling vanes that are machined not molded. Six ventilated pistons on the front borrow monobloc design concepts from F1.
Each McLaren Senna takes 300 hours to produce, all by hand at the company's facility in the UK. Only 500 will be made, priced at £750,000 apiece (around $1.1m), and all are already allocated to customers.