First impressions with Samsung's newest curved gaming displays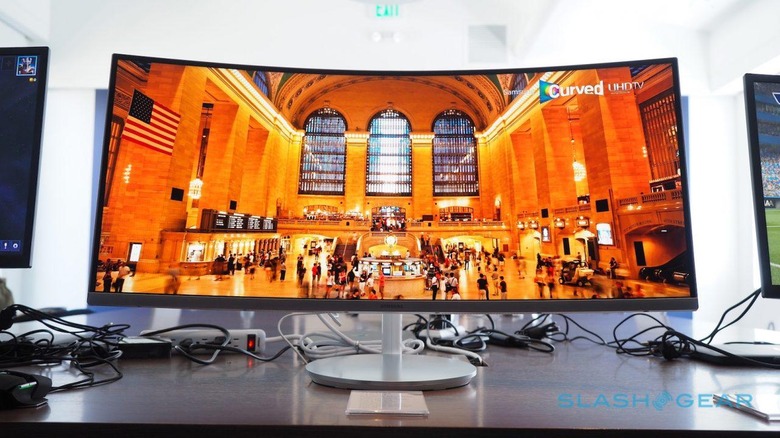 This week the folks at Samsung have revealed two new gaming monitors, both curved, both top notch. These devices go by the name of CFG70 and CF791, the former coming in 24-inch and 27-inch models, the latter coming in a 34-inch model. All models roll will AMD's own FreeSync Technology, able to synchronize screen refresh rates in concert with user's AMD graphics cards.
Both of the CFG70 models have a 16:9 aspect ratio while the massive CF791 has an aspect ratio of 21:9 – very wide indeed. All three models are curved, incorporating a 1500R or 1800R curvature (that's 1,500R for the CF791 and 1,800R for the CFG70).
ALSO: Learn more about AMD FreeSync

Both CFG70 models have both Gaming UX and Arena Lighting. Arena Lighting is something some of the more extravagant gamers will want to utilize, blasting lights according to content on the screen.
Below you'll see specifications for these next-level displays.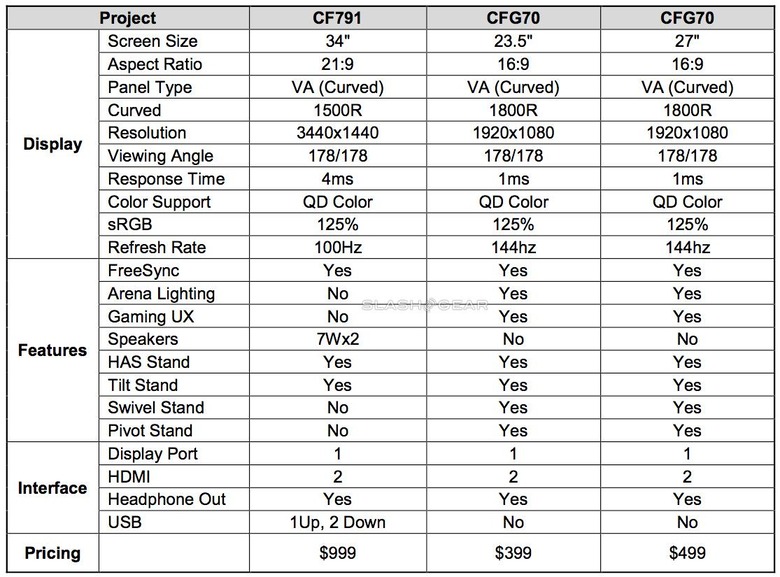 Each of these units incorporates a stand that can tilt, and both of the CFG70 models can also swivel and pivot. All models have one Display Port and 2x HDMI. All models have a single headphone-out port and the CF791 has 3x USB ports.
ABOVE: CFG70 in dark gray.
BELOW: CF791 in white.
One of the biggest draws in these CFG70 models is the extremely movement-friendly stand and arm their attached to. Users with gaming setups that already have custom pre-made arms may want to opt for the far larger monitor in the CF791 – unless, of course, they're going to go for multiples.
Each of the three monitors had, of course, glorious top-notch color, sharpness, and viewing angles, all around. Have a peek at our hands-on photos to see what they're made of.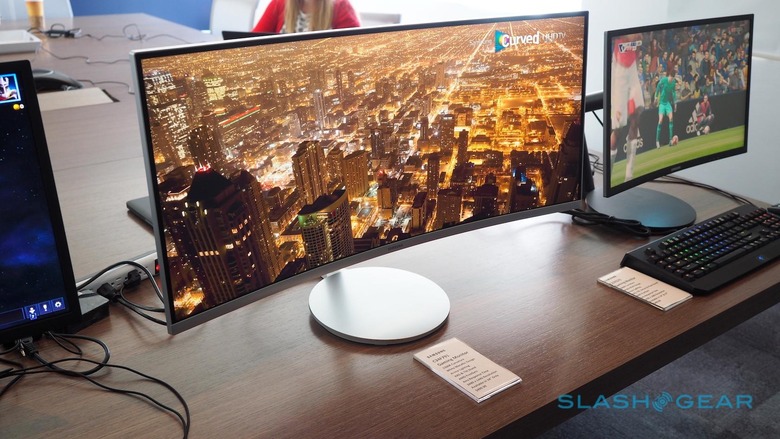 Pricing for the CF791 model will come in around $999 USD. CFG70 pricing will start at $399 (24-inch model), and $499 (27-inch model).
All models will be available in the United States starting in the fourth quarter of the year 2016.