Fire HDX 8.9 takes a jab at the iPad, ships next month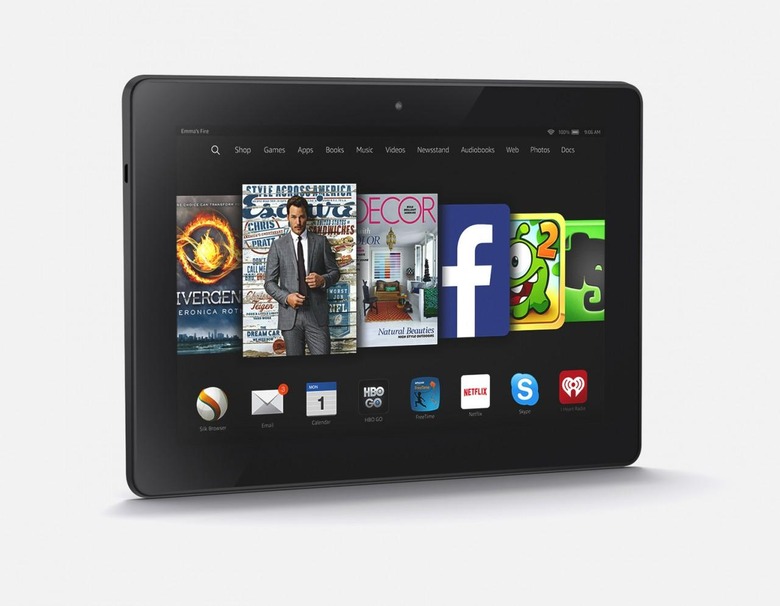 The previously leaked Amazon Fire HDX 8.9 has officially arrived, and with it comes a bunch of jabs at the iPad. Amazon boasts its newest slate's display as offering 30-percent more pixels than the iPad's Retina display, its audio as being twice as loud, and its weight as being 20-percent lighter.
Amazon has taken on the iPad in the most obvious way, spending an inordinate amount of time comparing its newest tablet with Apple's slate. With the Fire HDX 8.9, Amazon offers its customers a display bringing 339 ppi and "perfect color accuracy" with 100-percent sRGB. There's Dynamic Light Control, though Amazon says it won't be enabled until sometime later on this year via an OTA update.
This is joined by a design Amazon — you guessed it — demonstrated by comparing it to the iPad, saying it is 20-percent lighter than Apple's device, weighing in at 13.2 ounces and including, among other things, a body machined from one piece of magnesium "blended" with nylon and glass. This body houses a Qualcomm Snapdragon 805 2.5GHz quad-core processor and a GPU promised to be 70-percent faster than previous offerings.
The new Fire HDX is said to be the first tablet offering Dolby's Atmos, which gives users more realistic sound placement when using headphones, such as rain audio that seems to come from above. Amazon boasts its slate has having audio doubly as loud as the iPad Air. Other specs includes 802.11ac, battery life up to 12 hours, and the Fire Keyboard with a trackpad.
Amazon has put the Fire HDX 8.9 up for pre-order at $379 USD, and will start shipping it in October.
SOURCE: BusinessWire