Kindle Fire HDX 8.9 with Snapdragon 805 seen in AnTuTu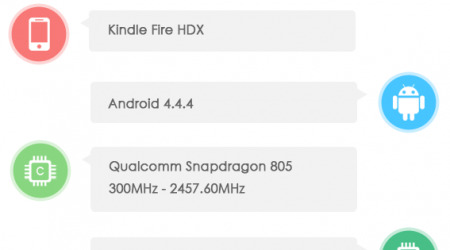 Amazon may have just launched its first smartphone ever, but it might already be busy with a refresh to its existing tablet line. Coming by way of benchmark site AnTuTu is a reference to a certain Kindle Fire HDX, with an 8.9-inch screen and bearing, quite surprisingly, a fast and new Qualcomm Snapdragon 805.
The current Kindle Fire HDX 8.9 has a Qualcomm Snapdragon 800, the slower one that runs at 2.2 GHz. In contrast, the Snapdragon 805 would have its four cores running at 2.5 GHz. Some remarked that the performance differences between the Snapdragon 801 and the 805 are not exactly significant and some manufacturers have indeed opted to go with the 801. There is, however, one aspect where the Snapdragon 805 shines, an aspect that Amazon might be particularly interested in: multimedia.
Amazon has a new found fascination of graphics, videos, and imaging, as evidenced by features on the Fire Phone. A chip such as the Snapdragon 805, designed for things like 4K resolutions and Ultra HD video, seems like the perfect workhorse for whatever ambitions Amazon might have. That said, the rest of the specs of this beefed up Kindle Fire seen on AnTuTu are the same as the regular tablet in existence, meaning 2560x1600 pixel resolution, 2 GB of RAM, and an 8 megapixel camera.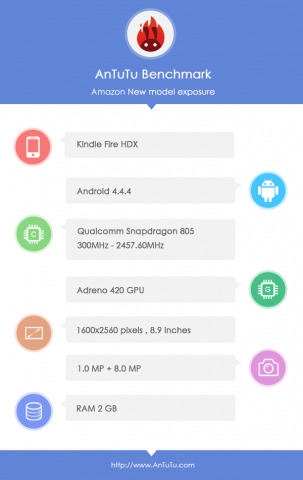 So what is Amazon doing with its Kindle Fire HDX? That part is not yet clear at this point. It is still a bit early for a Kinde Fire refresh, though the latest line is almost a year old. The retail giant might simply be testing out the processor's capabilities, but at least we will no longer be surprised if it does launch a new tablet with a slightly more powerful processor. And of course a slightly higher price.
VIA: AnTuTu