Fire HD 6 Kids Edition Review: Christmas Morning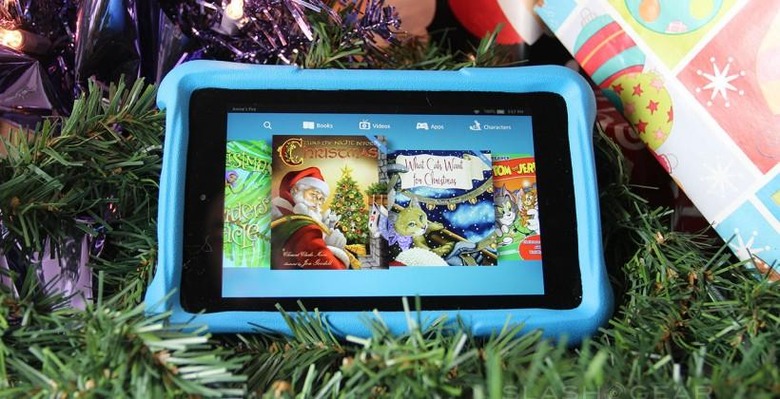 It's Christmas morning. Your child woke you up with an ear-piercing scream of excitement – Santa has come. Once your child sees the present you've wrapped in special paper – next to the Santa gifts, of course – they snatch it up. They realize it might just be socks. They open it. It's the Amazon Fire HD 6 Kids Edition. They go wild. Then it's your turn. Your task is opening the box and setting the tablet up so that they might play the whole day long. How difficult (or incredibly easy) is this going to be, you might ask?
Inside the box you'll find the Fire HD 6 tablet in a single plastic wrapping – easy to open. You'll find a blue bumper case – easy to apply to the tablet. The power button can be found on the top-right of the tablet, and you'll want to press it for a couple of moments, then let go. It'll start rather rapidly.
There's a chance you may need to charge the device up – grab the power cord and the wall plug from the box, connect them, plug one end into the tablet and the other into the wall. Once it's charging, you'll be able to begin setting the tablet up straight away.
Tell your child to play with something else.
Tell them to play with the half-dozen other presents you've purchased for them with Amazon since you're a last-minute online shopper.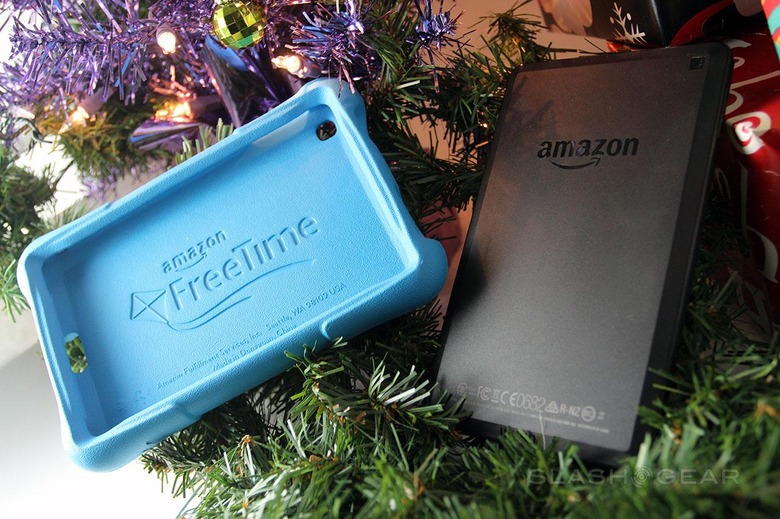 Once the tablet is on, you'll have to tap several easy-to-parse screens of "yes" or "no" depending on your tastes. If you've purchased this tablet straight through Amazon, it'll have your account already attached to it. If you chose the "gift" option when you ordered it, you may have to enter your information manually. Per Amazon:
When you check the "this will be a gift" box, Amazon will:

• Deliver the Kindle unregistered. The recipient can register the Kindle to their own Amazon account when it arrives.

• Ship the Kindle in an unmarked Amazon box that doesn't say Kindle. Kindle is designed to ship in its original container directly to you.

• Keep Kindle a surprise by marking it as a gift.

• Remove prices on the packing slip included with the order.
Once you're on the home screen, you'll immediately want to tap the FreeTime icon. It's big and blue and it has a kite on it.
Inside FreeTime you'll be asked to set up your child's account. You'll enter their first name and birthday – so Amazon knows when to wish them a happy birthday, of course. You can also call your child back from their brand new pile of LEGO bricks to choose an icon for themselves – they'll probably choose the puppy.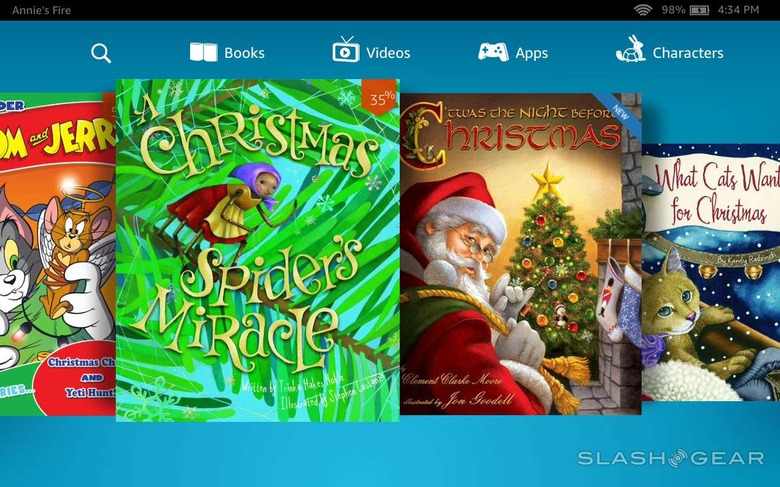 Here you'll be able to choose which apps you've purchased or otherwise downloaded with your Amazon account in the past. If this is your first Amazon device, don't worry – there's a LARGE variety of apps and games inside the tablet right when you start it up.
Sort of.
The one thing you do not want to do at this point is hand the tablet to your child in FreeTime mode without downloading anything. Not if you're about to take a long trip to Grandma's house for Christmas day.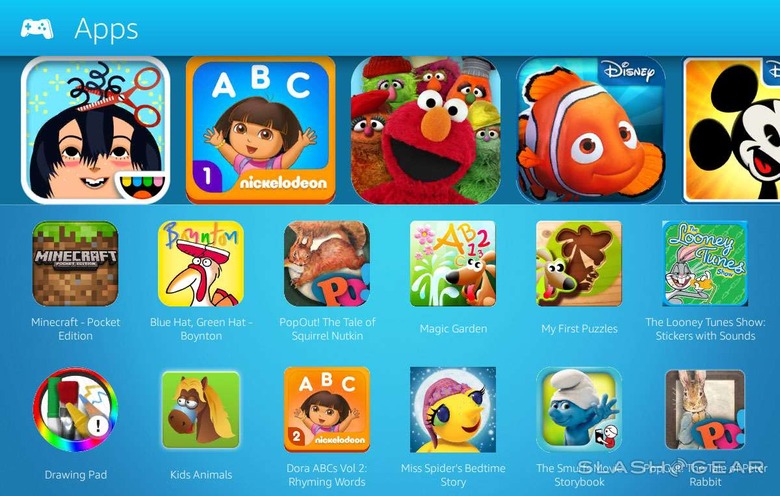 Inside each of the categories you'll see at the top of the screen is a wide variety of apps, games, books, and movies. They're all free. When you tap one of the icons in these drawers, it begins to download.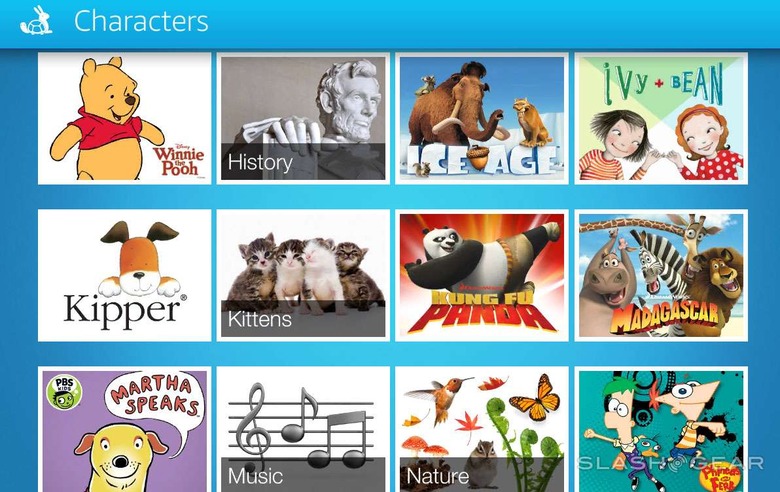 If you go to the car and you're driving to Grandma's house without an internet connection, your child will be left with an empty tablet. Do the downloading before you head out the door. Tap all sorts of things before you head out the door. Tap everything!
It's all free – or free since you own the tablet – and they're all child-friendly. It's actually shocking how awesome this tablet is for kids. Just so long as it's connected to the internet, you don't have to do anything. Your child taps, waits a moment for the item they've tapped to download, and bam! They can open that app, game, book, or movie.
Everything is free for 1-year, that is to say. This is because when you purchased the Fire HD 6 Kids Edition, you also got 1 Year of "Amazon FreeTime Unlimited." Because of this, you get one year of everything you see in this tablet entirely free.
TV shows are free, apps are free, books are free, everything is free. After one year of this service being free, you'll have to drop a little cash. For one child it'll cost you $4.99 USD per month, while up to four children can be on one account for $9.99 per month. If you're an Amazon Prime subscriber, you can get this service for $2.99 per month for one kid or $6.99 for up to four kids.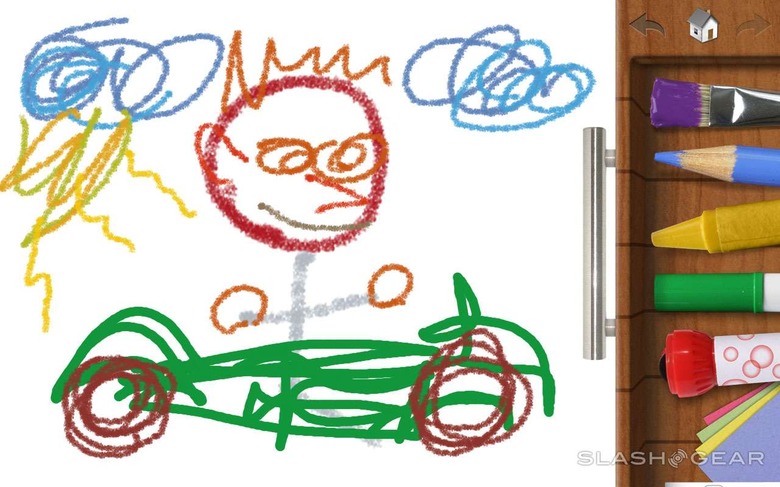 Downdload the app Drawing Pad – you'll be glad you did.Patience is important if your child is not used to working with a touchscreen device.
They'll want your assistance over and over again, even after Amazon's well-designed Kid-friendly skin over Android has taken out all the quick access to app changes. It's a kid-friendly interface, yes, but designing for a kid and actually being there to have the kid point out flaws are two different things.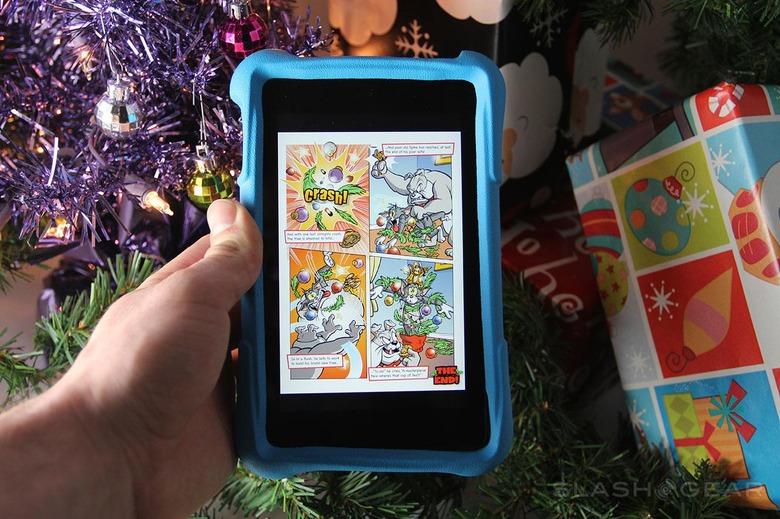 In the end, my judgement on a kid-friendly product is always the same: if my 3-year-old's attention is held, it's a winner. The Fire HD 6 Kids Edition is a winner.
You'll be able to pick the Fire HD 6 Kids Edition up for $149 USD straight from Amazon at the time this article is posted. Prices MIGHT change before the end of the holiday season here in 2014, but don't count on it. Make with the tapping and drop it in your basket.