FinePix S6800 And S4800 Lines Announced, Offer 1080i Recording And Long Zoom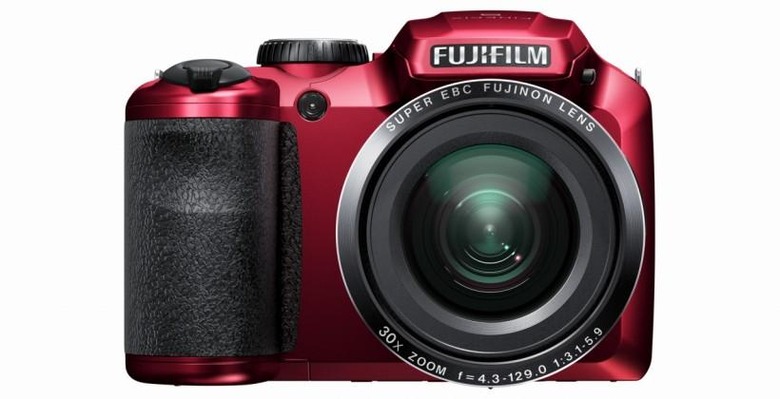 Fujifilm has announced six cameras in its S-series range, the S4600, S4700, S4800, and the S6600, S6700, and S6800. The first three are entry-level super zooms offering 720p HD video recording, while the latter three bring 1080i recording and high ISO to the table in addition to high optical zoom rates. Check out the specs and gallery of pictures after the jump.
First up are the entry-level FinePix S4600, S4700, and S4800 models, bridge models part of Fujifilm's 2013 spring lineup. All three cameras are designed to be compact and simple to use, offering high zoom rates. The S4600 offers 26x optical zoom, the S4700 offers 28x optical zoom, and the S4800 offers 30x zoom. Each model features OIS sensor shift for clear images.
Likewise, all three cameras feature 16 megapixel CCD sensors, 6 image modes, 0.3 second auto-focus and startup time of just 1.3 seconds. Videos can be recorded in up to 720p at 30fps, then played back on a TV or monitor via a mini HDMI port. Power comes via 4 AA-batteries, with 320 shots per charge, assuming rechargeable batteries are used.
Jumping to the next batch, we have the S6600, S6700, and S6800. The models have, in order, 26x, 28x, and 30x optical zoom, in addition to a super high ISO of 12,800, OIS sensor shift for blur-free images, and a Super Macro mode that can take images as close as 2 centimeters away. All three feature 16-megapixel sensors and a 1-second startup.
As for video recording, all three cameras offer 1080i full HD recording at 60fps with stereo audio. There's a dedicated video recording button, removing the need to toggle a dial or menu. In addition to the full HD mode, there's also slow-motion video recording available at 480fps. Still images can be taken while recording video. Sound intriguing? You can check out the cameras' bizarre promotional video above.
[via Fujifilm]