Find your Pokemon Go partner with PokeDates dating service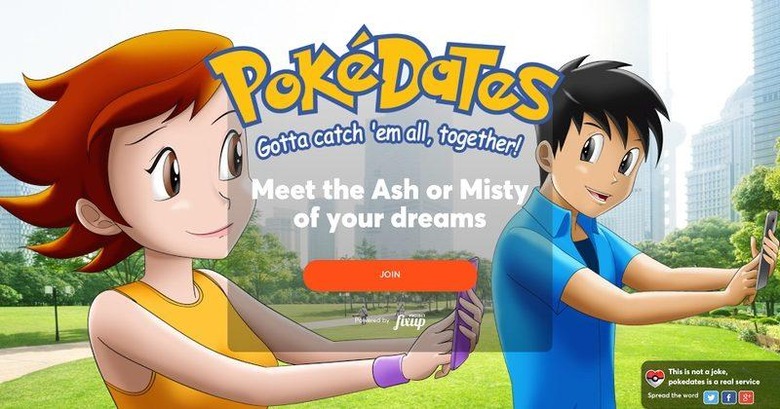 There's a huge number of people around the world now playing Pokemon Go — well, when the servers are working, that is — including plenty of single men and women monster hunters. 'What if there was a way for people to browse other singles, find a match, and go out a play Pokemon Go together?', you say. First, I'd say you're pretty smart; second, unfortunately, someone has already thought of it: PokéDates.
The service, officially launching later today, is just what you'd think: players can sign up on the website (once it's live, anyway), filing out some basic profile information, including their location, interests in a potential partner, and when they're available to play.
PokéDates will then match up a pair based on their profiles, and give each person a time and place to meet, such as the closest Pokemon gym between the two. From there, the players can start hunting and catching Pokemon together, with the potential for love to blossom with each ball toss.
Best of all, players don't need to worry about a computer or algorithm handling the matches; each pairing will be done by a human employee, with PokéDates promising matching interests. This is the same way matches are done on the dating site Project Fixup, the service which PokéDates is built upon.
Project Fixup has already handled themed dating events on activities like cycling and wine tasting, so doing the same for a mobile game is a natural extension for the service.
Players can sign up for PokéDates and meet their first partner for free when using the promo code "POKEDATES2016," but after that each date will cost a hefty $20. Aside from that price, the service sounds like a great way to at least get out and play Pokemon Go with new people, and hey, if the players do turn out to be soulmates, imagine the story they'll tell the grandkids about how they met.
VIA The Verge