Final Cut Pro X upgraded: 64 angle Multicam, Thunderbolt, more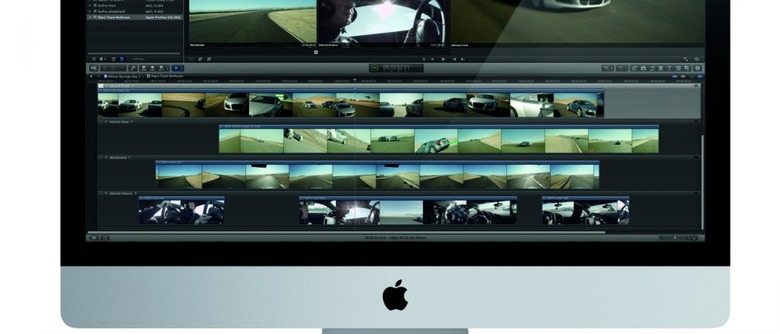 Apple has pushed out a "significant" update to its Final Cut Pro X video editing app for OS X, adding multicam support for up to 64 angles, boosted chroma-keying, enhanced XML for better third-party integration, and Thunderbolt support for peripherals. Final Cut Pro X v10.0.3 – a free update for existing owners of the $299.99 software – can automatically synchronize up to 64 video clips or photos using audio waveforms, time/date or timecode, even if the formats and frame sizes/rates are different. Then, the Angle Editor allows users to quickly jump between angles in the resultant Multicam Clip, cutting as they go.
As for chroma key support, the new update adds more advanced controls including color sampling, edge adjustment and light wrap. Apple says users can now use more comprehensive chroma key setups without resorting to third-party software, as well as benefiting from real-time previews of the results.
If you do want to use third-party apps, however, Final Cut Pro X now has more complex XML support for using external software for color correction, media management and more. Apple has coerced firms such as GenArts and Red Giant to create motion-graphics plugins that each support the editing software's realtime support..
Meanwhile, broadcast monitoring has been added – albeit in beta form – with support for waveform displays, vectorscopes, and calibrated, high-quality monitors. They can be connected via Thunderbolt I/O devices or third party PCIe cards.
Existing owners of Final Cut Pro X can download v10.0.3 as a free update. Those new to the app can try a 30-day trial, available through the Mac App Store. Whether the upgrade will satisfy those power-users frustrated by Apple's apparent "consumerization" of its video editing platform remains to be seen.