Final 12 Sega Genesis Mini games revealed: Here's all 42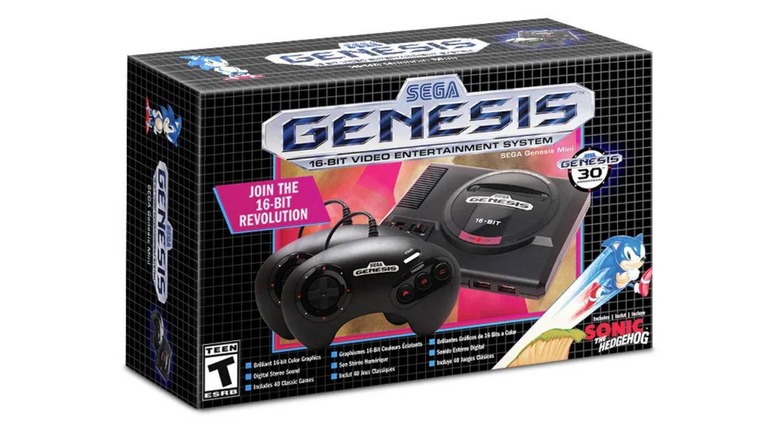 If there's one criticism that can be leveled at the NES Classic and the SNES Classic (aside from the fact that they were hard to find), it's that neither offered enough games given their stellar libraries. The NES Classic only contained 30 titles, while the SNES Classic went even lower with a mere 21. Sega is not looking to make that same mistake with its upcoming Genesis Mini console, as the company today revealed the final 12 games that will ship with the device.
That brings the grand total up to 42 games, so if you were a Genesis kid back in the day, the Genesis Mini will certainly hit a lot of the console's high points. The final 12 games were revealed on Sega's official Twitter account today, with games like Dynamite Headdy, Eternal Champions, Kid Chameleon, Darius, and Tetris making the final cut.
The last 12 titles are:

- Tetris
- Darius
- Road Rash II
- Strider
- Virtua Fighter 2
- Alisia Dragoon
- Columns
- Dynamite Headdy
- Kid Chameleon
- Monster World IV
- Light Crusader
- Eternal Champions

— SEGA (@SEGA) June 4, 2019
Those titles join previously-confirmed games like Ecco the Dolphin, Shining Force, Comix Zone, and – one of the best games of the 16-bit era – Gunstar Heroes. Take a look at the full roster of Genesis Mini games below, with today's new additions listed in bold.
1. Ecco the Dolphin
2. Castlevania Bloodlines
3. Space Harrier 2
4. Shining Force
5. Dr. Robotnik's Mean Bean Machine
6. Toe Jam & Earl
7. Comix Zone
8. Sonic the Hedgehog
9. Altered Beast
10. Gunstar Heroes
11. Castle of Illusion Starring Mickey Mouse
12. World of Illusion Starring Mickey Mouse and Donald Duck
13. Thunder Force III
14. Super Fantasy Zone
15. Shinobi III
16. Streets of Rage 2
17. Earthworm Jim
18. Sonic the Hedgehog 2
19. Contra: Hard Corps
20. Landstalker
21. Beyond Oasis
22. Ghouls 'N Ghosts
23. Alex Kidd in the Enchanted Castle
24. Golden Axe
25. Phantasy Star IV
26. Street Fighter II Special Champion Edition
27. Mega Man: The Wily Wars
28. Sonic Spinball
29. Vectorman
30. Wonder Boy in Monster World
31. Tetris32. Darius33. Road Rash II34. Strider35. Virtua Fighter 236. Alisia Dragoon37. Columns38. Dynamite Headdy39. Kid Chameleon40. Monster World IV41. Light Crusader42. Eternal Champions
The Sega Genesis Mini was originally slated to launch with 40 titles, but at the last minute, it seems that Sega was able to include two more. That's a pretty packed list, but there are some notable games missing from it, namely the latter two Sonic the Hedgehog games. We're not sure why they aren't included on the Sega Genesis Mini, but the good news is that Sonic the Hedgehog 3 and Sonic & Knuckles are both already available on nearly every platform imaginable, so they aren't exactly hard to find.
We're quickly closing in on the Sega Genesis Mini's release date of September 19, 2019. When it arrives, it'll run $79.99, the same price as Nintendo's SNES Classic. The games list looks great, so here's hoping that Sega doesn't pull a Sony and manages to get other things like emulation right too.