Fidelity Electronics VPC netbook: super-basic, is it cheap enough?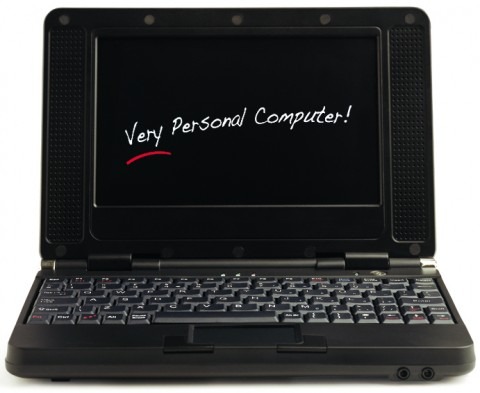 There was a time when you couldn't move for 7-inch netbook announcements, but the tide has gradually shifted to larger displays and high-definition capable chipsets.  Hoping to reclaim some of the entry-level ground comes Fidelity Electronics with their VPC (Very Personal Computer), a back-to-basics machine with bare-minimum specs. 
The Fidelity Electronics VPC has a 7-inch 800 x 480 WVGA display, WiFi b/g and just 2GB of internal storage.  There's also a USB port, an SD card reader, ethernet port, built-in microphone and a headphone jack, together with 3-cell battery that, according to Fidelity, is good for 3hrs use.  The press release doesn't make it entirely clear, but it looks as though the VPC has a mere 100MHz processor.
The whole thing measures 8.4 x 5.5 x 1 inch and tips the scales at 1.5lbs.  It'll come preloaded with a browser, spreadsheet and word processor apps, a media player for movies, music and pictures, e-book reader, dictionary, calendar, PDF reader, email, IM client, calculator and file manager; the company is being coy about what OS the netbook uses.
It'll go on sale in the US come March 2009, priced at $199.99.  That's cheap, but it's not as cheap as we've seen some systems go for, so Fidelity Electronics may have to discount the VPC a whole lot more if they're going to find any decent number of buyers.
Press Release:
FIDELITY ELECTRONICS INTRODUCES THE FIDELITY NETBOOK VPC (Very Personal Computer)

Very Portable, Very Functional, Very Affordable

TORONTO, CANADA (February 16, 2009) – Fidelity Electronics this week announced the launch of the VPC – Very Personal Computer: a fully preloaded, Wifi portable netbook computer at a very affordable price.

Very portable: The VPC weighs only 1.5lbs and measures just 8.4" x 5.5" x 1"

Very functional: The VPC has both wifi and ethernet connections and a full function keyboard to connect, work and play

Very affordable: All programs and applications are preloaded and ready to use.

"At a $199 SRP, the VPC is perfect for students and people on the go," says Richard Kizner, Director of Marketing for Fidelity Electronics. "Preloaded programs include internet browser, spreadsheet, word processor, a media player for movies, music and pictures, e-book reader, dictionary, calendar, PDF reader, email, chat, calculator, file manager and much more. VPC comes with a full function keyboard, touchpad, 7" TFT display with 800 x 480 WVGA resolution, 802.11g Wifi, 100 MHz internet browser, 2 GB internal storage, 3 hour rechargeable battery, microphone and a headphone jack. It has onboard USB, SD and Ethernet ports that make the VPC an incredibly affordable yet versatile device," he adds.

The VPC is expected to retail at $199.99 USD and should arrive in stores beginning March, 2009.

Fidelity Electronics Inc. is a leading provider of innovative personal electronics and consumer products including award winning Fidelity digital picture frames, digital memory and imaging accessories. Fidelity operates from Vaughan, Ontario; Buffalo, New York; Hong Kong and Shenzhen, China. For more information, visit Fidelity's website at www.fidelityelectronics.com.