Fiat Chrysler Uconnect 5 adds wireless CarPlay and Android Auto in big dash update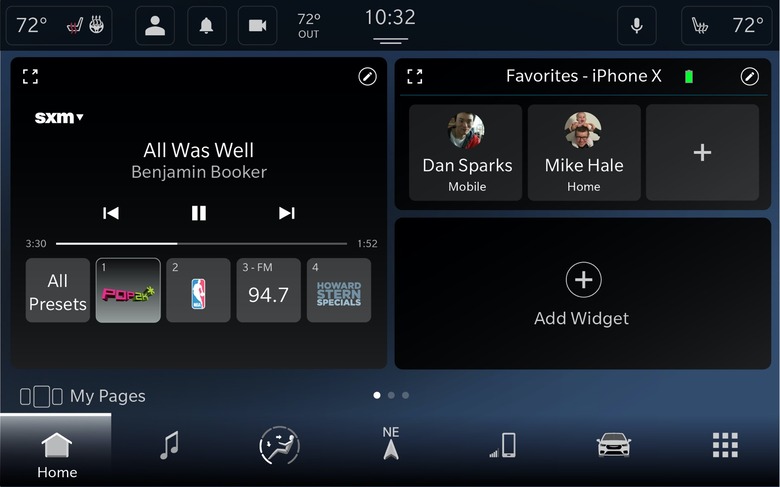 Fiat Chrysler has revealed its new infotainment platform, Uconnect 5, with features like wireless Apple CarPlay and Android Auto, Amazon Alexa integration, and support for bigger, higher-resolution touchscreens. The latest version is based on Android, which FCA says will pave the way to new applications that could later enhance and expand a car's abilities.
Physically, Uconnect 5 supports up to 12.3-inch touchscreens, and up to Ultra HD resolution. That's a big improvement over the current version, as is the underlying chipset which the automaker says should be five times faster than before. It can also connect simultaneously with two smartphones, unlike most systems which default to a single Bluetooth device.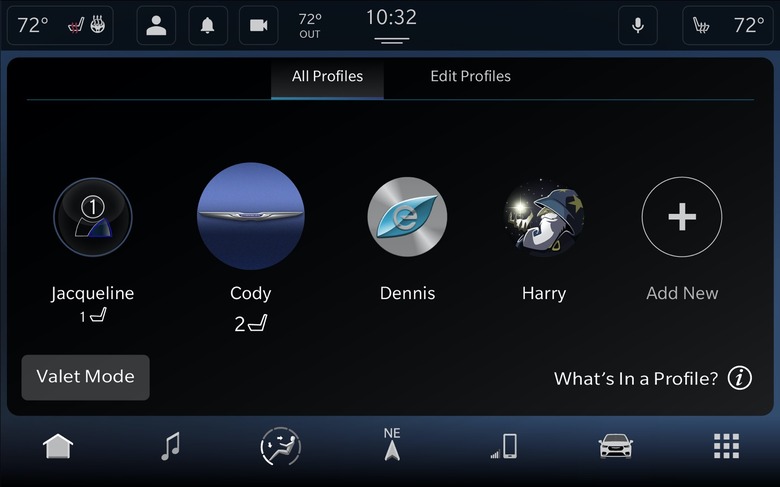 The interface has been revamped, with a new card-based UI that leaves Uconnect 5 looking and feeling less cluttered. Five different driver profiles can be created, each with a different set of configurations for things like music, vehicle operation, HVAC, seats, and more. FCA will have different layout versions for portrait, square, and landscape orientation touchscreens.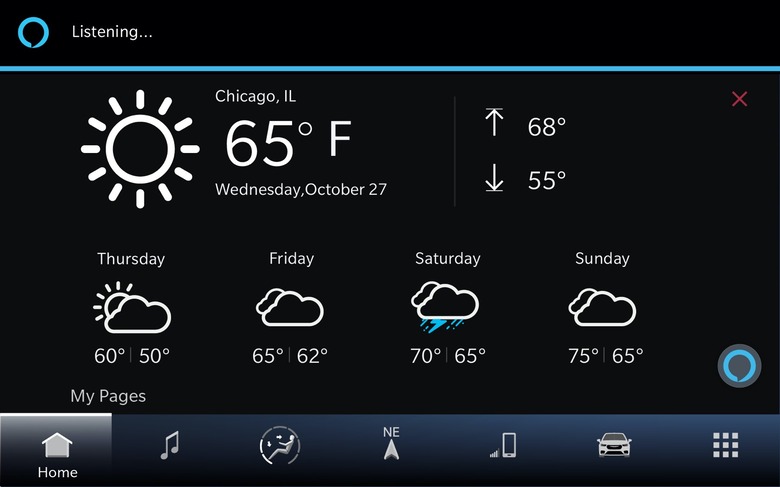 Indeed, there's support for up to four displays spread through the vehicle. FCA is using a new platform it's dubbed Atlantis – replacing the last-gen Powernet – with a new chipset, 6GB of RAM, and up to 64GB of flash storage. There'll be wireless connectivity with both Android Auto and Apple CarPlay.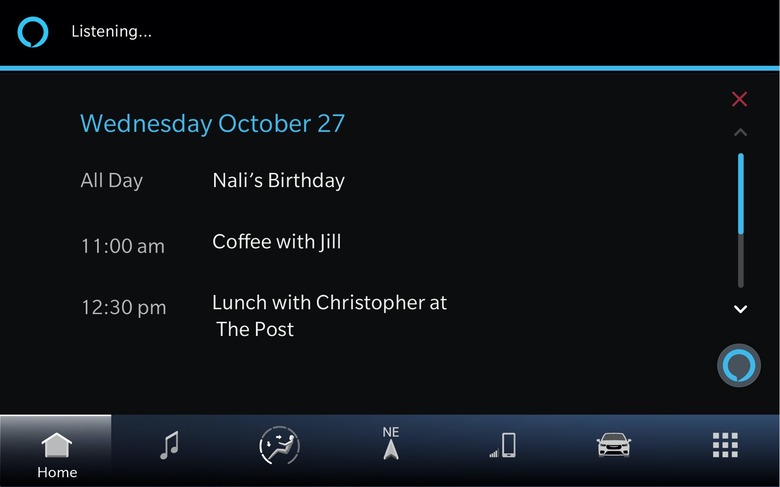 Voice control is a big area of improvement. There's a Uconnect skill for Alexa, which allows Echo smart speakers in the home to remotely control features like the car's locks, but Uconnect 5 adds integrated Alexa. Natural language voice control is also present, with a "Hey Chrysler" wake-word: you'll be able to ask for nearby chargers, HVAC settings, and more. Android Auto and Apple CarPlay can also be voice-controlled.
For navigation, FCA has turned to TomTom. That includes EV-specific content, like chargers. By 2022, FCA points out, it plans to have more than 30 electrified models – spanning plug-in hybrid and pure-electric – which will tap into things like dynamic range mapping that gives a more accurate view of range depending on road type. The navigation system will also better integrate with the cluster display, showing upcoming turns as well as warnings for things like speed cameras.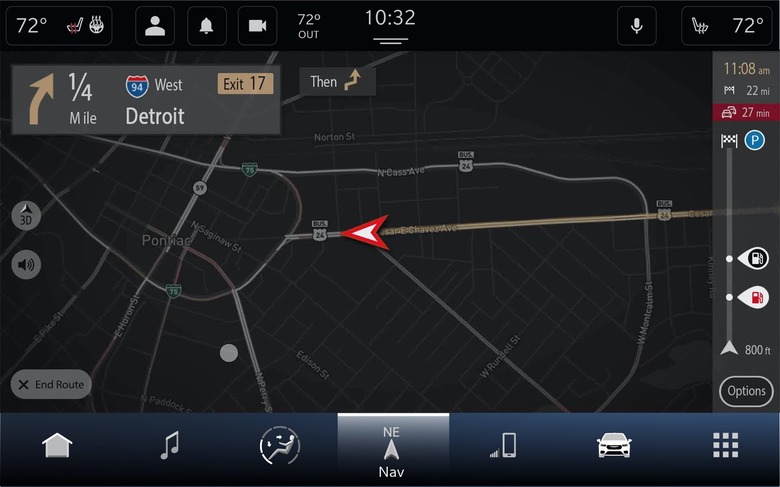 There'll be 4G LTE with WiFi hotspot – and a three month trial for new vehicles – along with SiriusXM with 360L with 12 months of trial. Uconnect 5 will also support things like in-car purchases, such as paying for gas, making restaurant reservations, and scheduling servicing from the touchscreen. There'll also be a companion Uconnect Mobile App.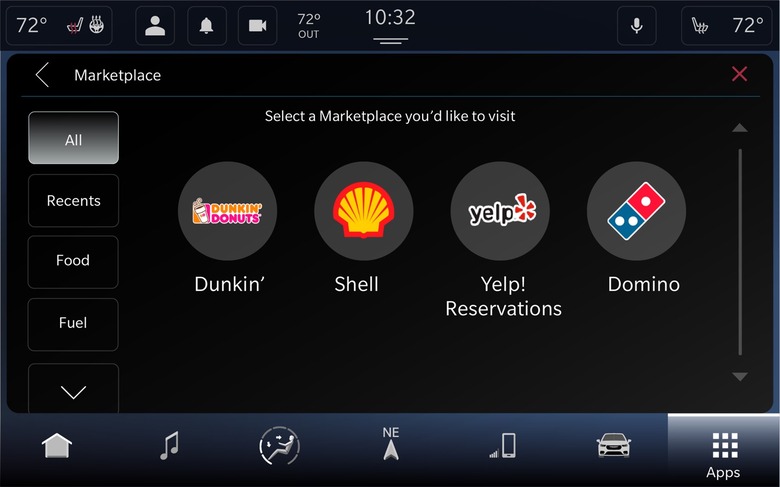 Finally, FCA is baking in Firmware Over The Air (FOTA) support. That will allow for automatic software installations, though the automaker says that some will still require the car to be taken into the dealership.
Fiat Chrysler Automobiles isn't saying exactly which vehicles will get Uconnect 5 first, but expects to begin rolling the new version out later in 2020. Don't expect an upgrade to your existing Chrysler, Dodge, Fiat, or Jeep, however, given the new hardware architecture keeping the updated system ticking.