Fiat 500 1957 Edition Pays Homage To 57 Years Of The 500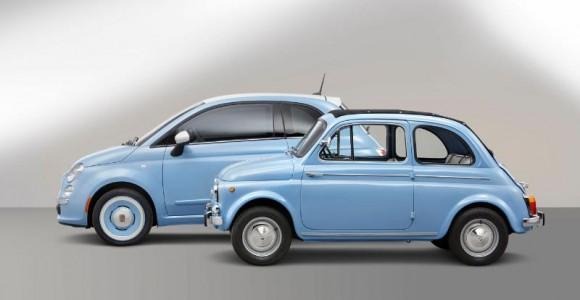 Fiat has announced a new limited production version of its classic 500 compact car. The 2014 Fiat 500 "1957 Edition" has been officially unveiled. The 1957 Edition is intended to celebrate 57 years of Fiat's 500 automobile. The special 1957 Edition will have unique interior and exterior design elements.
The car will be offered in three classic colors and will feature a wheel design inspired by the 1957-era. The roof of the special edition will be painted bianco color and the Fiat emblems on the car are designed to pay homage to the Fiat Nuova 500. The three colors include Bianco (white), and two-tone Chiaro (light green) with a white top and the blue color with white top seen in the photo.
Inside the car, buyers will get premium marrone (brown) leather interior accented with Avorio (ivory) highlights. The car will also be fitted with a sport-tuned suspension and a 1.4-liter MultiAir engine. The engine provides performance for the small car and delivers 40 mpg on the highway.
The car will come standard with a 5-speed manual transmission. An optional six speed automatic will be available as well. The car will be available at Fiat showrooms in the spring of 2014. Pricing will be announced closer to launch. Fiat unveiled another 500 model in August called the Cattiva.
SOURCE: Chrysler