Ferguson Hill FH009 Review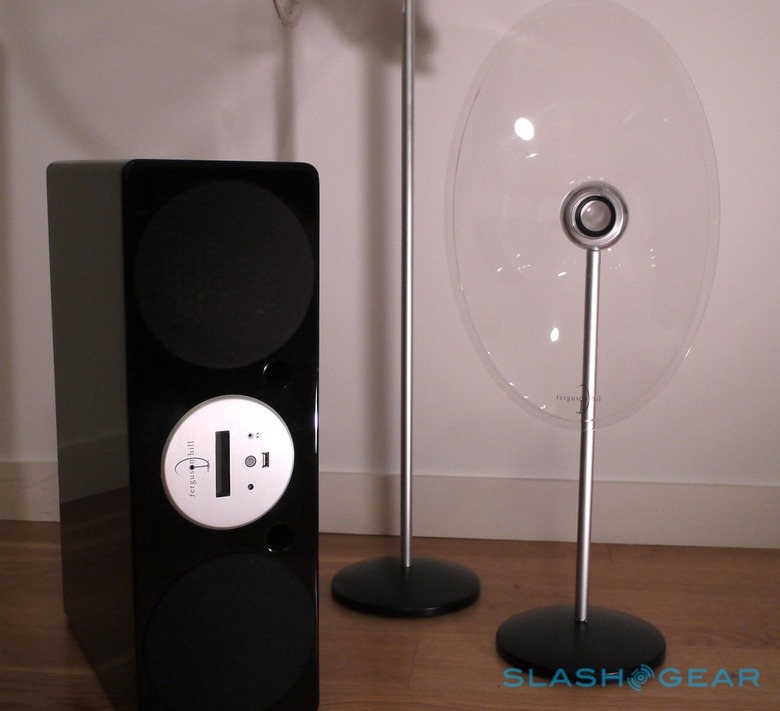 Ferguson Hill is best known for its monumental FH001 and FH002, towering horns of transparent perspex with a similarly mammoth price tag. The company broached the computer/MP3 speaker market a few years back with the markedly more affordable FH007 system, and is back again with the FH009, aiming this time at the music and home cinema market. The premise is a setup both visually and aurally arresting; the price is a not-inconsiderable £795. Check out the full SlashGear review after the cut.
Hardware
The FH009 system consists of three parts, though it's the bass speaker/amp section that's particularly new this time around. The two horns iterate on Ferguson's previous designs, consisting of clear-cast perspex speakers each with an 8 Ohm cone. Meanwhile, the bass unit is a Class A/B amplifier giving 64W to the horns and 64W split between the two 13cm, 8 Ohm bass drivers.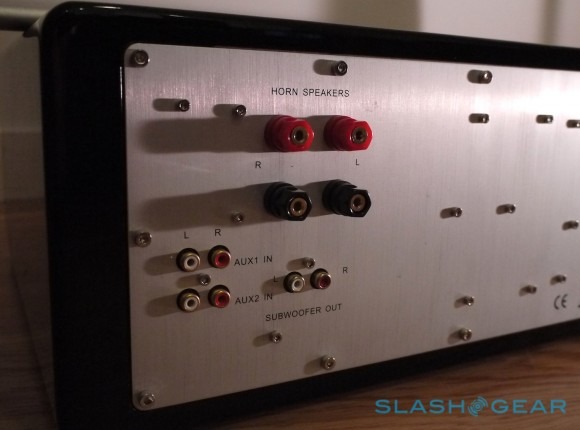 Inputs include two sets of RCA Phone analog sockets, a 3.5mm line-in input and a front-mounted USB port. There's an RCA Phono output for an external subwoofer (not supplied) and a pair of outputs for the horns. Ferguson includes a compact IR remote, complete with controls for standby, volume, mute, cycling through the input options and adjusting bass levels. There are also play/pause, track skip and stop buttons for controlling music on a USB drive or MP3 player. Physical controls on the amp unit itself are limited to a standby button (with a physical power switch on the back) and there's a one-line LCD display to show volume, input and – if your MP3 files have ID3 tags – track name.
Design
You can't call the FH009 system discrete. Ferguson suggests the transparent acrylic cones help the speakers blend into the background, minimizing the traditional bulk of a music system. While that's partially true, we imagine most people will opt for the FH009 system because the cones are so distinctive; they also catch the light nicely. The solid circular base sections screw into either one or two lengths of metal rod, allowing the cones to be at the right height for either floor or table use; they're hollow, allowing you to thread the speaker cable discretely down.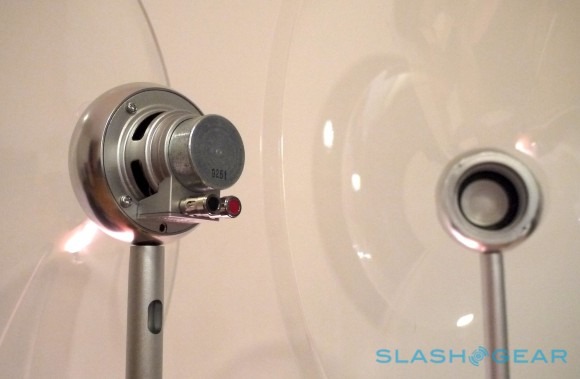 As for the amp unit, it's both large and heavy: Ferguson says it uses more than 4lbs of copper in the design, and we certainly recommend lifting with your knees. Black or white finishes are on offer, with matching bass cones, and each is a real fingerprint magnet; Ferguson even includes a pair of cotton gloves so you can avoid obvious smudges during setup. The LCD display is housed in a disc of aluminum on the fascia.
Ferguson optionally sell wall-mounting brackets for the speaker horns. Other systems from the company include larger and smaller horns, some as big as 1.65m high.
Performance
Setup and use is straightforward, with screwing the speaker stands together taking longer than wiring up a few sources. Aside from the USB port – which uses its own internal DAC – the FH009 amp is all analog; Ferguson includes a regular stereo phono cable along with a phono-to-3.5mm-plug cable (both on the short side), UK and European power cables, and two lengths of stereo speaker wire. However, if you want to use the 3.5mm line-in input with your laptop or cellphone, you'll need to supply your own cable.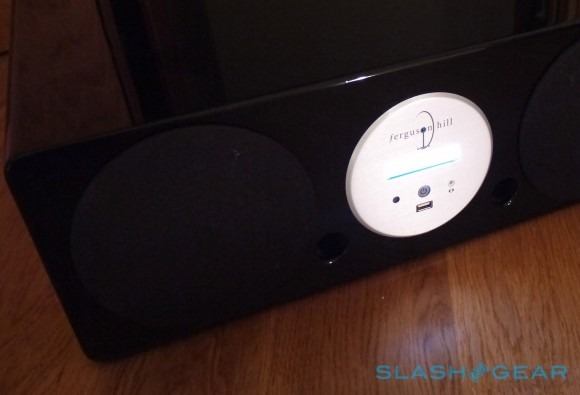 Sound quality is dramatic from the start. There's a sense of occasion, certainly, when you sit in front of the speakers, and since they're quite directional in their sound it's generally a good idea to give yourself the best seat in the house directly in their sweet-spot.
Vocal music, along with orchestral and acoustic tracks are the FH009's real forte. After some running-in, the top end opened up and trebles sparkled: singers are distortion-free and smooth, flutes and violins tinkle and thrum with real clarity. Mids have similar depth, guitars getting plenty of space to resonate. Jazz sounds rich and the FH009's handle complexity reasonably well, though can muddy somewhat as things get busier.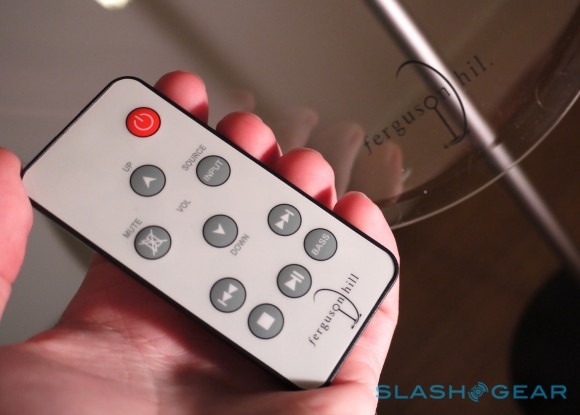 If there's anything lacking, it's the solid stamp of bass to round out the package. It's not that the twin bass speakers lack strength, but that they fall short when it comes to that stab of sound that keeps dance and rap music so punchy. Of course you can plug in a subwoofer to deliver just that.
Ferguson Hill's previous systems have been music-centric; the FH009 has its sights on your home cinema setup too. It's a pseudo 2.1-channel system, lacking a specific sub, but it still proved capable of holding up to the TV and movies we threw at it. Sci-fi garnered a wriggling, sinuous bass as intergalactic rivals squared up their star destroyers, while speech in dramas proved clear and piping.
As for the USB port, the FH009 had no problems recognizing 320kbps MP3s stored on a 4GB or 8GB memory stick, though a 16GB stick refused to mount. One frustration using external storage was the minimum volume, which is set higher than we'd like: there's a considerable step between mute and the lowest audible setting.
Wrap-Up
It's difficult, when you're best known for your outlandish, high-end music system, to translate that down to a more affordable price point without diluting what made it special in the first place. Ferguson Hill is off to a good start with its eye-catching perspex horns, but the FH009 follows up with engaging audio skills too.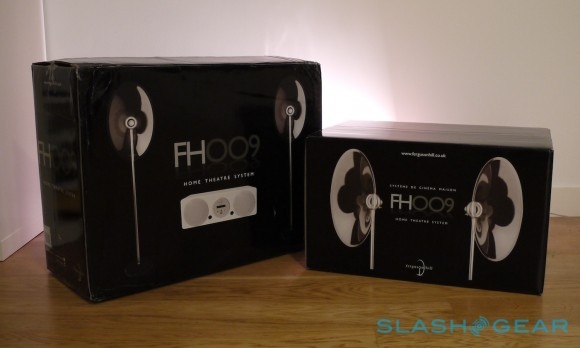 As is so often the case, the FH009 leans toward certain musical styles, namely vocal, jazz and the lighter, fizzier end of the pop spectrum. That's not to say it can't handle other genres, but the absence of a dedicated sub means that all-important punch can be somewhat absent. Happily TV and film performance is also strong, the only blip being the rudimentary USB media support.
At £795/€895 ($,1253) the Ferguson Hill FH009 isn't cheap, but it's a solid core system that looks great and is very capable. The style may split opinion, but the transparency of the sound on offer is well worth auditioning.