FCC CEO spectrum keynote comes from an iPad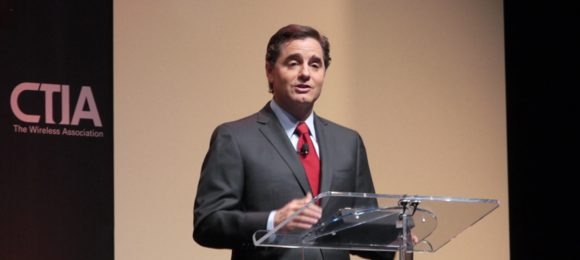 This week FCC CEO Julius Genachowski spoke on the expansion of spectrum across the board to carriers and how "we need to see improvements in efficiency in networks and devices" across the board. This speech had many of the same talking points coming up that the FCC had spoken on several times before, with items like "We'll of course continue to monitor competition in the wireless industry and take action where necessary" being talking points. What's perhaps more interesting to Apple fans than any of this, strangely enough, is the fact that this entire speech was done from an iPad.
Genachowski spoke this week on the future of the mobile working with his four tenants of power for its success: innovation, investment, competition, and consumers. To get the most out of our current toolkit, noted Genachowski, we would have to work with "the next generation of wireless policy." Genachowski made sure to let the world know that "reports of spectrum's demise have been greatly exaggerated" and that the FCC is moving ahead with actions that will make expansion of spectrum across the United States a reality in more ways than one.
As he spoke on all of this, he let it be known on a mobile data-connected iPad – either 2nd or 3rd generation, he spoke on how the mobile industry needed to work in an environment where wireless carriers all had access to spectrum in ways that were equitable and fair. "Small cells are a big deal" he noted, as the "small cell revolution" will drive band expansion and power through the future.
We'll be here the rest of the event and through the rest of the week here on SlashGear via our CTIA 2012 portal – check out the full week of CTIA!