Faux-3D and stool samples: Ara's modules get freaky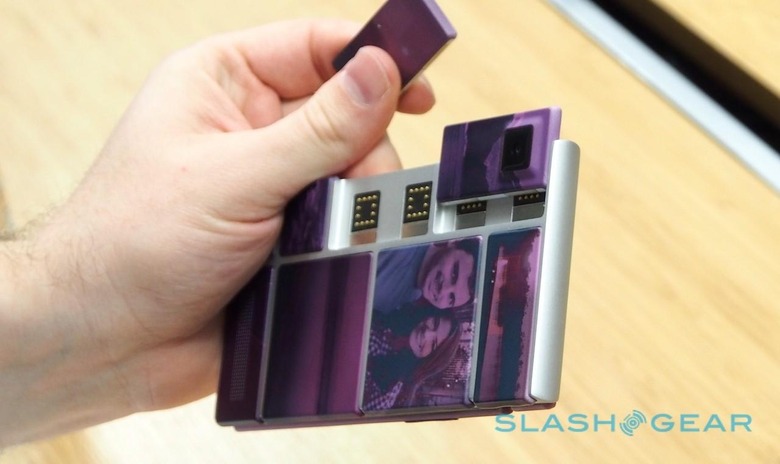 Much has been made of Project Ara's modularity, but what modules exactly could be snapped into the customizable phone? Google's developer event saw several early partners give some teasers as to what blocks might come to the market, spanning everything from task-specific cameras for 3D, optical zoom, and more, through to medical testing, and even alternative displays like e-paper, all in the name of doing much more than a regular smartphone could.
One mHealth project is being led by Professor Drew Hall of the Biosensors and Bioelectronics Group at the University of California, San Diego. His team had already cooked up a sample testing adapter that could plug into a smartphone's headphone jack, but found that by switching to Ara they could offset much of the onboard processing into the modular phone's own hardware.
The goal is a reader module – perhaps 1x2 or even 1x1 – that could analyze samples from a number of specialized test strips. That could include sweat or saliva, urine or stool samples, or even tears or blood serum.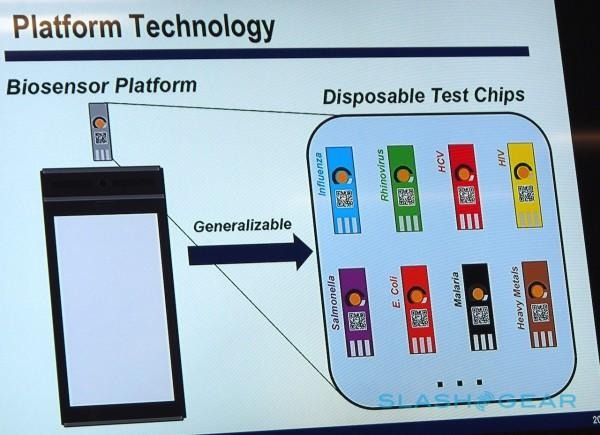 The biggest hurdle, Hall admits, is passing FDA approval. However, he pointed out, developing nations often don't have the same requirements, opening the door to a new type of medical profiling previously too expensive in those countries.
Another possibility is targeting applications which don't require approval. Water testing is one example, Hall suggested.
Not everyone is going to be interested in feeding pee-sticks into their smartphone; interchangeable camera modules, however, have been one of the more eye-catching potential uses of the Ara platform from the start.
That's what Ningbo Sunny Opotech is looking at, a range of swappable cameras that – similar to how a DSLR can be outfitted with task-specific lenses – would each give an Ara phone a different optical ability.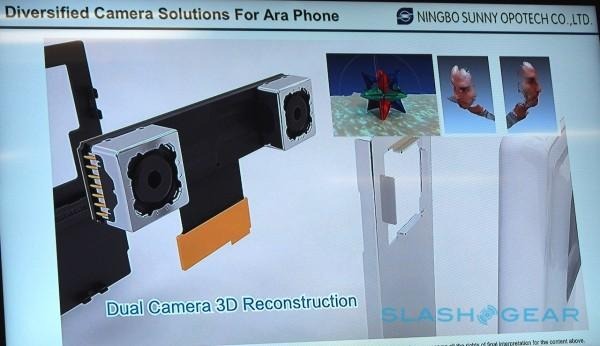 Already, the company is looking at optical image stabilization, larger apertures, and wide-angle lenses from single sensors. However, there's also the potential for pairing two sensors together, and using them to build single-shot HDR pictures, 3D frames, and virtual optical zooms.
The Spiral 2 prototype Google showed us today uses a 720p LCD touchscreen. Handiwork of Innolux, it's a 4.5-inch LCD with 600 cd/m2 brightness, though the company says that 1080p is also more than possible.
However, it needn't end with LCD. Innolux is already working with Yota on the YotaPhone 2, the dual-sided Android phone with a regular display on the front and a touchscreen E Ink panel on the back.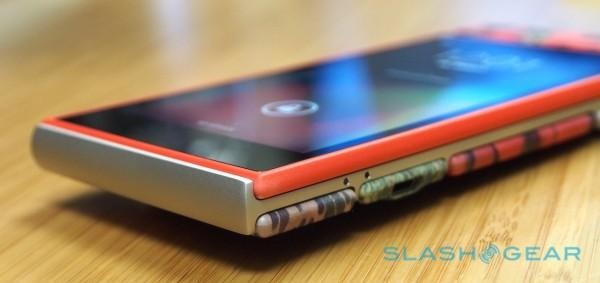 Replacing the regular screen with an e-paper one might not be entirely practical for everyday use, though it might be handy to turn Ara into a frugal ereader during long flights. Perhaps more interesting would be an e-paper module – a 1x2 to act as a ticker display above the LCD or on the rear, maybe – which, like YotaPhone 2, could show persistent status and notification information with minimal impact on the battery.
Ara's advantage, Google points out, is that it can serve a purpose that a dedicated smartphone could never be cost-effective enough to cater for. It's unclear how much any of these replacement modules might end up costing, though Google is also working on a second-hand sales and swap system – a little like Craigslist for modules – that might take some of the sting out of it.