Father of nine-year-old "pirate" girl settles case for €300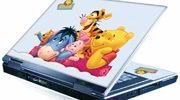 Late last month we talked a bit about a nine-year-old girl in Finland who had her laptop confiscated by police for alleged piracy. According to authorities, the nine-year-old girl he had downloaded a song from The Pirate Bay by an artist called Chisu. Initially the CIAPC sent the girl's father a letter demanding €600 to stop legal action.
When the father didn't pay the €600 demand, the police raided his house and confiscated his nine-year-old daughter's Winnie the Pooh laptop. The case made national headlines and artist Chisu came out and said that she didn't want to sue anyone and that she had no ability to stop legal action being taken in her name. New details in this case have now surfaced.
TorrentFreak reports that the father of the nine-year-old girl has now settled the case with a €300 payment. The CIAPC says that it tracked the man's Internet account the unlawful sharing of a single music album by Chisu. The original demand was €600 and for the man to sign a nondisclosure agreement.
In some ways it's unfortunate that the father paid the €300 fine, many were hoping that this case could be a focus point for a sensible look at copyright enforcement. In addition to the public outcry over the disproportionate action in this case by the public, Finland's Minister of Culture had also complained about how the case was handled. Understandably, for the father of the girl settling the case for €300 is better than fighting it out in court.
[via TorrentFreak]