Father, daughter team recreate Jurassic Park using $100k worth of Lego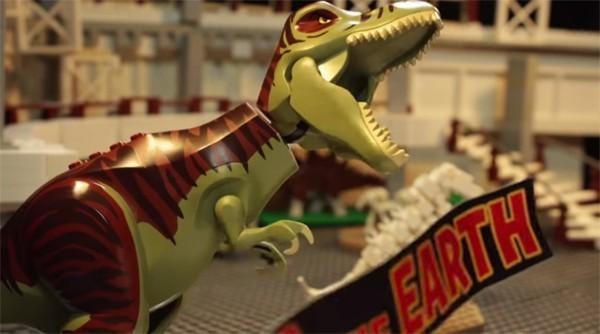 These days, we've got Lego collaborating and releasing brick sets based on nearly every Hollywood action/adventure movie, video games about Lego versions of superheroes, and even Lego staring in their own movie. Well, as further proof of Lego's continuing dominance over popular culture, this news is about a father and daughter who recreated the original Jurassic Park film as a three-minute stop-motion movie using Lego. $100,000 worth of Lego, that is. There was a little bit of movie-making magic included as well, but the results are cute and just as cool as the original 1993 film.
Paul and Haley Hollingsworth, who go by the moniker Digital Wizards, spent a number of weeks condensing Jurassic Park down its most memorable scenes using Lego. Friends helped out in building sets and lending voices, while a few special visual effects were added in post production. Motion control camera rigs also helped bring everything to life.
Even better for those fans inspired to do something similar with Lego, whether it be as epic in scale or a bit simpler, the creators put together a behind-the-scenes video that shows how they did it. It's almost as entertaining to watch as their mini-movie.
With the new Jurassic World film's release coming this June, along with all the coinciding Lego merch, including a video game and new brick sets, this stop-motion movie is the perfect way to get excited for the series again. And who knows, maybe Paul and Haley will use some of those new Jurassic World brick sets to make a condensed, Lego version of their own sequel.
VIA First Showing
SOURCE Digital Wizardz/YouTube