Fatal crash prompts Tesla Autopilot safety investigation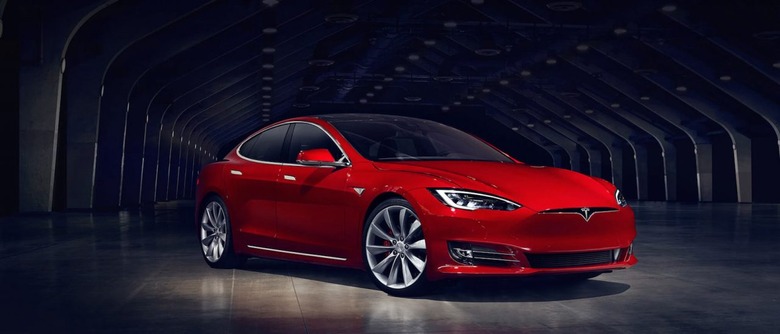 Tesla's Autopilot system in the Model S is the subject of a preliminary investigation by US safety regulators, after a fatal crash by a driver using the semi-autonomous technology. The National Highway Traffic Safety Administration (NHTSA) confirmed today that it will be making "an examination of the design and performance of any driving aids in use at the time of the crash" in which a driver of a 2015 Model S struck a tractor trailer and was killed.
Autopilot is Tesla's attempt to bring self-driving technologies to public roads. Still described as a beta system, it can steer the Model S and Model X within lanes, following traffic as it slows down and speeds up around the vehicle, and change lanes automatically when the driver taps the turn signal.
Tesla pushed the functionality out in an over-the-air update starting from mid-August 2015, and has progressively updated and tweaked it with features like Summon, which allow the EVs to pull out from a garage or carport without anybody behind the wheel.

It's proved been a controversial system, not least because not every Model S owner has been as responsible as you might hope. After a small number of drivers filmed themselves in risky situations, Tesla opted to apply limits to how Autopilot would engage, including the sort of roads it could be used on, and safety checks to ensure someone was actually in the driving seat.
This first fatality involving Autopilot, however, is likely to bring even greater scrutiny to the system. As described by Tesla, the incident was down to a combination of factors that left both driver and car failing to notice another vehicle passing across the road in front of them.
"What we know is that the vehicle was on a divided highway with Autopilot engaged when a tractor trailer drove across the highway perpendicular to the Model S. Neither Autopilot nor the driver noticed the white side of the tractor trailer against a brightly lit sky, so the brake was not applied. The high ride height of the trailer combined with its positioning across the road and the extremely rare circumstances of the impact caused the Model S to pass under the trailer, with the bottom of the trailer impacting the windshield of the Model S" Tesla Motors
Tesla's system relies on a mixture of cameras and radar sensors around the car, which together attempt to monitor other road users and features of the highway at short and long range.
However, as this incident highlights, visual object recognition is still not perfect, and even the smartest of production semi-autonomous technology still can't necessarily replicate everything a human driver is capable of.
Tesla, while extending "deepest sympathies" to the family of the killed driver, and pointing out the research that suggests technologies like Autopilot reduce driver workload and, overall, improve safety, nonetheless highlights the fact that the Model S and Model X feature is in beta and disabled by default.
"It is important to note that Tesla disables Autopilot by default and requires explicit acknowledgement that the system is new technology and still in a public beta phase before it can be enabled. When drivers activate Autopilot, the acknowledgment box explains, among other things, that Autopilot "is an assist feature that requires you to keep your hands on the steering wheel at all times," and that "you need to maintain control and responsibility for your vehicle" while using it" Tesal Motors
It's standard practice for the NHTSA to investigate any incident where a vehicle's systems could have been involved in a crash and/or fatality, and at this point it's too early to speculate whether Autopilot was operating according to expectations.
Nonetheless, Tesla's decision to encourage use of Autopilot as a public trial – including offering owners of its vehicles a month's free use of it as a taster is likely to come under close examination, especially given other automakers have been far more reticent to begin real-world deployment of similar systems they've been developing.
MORE Tesla