FastMac U-Socket on sale now: $20 for USB charging convenience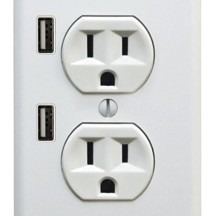 The FastMac U-Socket combination AC and USB outlet – first spotted back in December 2009 – has finally gone on sale, offering a straightforward way to charge up USB gadgets like smartphones, PMPs and even your iPad without having to reach for the AC adapter.  Priced at $19.95 for those willing to preorder (or $29.95 after that), the outlet only supplies power to the USB ports when there's something plugged in.
It's also had a redesign since the prototype first shown, moving the two USB ports to one side of the outlet rather than, as before, flanking either side of them.  That may spoil the symmetry but it also means you'll still be able to plug in a USB even with two reasonably bulky wall-warts taking up the AC slots.
Maximum output via the USB ports is 5V each and 1,500mAh, which should be perfect for most smartphones and iPods.  It's worth noting that it's lower than you'd get from the iPad AC adapter, however, which means your trusty Apple tablet will charge more slowly.  Shipping is expected in Q2 2010.
[via GottaBeMobile]