Fashionable new mophie iPhone chargers arrive at Apple Store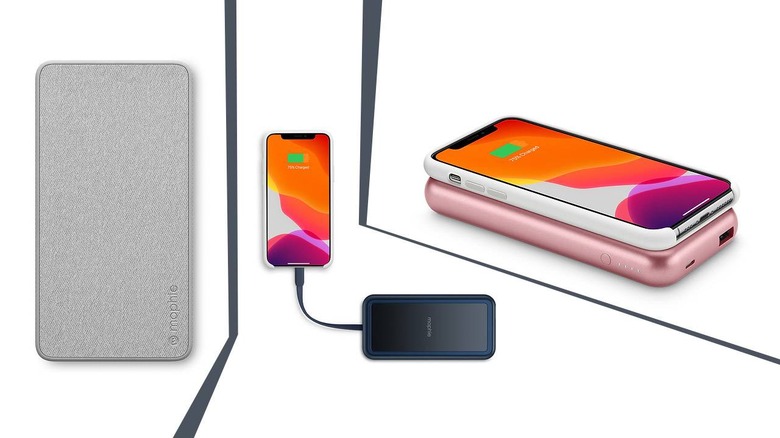 A set of new mophie brand "powerstation" universal Lightning connector USB chargers were revealed for release at Apple stores this week. In the mix are the powerstation, powerstation plus, and powerstation plus XL, each in a variety of new colors. Each of these new devices includes feature 18W fast charge to charge up the newest iPhone devices as quick as possible.
Each of the three new mophie battery units has a Lightning input as well as the ability to charge multiple Apple devices simultaneously. These chargers are created using the same power delivery protocol as the iPhone 11 Pro and the iPhone 11 Pro Max. That is 18W fast charge – the same speed at which the official Apple in-box 18W power adapter charges.
With the powerstation (the smallest of the three units), using the device's fast-charge USB-C port with "up to 18W output", an iPhone could get "up to 50% battery in just 30 minutes." That's under ideal circumstances, of course, and the phone they tested this with is the iPhone Xs with "a Power Delivery (PD) charger and an Apple USB-C to Lightning cable." So that's a bit more general – but still, far better than an iPhone gets with a slower charger.
The powerstation and powerstation plus devices shown today roll with the ability to recharge using the same cable that charges Apple devices. That's thanks to a Lightning input port – which isn't particularly common on non-Apple devices.
These devices have Priority+ Charging – which means that if you've got the charger charging up, but you'd also like to charge up your iPhone, this tech "sends power to your device first then recharges the powerstation."
The powerstation is 6000mAh and has both USB-C fast-charge 18W output and a Lightning input. The powerstation also has an extra USB-A port so an extra USB device can charge at the same time as the first. This device comes in black, gray, navy, and pink, and comes covered with a textured fabric exterior.
The powerstation plus and plus XL have integrated Lightning cables with 18W fast charging abilities. The smaller unit has the same battery capacity as the non-plus (at 6000mAh) while the larger is 8000mAh. Both have an extra USB-A port to charge two devices at once, and the XL has a 5W Qi wireless charging surface to charge your wireless charging-capable devices galore.
Both plus versions also come in black, gray, navy and pink! Pricing on the devices are as follows: powerstation $59.95; powerstation plus $79.95; powerstation plus XL $99.95. You'll be able to find these mophie products on Apple's online store and in the real world at select Apple store locations.