Faraday Future sees "overwhelming demand" in FF 91 reservations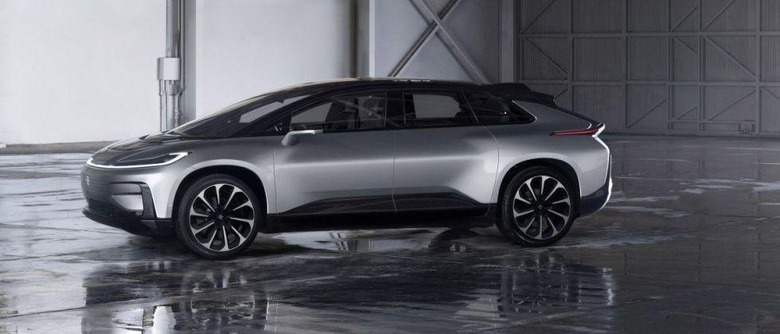 It seems that a number of folks have taken a liking to Faraday Future's first electric car, the FF 91. Unveiled at CES 2017 earlier in the week, the reveal of the FF 91 was highly anticipated heading into the trade show. At the end of its presentation, Faraday Future announced that prospective buyers would be able to reserve a spot in line to purchase one of the first FF 91s, and now it says demand for those reservations has been "overwhelming."
In total, Faraday Future says that it has fielded 64,124 reservations from interested people around the world in less than 36 hours. That's a pretty impressive number, especially since we don't know the total cost or the release date for the FF 91 yet. What's still unknown doesn't seem to be enough to dissuade nearly 70,000 people from expressing their interest in purchasing the car, though.
There's just one important detail that Faraday Future leaves out of its celebratory tweet, however: the company doesn't mention how many of these are free reservations and how many actually have a deposit attached. Faraday allows people to put down a $5,000 deposit for priority access, which basically just means they get to reserve a spot at the front of the line. Those who hand over the $5,000 deposit will also be eligible to purchase a limited edition "Alliance" model of the FF 91.
On the other side of the coin, you're able to place a free reservation that requires no other commitment on your part. If I were to hazard a guess, I'd say the vast majority of these reservations are free ones, though it also wouldn't be shocking to hear that Faraday attracted at least a few $5,000 deposits. In any case, we're not likely to find out the ratio of free to paid reservations any time soon.
Faraday Future did a good job at building up the FF 91 to be something special during its CES presentation. There was a lot of information presented, but yesterday we cut though a lot of the fluff and selected a few important things you should know about this electric car. Just as well, be sure to have a look at our CES 2017 hub for all of our coverage from the show!
SOURCE: Faraday Future