Faraday Future FF 91 Autobahn development testing underway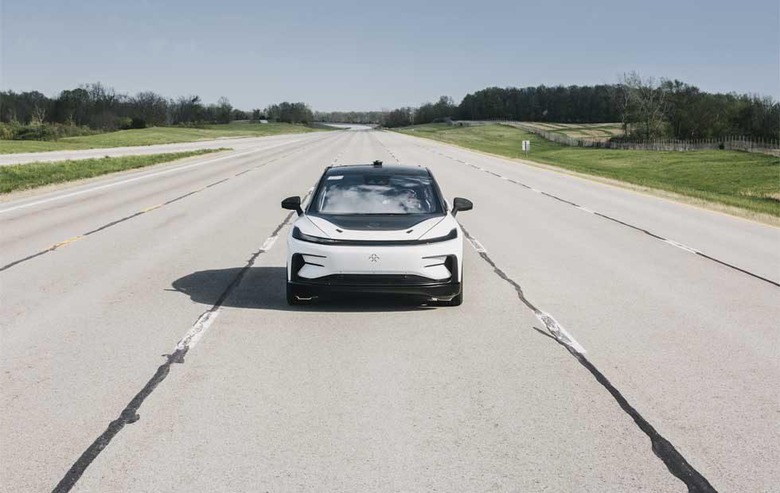 Faraday Future has lofty goals for its slick FF 91 EV. It had the car at the Pikes Peak hill climb last year and the FF 91 set a new EV class record at the event. Obviously, that record fell this year when VW and its I.D. R absolutely crushed the mountain. Faraday Future is now talking about the development it is doing for the FF 91 when it comes to sustained high-speed cruising of the sort you do on the Autobahn.
Faraday says that this is the final phase of validating battery, thermal, and powertrain for the ride. The testing has been conducted at the Transportation Research Center in Ohio using two tests dubbed the "Autobahn drive cycle" and "Operation 120 mph." Senior manager of powertrain and thermal controls for Faraday Chou Yeh says that both tests are critical to the engineering process for the car.
In the autobahn test, the FF 91 ran for three minutes at 155 mph followed by driving 75 mph for two minutes. That test regime was repeated three times over a span of 15 minutes. Faraday says that this is a "German style" driving simulation that sees the vehicle subjected to an aggressive and demanding high-speed driving schedule. This allowed batteries, thermal, and powertrain components to be tested at limits.
For the 120-mph test run the FF 91 was driven down the tarmac on the 7.5-mile high-speed test track for 55 minutes totaling 14-laps or 105 miles of driving at sustained 120 mph speeds. During that 120-mph run all the thermal and current draw properties of the electric powertrain were monitored. The FF 91 performed well in all those tests with no drivetrain or thermal issues.
FF 91 uses a 130-kWh lithium-ion battery pack to deliver over 300 miles on a single full charge and over 200 miles on a 30-minute fast charge. Faraday future says that the data gathered looked "really promising" and says that it thinks it can go even further with the EV.
SOURCE: Faraday Future