Faraday Future's FF91 sets new EV record at Pikes Peak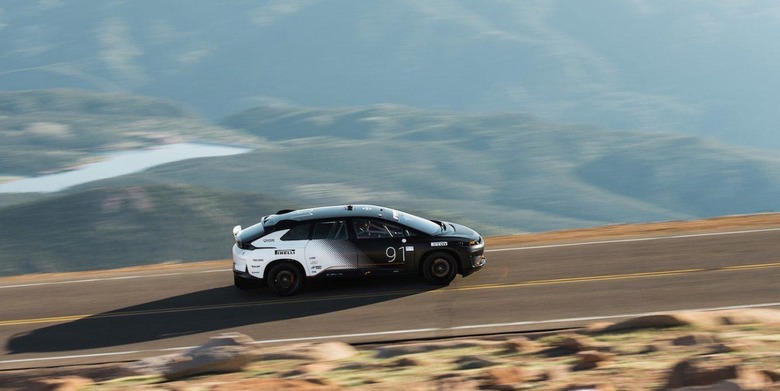 While Faraday Future's — errr, future — remains in question, what with the fleeing executives and uncertain unveilings at CES, the company's all-electric FF91 prototype not only made it to the top of the famous Pikes Peak International Hill Climb in Colorado earlier this week, but it set a new record time for its vehicle class. This marks one of the first times the FF91 has been seen in a real-world, uncontrolled environment, and making it the 12.4-mile, 156-turn Pikes Peak course was certainly a challenge.
The FF91 set a time of 11:25.082, besting the record of a modified Tesla Model S from last year by over 20 seconds. Of course, like many things with Faraday Future, this achievement comes with its own caveats: the EV was entered as part of the race's "exhibition class," and its record time is for the fastest production electric car. However, the FF91 has yet to enter production, and the model used was a lightly modified 1,050-horsepower beta prototype.
British GT Championship driver Robin Shute was behind the wheel during the race. "My goal was to push the FF91 beyond what we thought she could do," he said. "We were able to identify key battery-pack relay and system seal issues that will directly result in improvements in the production process. That's what makes this a successful event for Faraday Future."
Among the modifications made to the FF91 were safety adjustments and the use of smaller wheels and tires than the planned consumer model. The car's high speed off the starting line helped it set one of the faster times seen in the course's first section, making up for the "small technical difficulty" where the car had to be restarted in the last leg of the race.
SOURCE Faraday Future