Far Cry 5 trailer released, remixed with Trump [UPDATE]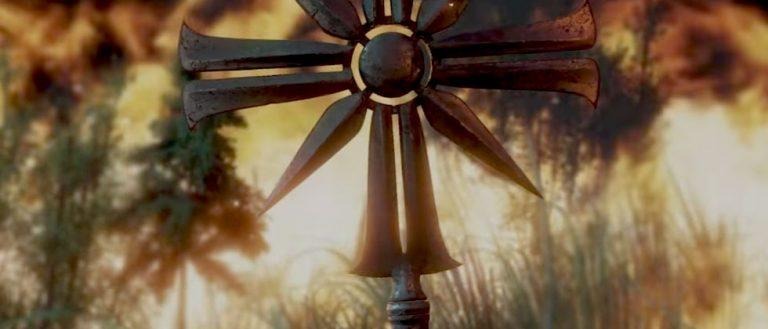 Today the first big trailer for the game Far Cry 5 shows the true nature of evil in a cult in middle America. Instead of heading to some far-off jungle, as the American Hero-based game series Far Cry generally does, this edition of the game heads to the heartland. This game is set in Montana where "your arrival incites the cult to violently seize control of the region," – and you need to "rise up and spark the fires of resistance to liberate a besieged community." This game doesn't aim at Trump supporters directly – and doesn't say so in plain English, but the clues are there.
The OPINION I have about this trailer is that it's meant to be a jab at the most extreme in Trump-supporting cult-followers. The cross is a T, there's a sign that says Private Property, there's a sign that says "DO NOT EXPECT A WARNING SHOT", the word GLUTTONY is painted above a man skewered with a cross staff. The game is centered on a place called HOPE COUNTY. On the Hope County sign the word SINNER is painted.
Of course this pile of clues pointing to the key moments in the Trump presidential campaign don't necessarily mean Ubisoft meant for them to line up. Sure, our president's most infamous moments had to do with each of the subjects covered in the trailer – but it could just be a coincidence. The cross doesn't just stand for Trump, after all.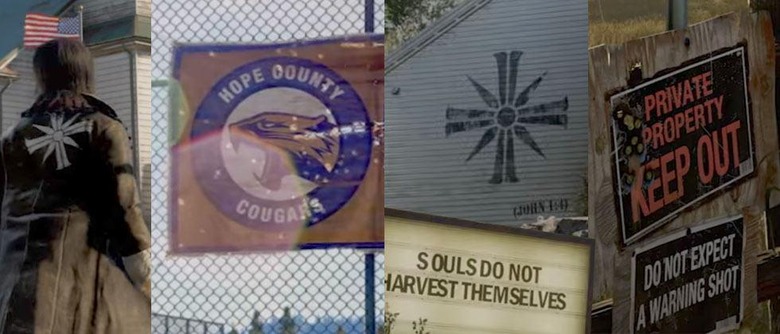 Ubisoft suggests that the entire trailer here was "made from game engine footage" – which doesn't necessarily mean it'll look like this when the game is released. Instead, we can count on this video to give an OK impression of how the game will be capable of acting. The in-game footage and gameplay trailers will come later.
This game includes the "largest customizable weapon and vehicle roster ever in a Far Cry game." It also includes rivers, lands, and skies – as Ubisoft suggested today – which means we're back in boats, trucks, off-road vehicles of all sorts, and airplanes, too.
The game itself will be available in February of 2018. The exact date Ubisoft suggests is February 27th, 2018 – but we'll see when we get there! They'll be bringing more heat to E3 2017 before that.
UPDATE: Here's what I was talking about. Watch the video below.