Fanatec CSR Elite force feedback racing wheel works with Xbox, PS3, and PC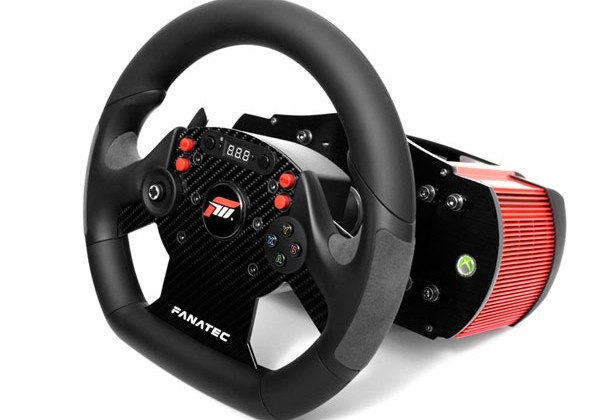 Fanatec has been around for years now and the company makes some awesome racing wheels and pedals for gamers. The thing that I have long wanted for my Xbox 360 and the Forza Motorsports racing games is a steering wheel with force feedback. This has kept me using Gran Turismo and my Logitech G27 racing wheel.
Fanatec has a new and very awesome racing wheel that I really want for Forza 4 when it lands. The wheel is called the CSR Elite and it will work on the PS3, Xbox 360, and PC. The racing wheel is officially licensed by Microsoft and Turn 10 with the Forza logo right in the center of the racing wheel. The wheel doesn't come with pedals, but if you own a Logitech G25 or G27 there is an adapter that will allow the use of those pedals and you can buy accessory pedals from Fanatec.
A pair of 120W motors handles the force feedback effects and there are two more vibration motors in the rim of the wheel. The center of the racing wheel is real carbon fiber and the wheel is actually trimmed in Alcantra for better grip. The wheel has paddle shifters, large fans that are silent for cooling the motors, and tuning functions to set the wheel to your liking. The Forza Motorsport CSR Elite Wheel isn't available yet and pricing is known. This will be an expensive racing wheel; I suspect it will be in the $250 to $300 range. It is wireless with the Xbox 360 and needs a USB cable for the PC and PS3.