Falcon Northwest 20th Anniversary Talon Review: Custom done right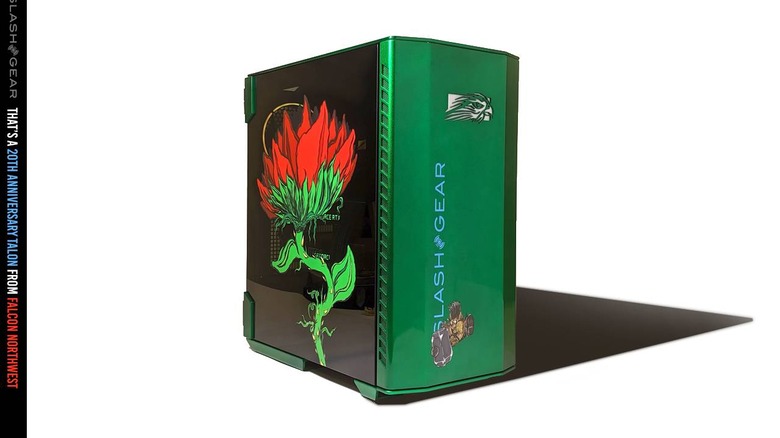 The Falcon Northwest 20th Anniversary Edition Talon is not a mobile PC. It's a heavy beast, made with 4mm thick aluminum plating and optional glass panels, coming in at around 40-pounds in all. The folks at Falcon Northwest made a name for themselves with custom-painted, custom-built, meticulously detailed high-end PCs. As their 20th Anniversary Edition Talon build was launched here in the second half of 2019, we decided to put their team to work on creating a build that was not only stocked with a powerful set of innards, but a custom-painted exterior to boot.
If you'll take a trip back to 2013 for a moment, you'll see our Falcon Northwest Tiki Review. It was there that we first got a taste for the intense attention to detail with which Falcon Northwest christens their machines. We did not expect to find a PC with a more notable bit of over-the-top extravagance than the all-marble base attached to that Tiki.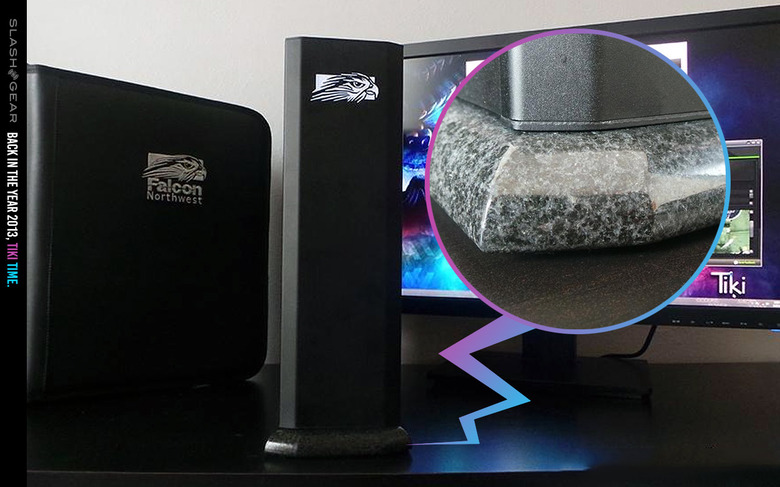 Here in 2019, we're looking at the newest member of the custom-built Falcon Northwest PC collection. This is the Falcon Northwest 20th Anniversary Edition Talon, fully customized specifically for this review.
Since this is a custom-built PC, a lot of what we're looking at today has to do with the elements that are unique to Falcon Northwest. We'll also be looking at the performance of this PC over a longer period of time, but we're starting with the bits that aren't quite so dependent on the exact build with which the person is working, starting with the potential in the custom paint and print.
Falcon Northwest custom paint and print process
The illustrations you see at the front and sides of this PC were created by yours truly. I'd illustrated each of the various elements for different personal projects over the past few years – without this final product in mind. It was only after being asked to submit artwork for this PC that I gathered the elements – along with the SlashGear logo – in an effort to test the level of color accuracy and detail possible with the Falcon Northwest printing process.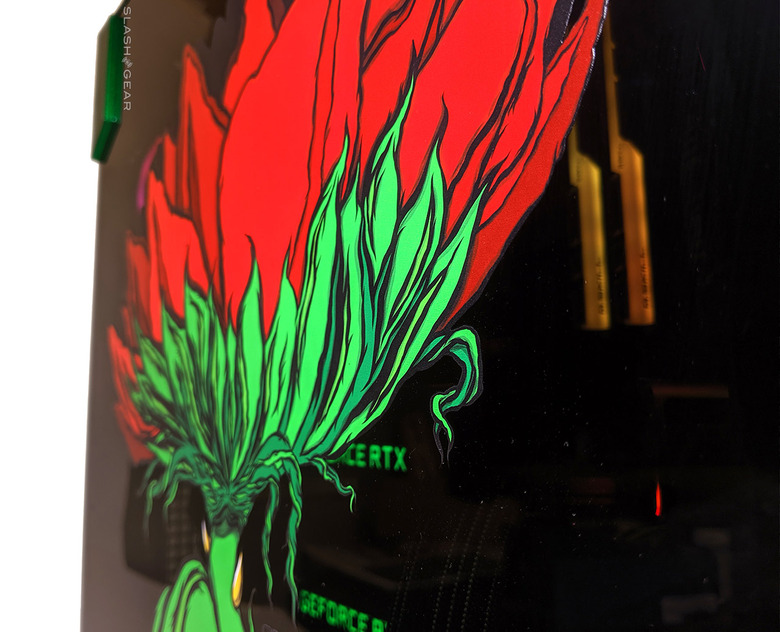 Each of the green elements were painted first – these are part of the Falcon Northwest "Exotics" paintwork system. They apply paint like you've gone to a custom automotive chop-shop, and can color-match pretty much any tone or fancy sort of paint you can imagine – metallics, pearlescent colors, plain ol' flat colors, color-shifting.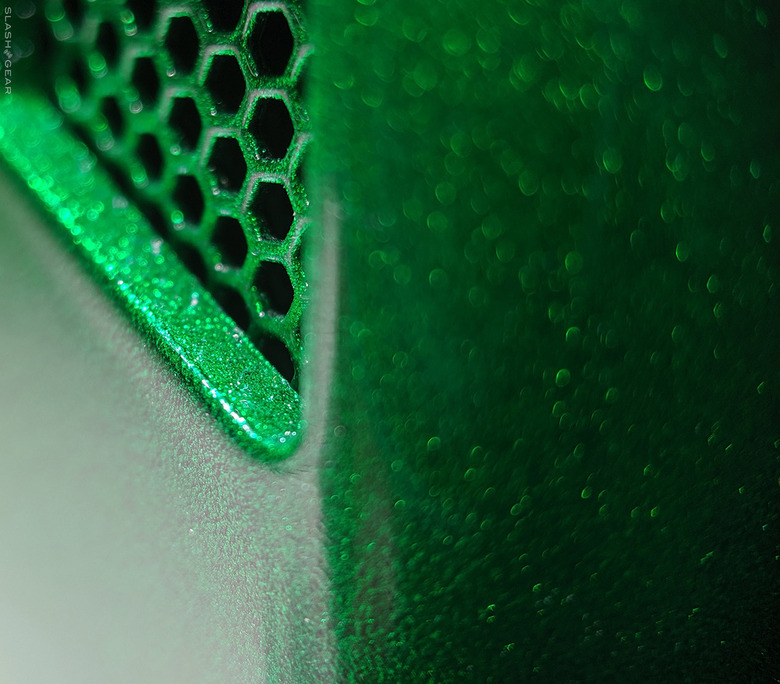 Here we've got a bright metallic green across all the elements that made sense to paint. With this model, users can choose to paint the front, the top, the hinges for the sides, the feet, the sides – whatever. We've chosen to roll with green almost everywhere – save the sides, because there we've got glass. All the green is coated with laters of glossy clearcoat, making the end product look and feel like the surface of a very expensive muscle car.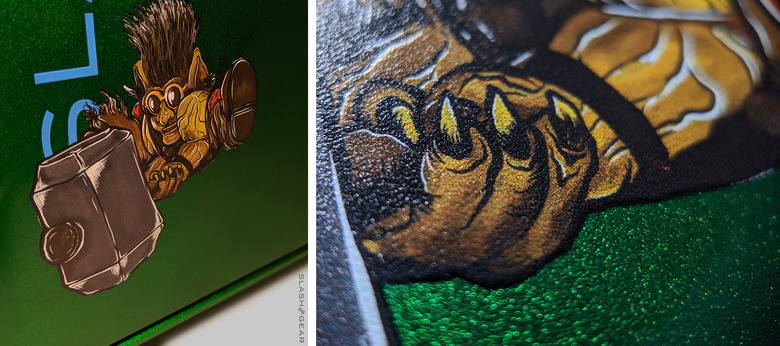 On the glass on either side of this PC and on the front panel (on top of the gloss coat), we've opted for some custom "UV-LED" prints. Falcon Northwest printed each of the illustrations I'd done for this project with an astounding level of accuracy. Screen-to-ink color accuracy, sharp detail, and ink right up to the edge of the panel.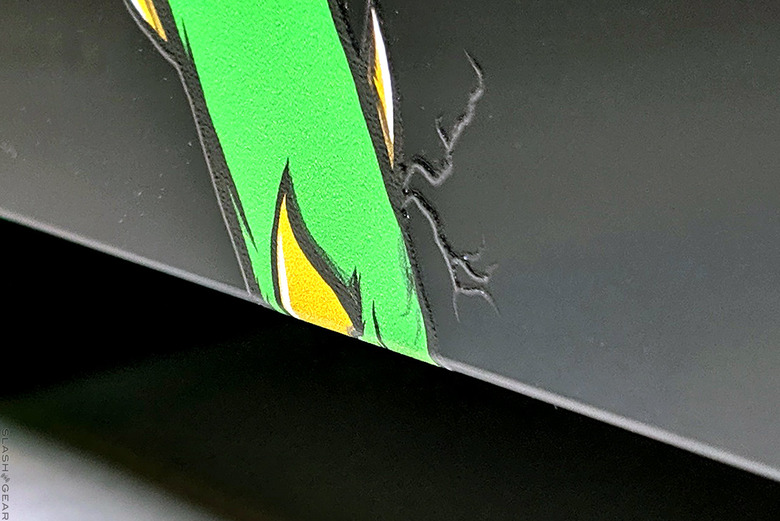 Below you'll see a gallery of up-close photos of this paint and print process. Each of these elements were custom-painted or custom-printed by Falcon Northwest for this specific unit.
The Hardware
It's difficult to move past the paint – there's really nothing else like it in the PC market today. Inside we've asked that some high-end components be used to see the potential for power with which this machine can work.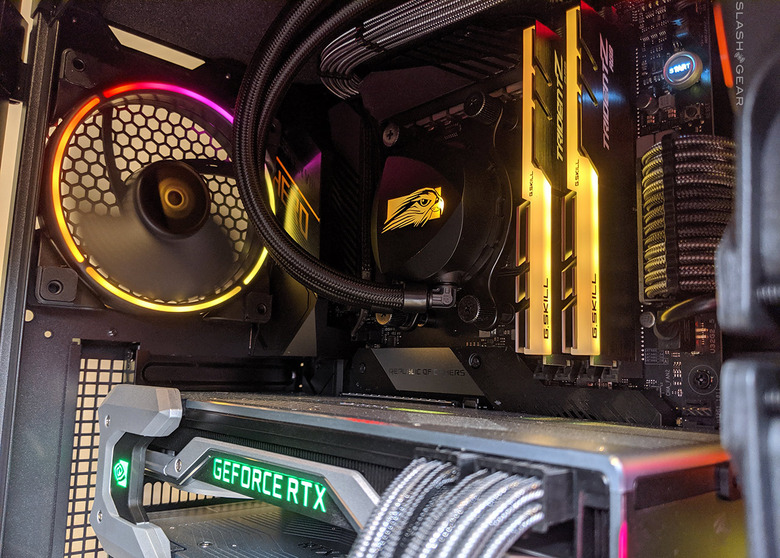 That means a pair of NVIDIA GeForce RTX 2080 Super graphics cards. They're paired with an AMD Ryzen 9 3900X on an ASUS ROG Crosshair VIII HERO motherboard. The motherboard provides on-board 2.5 Gbps Ethernet and Gigabit Ethernet, as well as ASUS Aura Sync RGB lighting. Also with said motherboard, we've got a large number of ports at the back of this PC.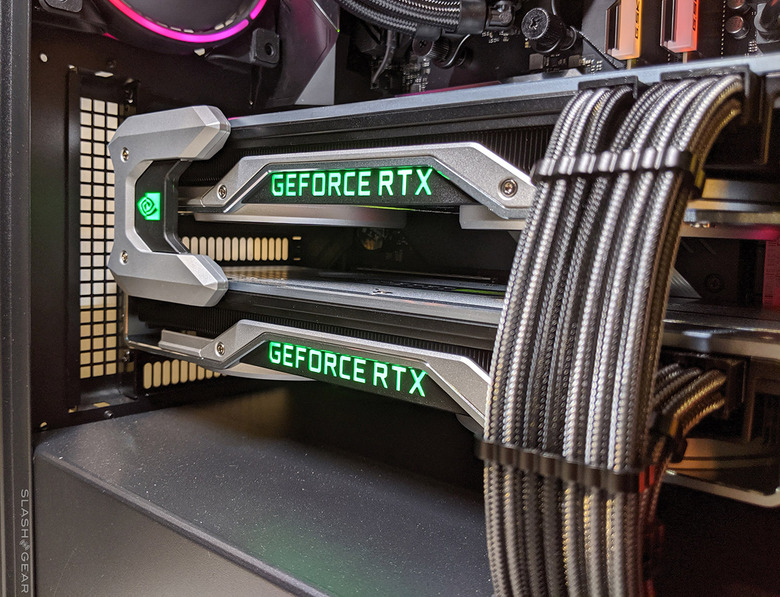 On the back we've got 8x USB 3.2 Gen 2 (7x Type-A, 1x Type-C) as well as 4x USB 3.1 Gen 1 (4x Type-A), 2x more full-sized USB ports up top plus another USB-C port up top, along with the big square power button and a headphone jack. The motherboard also provides BIOS flashback and CMOS reset buttons – just in case you're trying something wild and you make a mistake.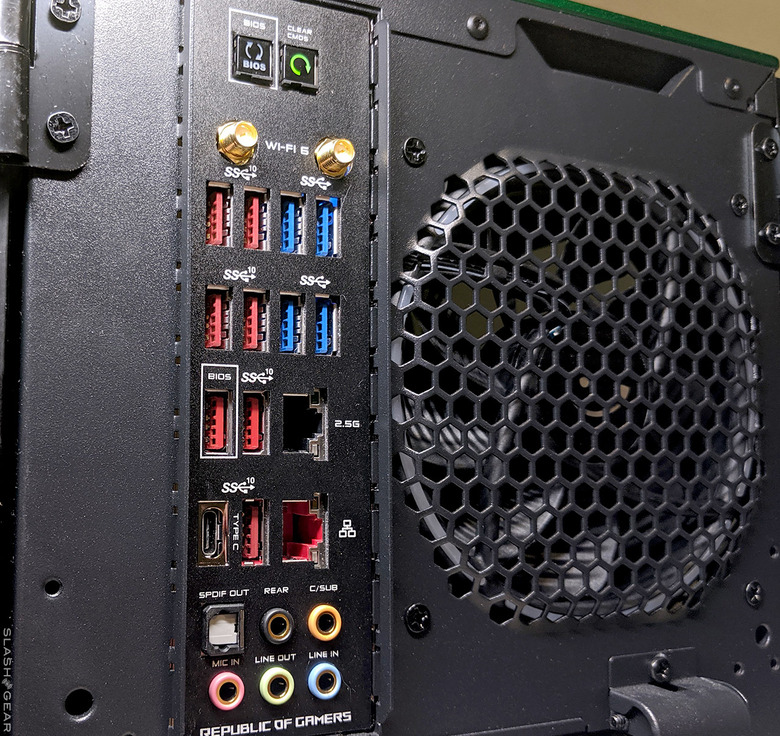 You'll see some ARGB lighted fans here – with the Falcon Northwest logo eye at their center. Colorful lighting here comes from a variety of sources, including a pair of TridentZ RGB memory sticks, Asetek Liquid Cooling 680LS (289MM) with Falcon Northwest light logo, and the NVIDIA GPUs, of course.
This PC is 8.75-in wide, 15.5-in deep, and 17.25-in tall. When you've got a PC this big and you've purchased said PC from a manufacturer that wants to rush as many computers out the door as possible, they'll generally wrap the cords in the most cost-effective way possible – really quick and messy. Falcon Northwest seems just as concerned with the appearance of the insides of this PC as they do the exterior bits.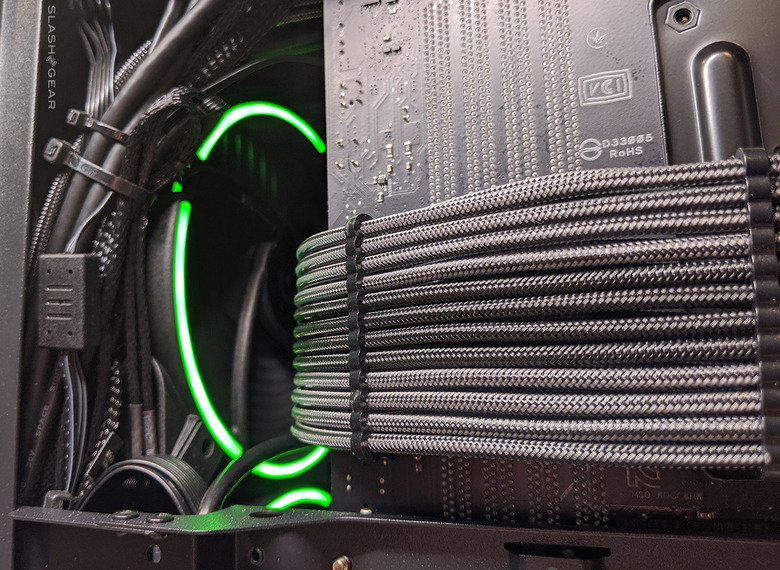 Throughout the build, Falcon Northwest utilized CableMod brand Pro cables. Because of this, the entire machine feels like a cohesive piece of industrial design. The colors of the cords and the cards, the materials that encase the cords, the complete lack of any sort of haphazardly-dangling elements – this all makes for a truly professional piece of hardware.
Performance
With the hardware on the specs list, it was difficult to imagine how this PC would under-perform – and it didn't. No worries on Falcon Northwest somehow botching any sort of implementation of the various highest-end gear inside this build.
Benchmarks were off-the-wall high. 3D Mark Fire Strike we got an average score around 30,973 – graphics score 44.6k, physics 28.4k, combined score 9.8k. According to 3DMark, that's better than 99% of all other PCs that've submitted scores for the test. We got a similarly high score with 3DMark Time Spy at 19,167. That's with a graphics score of 22,196 and CPU score at 10,809.
We'll be running some other benchmarks as we continue to play various high-end games and run VR setups in the near future. But for now, it's fairly clear that with the monstrous combination of processor/GPU pair we've got here, there's really no other PC in this class that can top this build.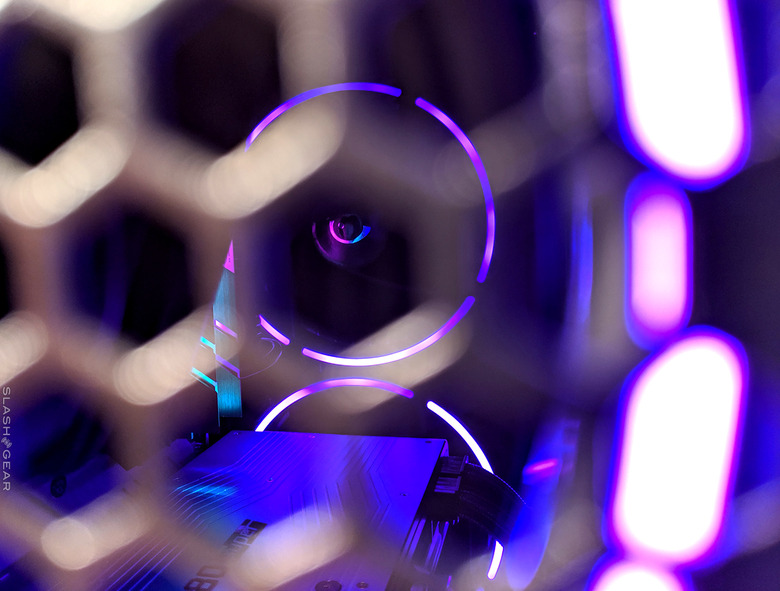 Wrap-up
Falcon Northwest takes custom PC building to an overall quality level that's scarcely matched. The paint and the print job this company delivers is truly unmatched – automotive paint, color-matching, detail, sharpness – all of it is impeccable. The same goes for the arrangement of the elements within. I've yet to see a PC with more care taken in the precise placement of each individual piece of hardware.
This machine with this build will cost you right around $5,000 before shipping. There are a LOT of different options possible with this machine – you can start at low as approximately $2,432 or ramp all the way above the $5k point, depending on your options.
Falcon Northwest makes a fine PC, and the Falcon Northwest 20th Anniversary Talon is is easily one of the most carefully-constructed works of PC industrial design artwork we've ever laid hands on. Assuming you've got the cash, this is the place the highest-end custom-constructed PC can be purchased.