Facebook Version 1.9 Now Available for BlackBerry Users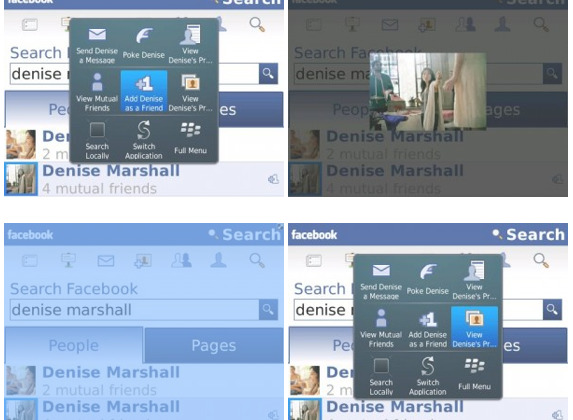 Today you can get a brand spanking new version of Facebook for your BlackBerry through the BlackBerry Beta Zone, which you've got to sign up for, but what price can you put on a super shiny new version of FB? In version 1.8, the folks who work on Facebook for BlackBerry aimed to improve speed and performance, this time around, they're aiming directly at features requested by the people who use it every day – aka – you and I and the whole rest of the world.
First, there's an option to view your Facebook messages completely separately (or in the same inbox as the rest of your notifications.) Previously you could only receive them all in the same place. Also, if you've never used FaceBook for Blackberry, this one pre-fetches 30 of your existing Facebook messages when you log in so that you'll be all up to date. Version 1.9 also adds synchronization so that if you also log in through your desktop computer, you don't have to delete or mark everything twice.
Facebook Search is new to version 1.9, adding the ability to search for individual people and pages, view multiple friends at once, and enlarge profile pictures if you're thinking about friending someone and can't quite make out their photo. Pages can now be "liked" correctly so that you see their updates, and if you're using BlackBerry 6, your universal search will be integrated with Facebook so that those results pop up at the same time as everything else.
Next, new to 1.9, your lists of friends now have their profile picture attached for much easier browsing in list form. The navigation bar is updated so you can view your profile, and there are new icons for facebook search and Message View. Upon full release, 1.9 is said to perhaps include Facebook Places and additional UI updates.
This version of Facebook for BlackBerry is currently in BETA mode and the folks at BlackBerry are asking for volunteers to Sign up for the Beta. There are only a limited amount of spaces open for people to test, so get to it!
[Via BlackBerry]