Facebook requires additional verification for Pages with large US audience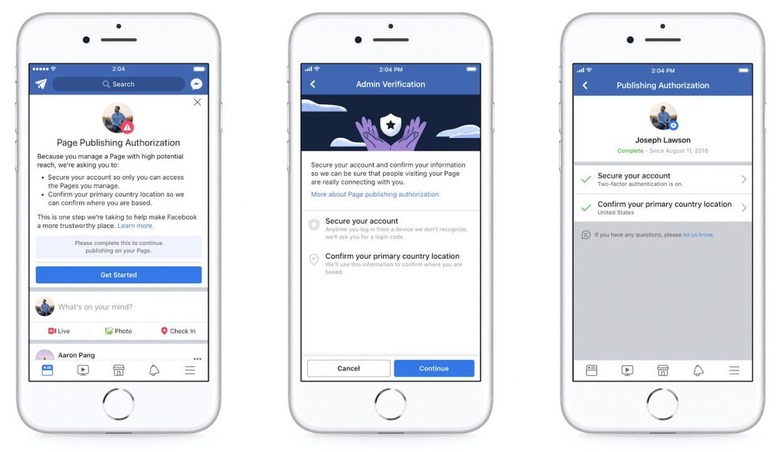 As part of its efforts to be more transparent and accountable for its political influence, Facebook has announced changes to the verification process for Pages with a large following. The social network will require additional measures from Page administrators to prove their identity, in part to make it harder for Pages to be run by fake or compromised accounts.
In an announcement on Friday, Facebook said it will be starting the new verification process with Pages that have a significant US audience. Page managers will need to secure their account with two-factor authentication, as well as verify their location using a mobile device. In some cases, the company adds, it may ask for admins to submit a photo of their ID for additional proof.
The new "Page Publishing Authorization" process will begin this month. For Pages that need to go through this, admins will find a notification at the top of their News Feed, and until they complete the verification — or should they decline — they won't be able to make any new posts on their Page. Facebook notes that the process only take a few minutes, and once complete the verification will apply to all Pages managed by that admin.
"Our goal is to prevent organizations and individuals from creating accounts that mislead people about who they are or what they're doing," Facebook states. The coming weeks will see a similar verification policy applied to Instagram accounts with large audiences. This comes after several recent measures by Facebook to improve its credibility as the US heads into midterm elections, including banning a number of fake accounts and Pages, and requiring that political ads reveal who paid for them.
SOURCE Facebook