Facebook toughens ad rules after Russian manipulation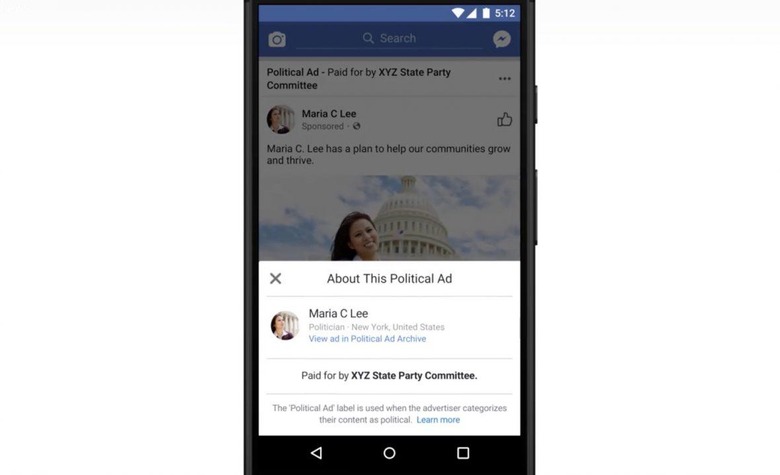 Facebook is updating its Ads and Pages rules to make them more transparent, in the aftermath of Russian adverts designed to manipulate the 2016 US election. The social network has faced considerable criticism from several quarters over how easily foreign bad actors were able to buy targeted advertising and attempt to use it in order to shape political opinion.
Facebook had already adjusted its policies back in October 2017, changing the way it handles its advertisements so that only those "authorized" were allowed to run electoral ads on either Facebook or Instagram. Today, though, it's tightening the rules even further. Now, anybody that wants to show what are being referred to as "issue ads" will also need to be authorized first.
What constitutes an "issue ad"? Facebook says it's working on a list of those issues with third-parties, though it'll be an evolving list over time. Think along the lines of political hot-topics, however, likely to include things like immigration and gun control.
The authorization process will include confirming each advertiser's identity and location. Meanwhile, there'll also be new labeling, indicating both that it's a "Political Ad" and detailing who it was "paid for by" in the timeline. "These are designed to increase transparency and accountability," Facebook says, "as well as prevent election interference."
Still, there's always the chance that even with enhanced rules, a few rogue adverts could get through – or bypass the authorization process by pretending to be a regular ad. Facebook says it's investing in artificial intelligence – along with more human moderators – which will be monitoring for content that should be labeled but isn't. There's also the option to report an ad from your timeline.
Although the focus of election manipulation has been in the US, with Russian agencies believed to have used Facebook – among other means – to promote then-presidential-candidate Donald Trump, Facebook is also testing new safety features elsewhere. In Canada, for example, it has a "view ads" feature that shows all the advertising that a Facebook Page is running. The company says that should go live worldwide in June 2018.
At the same time, Facebook plans to release a public and searchable political ads archive. That will combine all the "Political Ad" tagged content, with the original imagery and text along with how much was spent on it and the demographic audience details.
Finally, anybody trying to manage a Facebook Page with a large number of followers is going to need to verify their identify. If they don't, they won't be able to post. "This will make it much harder for people to administer a Page using a fake account, which is strictly against our policies," Facebook points out.
According to Facebook, it started tests of the political and issue ad authorization process this week. The new labels, meanwhile, will begin to roll out later this spring, though initially only for those in the US.