Facebook Mobile DevCon 2013 revealed: Android and iOS on tap

The 2013 edition of Facebook's efforts to bring the developer universe into the social networking fold has been revealed, complete with several different events taking place around the world. The Facebook Mobile Developer Conference 2013 will be taking place on April the 18th in New York, on the 2nd of May in London, and all the way over in Seoul on the 7th of May. This series of events also goes by the name Facebook Mobile DevCon 2013, if you'd like to be short about it.
This series of events will be host to many different developer-themed keynote speeches and interactive engagements for mobile developers of many kinds. Companies such as GetGlue, EyeEm, Zeebox, and Fab.com will all be in attendance with opportunities to chat and talks of their own with you, the up-and-coming Facebook app developer, about their experiences on the way up the mountain. Also included will be a list of fabulous hot-points as promised by Facebook:
You'll hear about:

• how to implement our iOS, Android and JS SDKs to drive installs and engagement

• how to best implement Facebook Login to bring trusted, cross-platform identity to your apps

• best practices for using Open Graph to share rich and engaging stories back to Facebook

• how to use Facebook to power engaging social, mobile games

• design tips and product best practices to increase user satisfaction

• the tools, libraries and techniques we at Facebook use to build our own iOS, Android and Mobile Web apps
Each of the three events is a one-day-only engagement in each of the major cities on the map. Each of these events will be "capped-off" with a fabulous and friendly dinner as well as time to speak with Facebook engineers, product managers, and more to speak on your app – or possible future app for Facebook. These engineers and product managers are being promised to, as Facebook says, "review your app and debug any integration issues" you may have – fun stuff!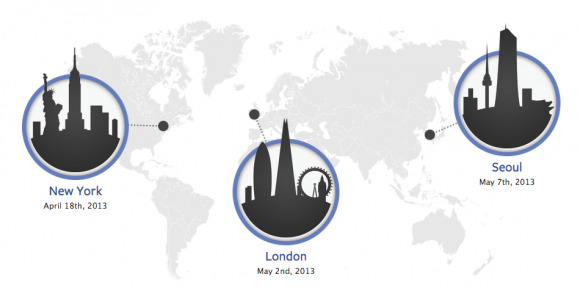 Facebook also notes the following:
This is a highly technical event – we'll be deep in product and code – but if you're at the sharp end of mobile development, we'd love to meet you there.
Sound like your cup of tea? Have a peek at the Mobile DevCon sign-up page and pick your favorite location. Let us know if you're going, and if you're feeling cheeky, feel free to let us know what app you're bringing along to work on!